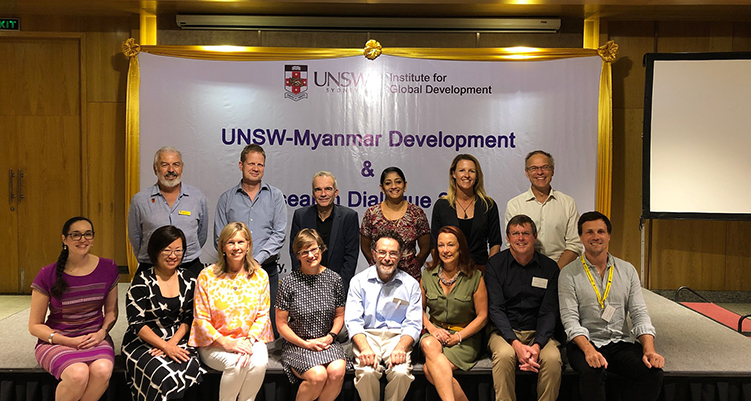 Sixteen UNSW staff members travelled to Myanmar last month to enhance existing relationships and build new partnerships to support equitable and sustainable development in the region.
The Institute for Global Development-Myanmar Development & Research Dialogue took place in Yangon and Naypyidaw in February and brought together UNSW academics with researchers, development practitioners and policy makers in Myanmar. The Institute for Global Development (IGD) led this Dialogue to build on existing relationships and establish new partnerships in order to foster mutual learning, create new opportunities for collaborative research, and generate evidence that supports equitable and sustainable development in Myanmar.
The delegation consisted of 16 UNSW academics and professional staff from Arts & Social Sciences, Engineering, Medicine, Law, Built Environment, and Humanities & Social Sciences (UNSW Canberra).
The group visited both Yangon and Naypyidaw (Myanmar's Capital), and engaged in workshops and dialogues with over 150 representatives from Myanmar civil society, business,  local tertiary institutions, as well as international development organisations and donors, Ministers and Directors General. The aims of the activities were to create an opportunity for learning and exchange on key issues in Myanmar's development, and for exploring the potential for collaborative research partnerships on the many challenges and opportunities there.
During the trip, the delegation had dinner with 35 UNSW alumni living in Myanmar. "It is fabulous to be able to chat with UNSW alumni excelling in their fields across a range of sectors here, such as Su Pon Chit – who is such a leader in disability advocacy and policy. It gives you a sense of how impactful an education at UNSW can be in contributing to the future of a nation like Myanmar" said Dr Jayde Roberts, Senior Lecturer from Built Environment.
This trip built upon some of the existing work of UNSW, including the relationships between Kirby and the University of Medicine II, and between Yangon Technical University and the Faculty of Engineering, and established many new relationships with great potential. "Our purpose really is to build on long term collaborations. We have a lot of research and other relationships with universities including curriculum development in Myanmar… and we want to build the partnership in ways that we can collaborate and support the development process in Myanmar" said Associate Professor Sarah Cook, Director of the IGD, who led the delegation.
After the week-long Dialogue completed, Dr Anne Bunde-Birouste and Dr Tun Shwe, both from the School of Public Health and Community Medicine, hosted the Football United Youth Forum in Hpa-An, five hours east of Yangon. This event brought together youth leaders, faculty from 13 universities across Myanmar, community members, Red Cross and Government officials to discuss the important role that Football United has had in Kayin state in curbing drug use among youth.
The highlight of the Youth Forum was the opening of the Football United Community Peace Centre. The Centre will provide numerous opportunities for training activities for communities, centred around building social cohesion and addressing the United Nations' Sustainable Development Goals.
Comments