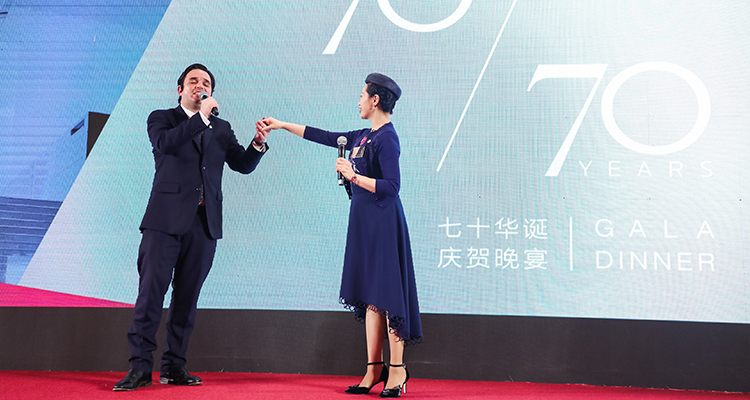 UNSW Sydney held two significant events in Beijing this week celebrating seven decades of strong educational and research links between UNSW and China. 
To mark the 70th anniversary of both the establishment of UNSW and the founding of the People's Republic of China, Professor Ian Jacobs, President and Vice-Chancellor of UNSW, hosted a special dinner for future students, staff, alumni and partners on 3 September. A link to the video produced for the night showing the shared history of China and UNSW can be seen here. 
To honour UNSW's Chinese alumni community, an Alumni Award was presented to Professor Yang Qixun. In 1979, Professor Yang was the first student from Mainland China to study at UNSW. He is a pioneering engineer and founded Sifang Automation in 1994.  
Another exciting highlight of the evening was when Chinese Australian opera singer Shu-Cheen Yu and Chief Executive Officer - UNSW Global Pty Ltd & Pro Vice-Chancellor (International) Laurie Pearcey gave a surprise Chinese opera performance.  
"The gala dinner was a wonderful opportunity to showcase our proud history and broad and deep connections with China stretching back 40 years," Professor Jacobs said. "The trusted partnership that we have with China in teaching and research excellence is highly valued." 
In addition to the dinner, UNSW presented the second Sino-Australia Science Futures Summit in collaboration with the Chinese Academy of Sciences Institutes of Science and Development (CASISD) and Nature Research on 4 September. Both the dinner and the summit were attended by the newly appointed Australian Ambassador to China, Graham Fletcher. 
The theme for the 2019 summit was "Living in smart cities with 21st century technology." Key opinion leaders, senior academics, government officials, capital investors and industry leaders discussed the innovative solutions needed for tomorrow's smart cities.  
During the summit, academics from UNSW and China presented keynote speeches and panel discussions, focusing on three of the most pressing challenges of our time: sustainability, rapid urbanisation and 21st century technology applications. 
The three keynote speakers from UNSW – Scientia Professors Deo Prasad, Martin Green and Martina Stenzel – are all leaders in their field. Plans are already underway for 2020 when UNSW will host the summit in Australia. 
Comments