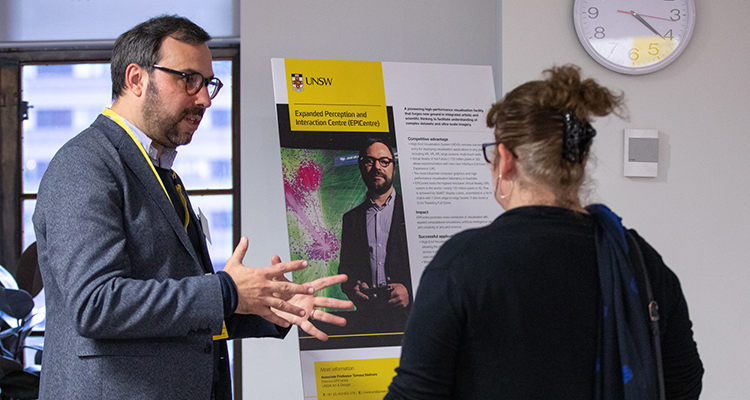 Diverse minds met to confront the issue of trust in business and society at first Knowledge Exchange research showcase event.
The first in a series of four Knowledge Exchange research showcase events was held at the UNSW CBD campus on Thursday 29 August. Titled 'The Value of Trust – Building Integrity within Business and Society' the event saw UNSW researchers and prospective UNSW partners from industry, government and the community gather to explore opportunities for engagement and collaboration.
As more than 100 attendees braved the rain, researchers from across eight of our faculties showcased their expertise to more than 50 prospective and current partners. Attendees enjoyed a lively and engaging debate, posing questions to our panel of experts then discussing opportunities to work together. 
At a time when private enterprise, public institutions and government are suffering from declining levels of public trust and a growing fear around where to next, the panel acknowledged that corporations are now being forced to recognise that relationships are more than just transactions. The significance of trust is increasing, and work needs to be done to rebuild trust and restore respect for corporate, public and non-government institutions.
The panel also explained the recent royal commission into financial services proved regulatory processes and systems require more investment and shareholder results can no longer be the only priority. With companies and directors having a duty of care to maintain, UNSW expertise in humanities, arts and social sciences research as well as science, technology, engineering and health, has a critical role to play in understanding trust, integrity and resilience in business and society.
The showcase event marked the launch of the Trust Capability Portfolio which highlights UNSW's strengths and the value the University can offer to partners in research and executive education within leadership, strategy, law, regulation, ethics and corporate responsibility, social impact, social policy and justice, data science and security. It was announced UNSW will be investing further resources into an exploration of trust over the next two years with Scientia Professor Rob Brooks adding "Trust" to the Grand Challenges program which leads debate and shapes responses to the complex issues facing humanity.
Don't miss the next Knowledge Exchange research showcase, Bioengineering for a Healthy Future, on 24 September. Invite your industry and government contacts and help UNSW translate our knowledge into real and lasting impact.
Comments