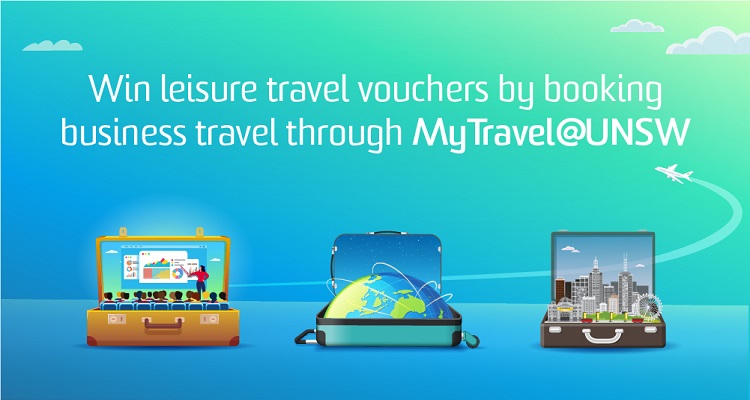 MyTravel@UNSW are offering leisure travel vouchers for staff who book business travel from 13 June to 31 August. 
As a valued colleague of the UNSW travel community, you have the opportunity to win leisure travel vouchers simply by booking your business travel through MyTravel@UNSW. 
The voucher giveaway is sponsored by some of our key travel partners, Accor Hotels, Airbnb for Work, Avis car rental, Business Travel by STA and Qantas. 
Prizes include:
10 x $250 Qantas travel vouchers

20 x Gold Frequent Flyer memberships

3 x $100 food and beverage vouchers for Accor Group restaurants, including

Pier Street Grill, Platform 818 and Garden Court Restaurant

6 x Avis car rental weekend vouchers (two-day rental)

6 x $250 Airbnb vouchers
If you wish to know more information, including terms and conditions for competition entry, please visit MyTravel@UNSW or contact travel.prizes@unsw.edu.au.  The competition closes on 31 August 2019.
Your feedback, training and improvements
Following the launch of MyTravel@UNSW in December 2018, the MyTravel@UNSW team has listened to your feedback and prioritised areas that have resulted in program improvements. Please look out for further communication and training opportunities that will address these improvements in productivity and booking turnarounds.
Comments