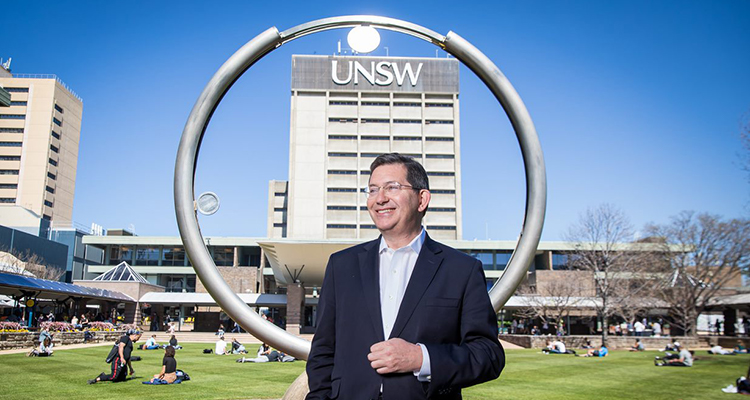 Congratulations to the 110 members of the UNSW community who have been named in the Queen's Birthday 2019 Honours List. These awards are an endorsement of the diverse and impressive impact our people have in the wider community. It is notable that three of the 12 recipients of the highest civilian honour, the Companion of the Order of Australia, are UNSW alumni: The Honourable Dr Annabelle Bennett AO SC; Professor David Burke AO; and Ms Sharan Burrow. Ita Buttrose AO OBE, who has a long-standing association with UNSW and was awarded an honorary doctorate from UNSW Medicine last year, was also made a Companion of the Order of Australia. I am delighted that many other staff, visiting fellows and alumni have been recognised. They include: Officers of the Order of Australia – Professor Andrew Biankin, Mr Nicholas Cowdery AM QC, Dr Alan Dupont, Ms Kathryn Fagg, Emeritus Professor Susan Kippax and Scientia Professor Michelle Simmons; Members of the Order of Australia – Dr Ian Cook, Mr Victor Chapman PSM, Dr John Edmonds, Emeritus Professor Ralph Hall, Reverend Dr Thomas Frame, Professor Constance Katelaris, Professor Steven Krilis, Mr Geoff Roberts, Mr Anthony Schembri, Dr Leon Simons, Mr Andrew Spate, Dr Richard Stark, Mr Edward Spooner and Dr Peter Tyree; and recipients of Medals of the Order of Australia – Dr Quang Phu Ho, Dr David McDonald, Dr Mary Moran and Dr Gregory O'Sullivan. On behalf of the entire UNSW community, I extend the warmest congratulations to all recipients on their prestigious and important recognition. 
UNSW's 2018 Annual Report has been released. The report outlines a range of areas of UNSW activity and notes some highlights from 2018 including the announcement of Scientia Professor Michelle Simmons as the 2018 Australian of the Year; former PM Malcolm Turnbull delivering his Australia-China address at UNSW; and the launch of UNSW's first Indigenous Strategy. You can download the report here.
Thank you to those who attended the Strategy 2025+ Town Hall meeting last week. It provided an opportunity to outline progress with the Strategy, hear contributions from students and staff, and for Management Board to take questions on a range of topics including UNSW 3+, UNSW's digital future and our equity and diversity agenda. Responses to the Consultation Paper are invited over the next month and there will be many other routes to provide feedback.
The UNSW Environmental Sustainability Plan 2019-21, was launched on World Environment Day last Wednesday. It aims to significantly deepen our commitment to environmental sustainability and outlines commitments, targets and activities which will support us to switch our campuses to 100% renewable power, reduce waste, improve energy and water efficiency, set a path to net zero emissions in line with the Paris Agreement, and more.
I was sad to hear of the passing of Emeritus Professor Roger Covell. Roger, who was 88, was a fixture in Australian classical music and a cherished member of our university community. He established the classical music programs at UNSW in the '60s and remained a teacher here until his retirement from teaching in 1996. He also co-founded UNSW's critically acclaimed resident chamber group, the Australia Ensemble, and served as its Artistic Chair until 2013. I invite you to read about Roger's life, accomplishments, and contributions to UNSW here. It is clear his legacy as a musicologist, teacher, critic, advocate and mentor will endure for years to come. On behalf of all at UNSW, I extend my condolences to Roger's family and friends during this sad time.
More good news for UNSW Dean of the Built Environment, Professor Helen Lochhead, who following her recent election as National President of the Australian Institute of Architects, has received the presidential medal from the American Institute of Architects. This is a prestigious prize and a sign of the esteem in which Helen is held in the international architecture and urban design community. Congratulations Helen.
Welcome to newly appointed CEO of the NUW Alliance, Matt Gijselman. The NUW Alliance brings together UNSW, the University of Wollongong and the University of Newcastle with the aim of adding value for NSW. One of the Alliance's early achievements has been establishing itself as the NSW Government's university partner in the Western Sydney Aerotropolis development, together with Western Sydney University. Matt brings a wealth of experience in government and the corporate sector and will take forward the busy agenda established by the inaugural CEO, Bran Black.
I am delighted that Vice Admiral Paul Maddison, Canada's High Commissioner to Australia since 2015, has been appointed as inaugural director of the Defence Research Institute at UNSW Canberra. Before his role as High Commissioner Paul served in the Canadian Armed Forces for 37 years, culminating in his appointment as Commander of the Royal Canadian Navy in 2011. His appointment is a key step forward for our Defence Research Institute. You can learn more about the Institute's agenda on its website.
I was pleased to be invited to speak last week at the Edutech Conference held at the Sydney ICC, on the topic of university partnerships, and how they may contribute to making tertiary education more accessible across the globe. This is a challenging subject, and despite the best efforts of the many large international groupings of universities, like APRU and U21, our international community has not yet landed on a sustainable model of delivering quality higher education to the hundreds of millions of students in low to middle-income countries who will reach college age in the coming decades. The newly-formed U7 Alliance may be able to make a valuable contribution. Online education has the potential to revolutionise the scale at which high quality education can be delivered. My talk raised more questions than it provided answers, but if you are interested in the global education challenge, you can read my thoughts here.
An event for your diaries: on 17 July, UNSW welcomes prominent US history, culture and civil rights writer and educator, Jelani Cobb, to UNSW to deliver the UNSW Martin Luther King Lecture. Cobb has received high praise and a wide following for his work, including his 2010 book The Substance of Hope: Barack Obama and the Paradox of Progress. His ideas about race, poverty and inequality are especially pertinent given the current divided state of American politics and society. In what promises to be a memorable program, Cobb will be accompanied by a performance from the Boston Children's Chorus, which is visiting Sydney for the Gondwana World Choral Festival and uses music to break down barriers of race, religion, geography and socioeconomic status. You can register for this event here.
I write to you from part-way through a quick trip to Asia. On Tuesday I caught up with the Alumni Foundation Board in Singapore, at the moment I'm in Hong Kong meeting with UNSW supporters, and tomorrow I go to Shanghai for the 2019 Shanghai Alumni Summit, which will be a full day conference bringing together a few hundred of UNSW's alumni community in China to explore the theme Our Global Future. It is always a joy to come in contact with former international students, hear of the warmth with which they regard UNSW and learn of their careers and achievements.
Best wishes,
Ian
Comments