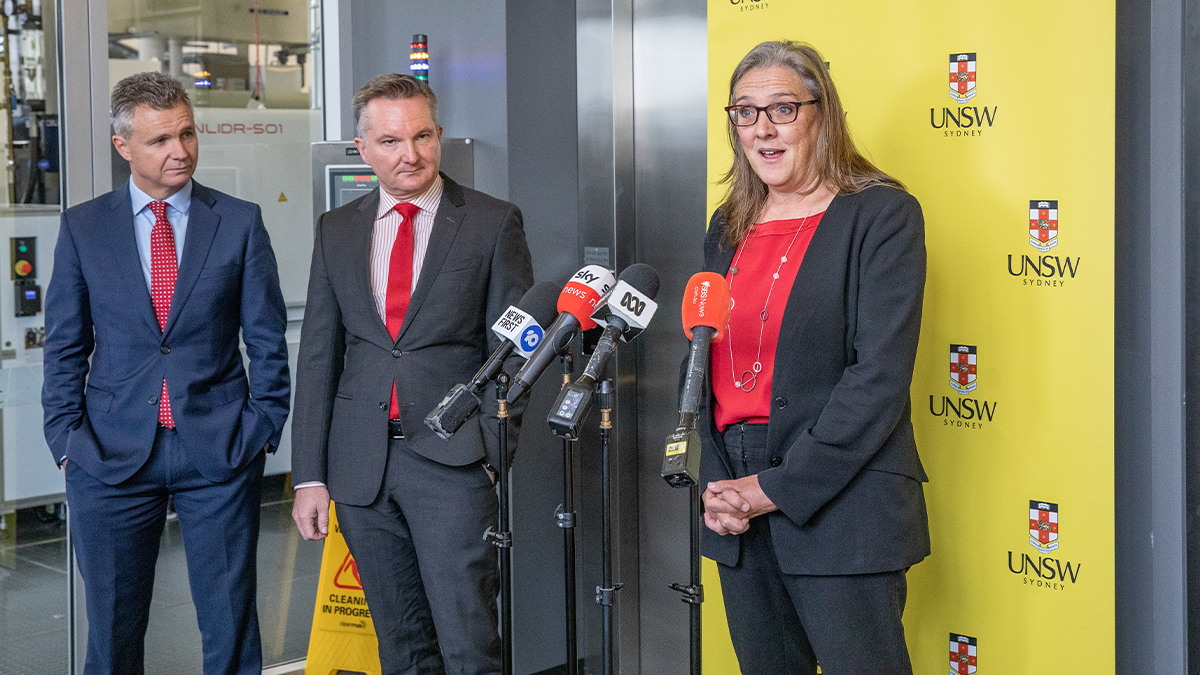 With solar a big part of our energy future, researchers driving Australia's international lead in solar technology welcome funding.
Cutting-edge solar photovoltaic (PV) research at the Australian Centre for Advanced Photovoltaics (ACAP) headquartered at UNSW Sydney will receive further funding from the Australian Government, with Minister for Climate Change and Energy Chris Bowen today announcing a $45 million boost that will extend operations until 2030. 
Mr Bowen paid homage to Professor Martin Green – often described as the 'father of modern photovoltaics'. "The solar industry in Australia has many fathers, mothers and champions but none more so than Professor Martin Green. In my view, he is a national treasure."
"As a country, we need to meet our emission targets, but we can also help the rest of the world. That will be because of the innovation, the science, the cutting-edge technology that happens right here and at other universities, but no place more than here at UNSW," said Mr Bowen. 
ACAP is a federally funded initiative by the Australian Renewable Energy Agency (ARENA) and is led by UNSW's School of Photovoltaic and Renewable Energy Engineering (SPREE). The centre includes research groups from CSIRO, Australian National University, University of Melbourne, University of Queensland, University of Sydney, and Monash University. 
ACAP is a critical foundation of Australia's world-leading research and development capability in solar PV, with benefits for emissions reductions in Australia and globally. 
UNSW Sydney Vice-Chancellor and President, Professor Attila Brungs and Member for Kingsford Smith, Mr Matt Thistlethwaite joined Mr Bowen at the event which was held at the ACAP centre located at the UNSW Kingsford campus. 
Incoming ACAP Director, Professor Renate Egan said, "We're looking forward to working with ARENA to deliver low-cost solar technologies through ongoing research.  Australia has been leading the world in solar technology development, and there's still so much more to do. And we're only just beginning."  
Prof. Egan said the funding from ARENA will support around 20 research fellows and over 65 new students each year, which will keep Australia at the forefront of innovation in solar PV. "Importantly, these students become the skilled engineers that the industry needs to deliver the transition to a low carbon future." 
What is solar PV? 
"Most Australians have a pretty good idea about solar PV - it's the technology in the panels you see on people's rooftops that converts sunlight directly into electricity," explained Prof. Egan. "It's now the lowest cost form of new energy generation, and Australia is leading the world in the uptake of solar - with more than 25GW of solar installed - equal to 1kW per person."  
"Our goal is to continue to work on the technology to improve performance and drive down cost. We would need to see that 25GW grow at least tenfold to meet all of Australia's electricity needs, as we electrify transport and heating and as we become an exporter of clean, green energy." 
Outgoing ACAP Director, UNSW Professor Martin Green said this coming decade promises to be the most exciting and important in photovoltaics, ever, with massively increased uptake and technological change. 
"Much recent progress internationally is due to Australian technology, and we have other exciting developments in the pipeline. We're looking at how to grow sustainably at scale as well as looking at new device structures where we are stacking cells to create tandems that can reach much higher efficiencies.  Solar is going to be a big part of our energy future," said Prof. Green. 
Solar technology developed by Prof. Green is embedded in 90 per cent of the current silicon module panel production worldwide, with his research also having supported Australia holding world records for efficiency for 30 of the last 39 years. Although Prof. Green has now handed the ACAP reins over to Prof. Egan, he will remain strongly connected with ACAP.  
Funding will help Australia remain at the forefront of the PV industry well into the future 
ACAP was designed to provide an institutional framework for Australia's coordinated, national approach to solar PV research. It aims to develop "over the horizon" PV technology to create a pipeline of improved technology for increased performance and ongoing cost reduction. The centre's research program supports ARENA's Solar 30 30 30 goal to improve solar PV cell efficiency to 30 per cent and reduce the cost of installation of solar modules to 30 cents a watt by 2030.   
ACAP is also closely aligned with ARENA's focus on supporting ultra-low-cost generation, which is aimed at realising the opportunity for further step-change innovation in PV. Ultra-low-cost solar is a key enabler of Australia's renewable energy opportunity, as it will help to lower the input costs for green hydrogen, low emissions metals, and other large-scale clean energy opportunities across all sectors. 
ACAP has a strong record of industry partnerships, fostering the spin-out of Australian companies such as Open Instruments, Solar Vision, Solar Cycle and SunDrive as well as partnering with leading Australian innovators including 5B, Sun Cable, BlueScope, and Raygen. 
ARENA CEO Darren Miller said the funding would ensure ACAP remains one of the world's top research centres for innovation in solar energy and solar PV technology. 
"ARENA is excited to continue its long-standing support to the Australian Centre for Advanced Photovoltaics and help deliver further cost reductions in silicon PV, as well as develop the next generation of solar technologies with the potential to transform the industry. 
Mr Miller said Australia is a world leader in solar PV innovation, punching far above its weight. "Through the funding for ACAP, we are ensuring that university research groups will continue to underpin education and training and ensure that Australia remains at the forefront of the PV industry well into the future." 
Comments