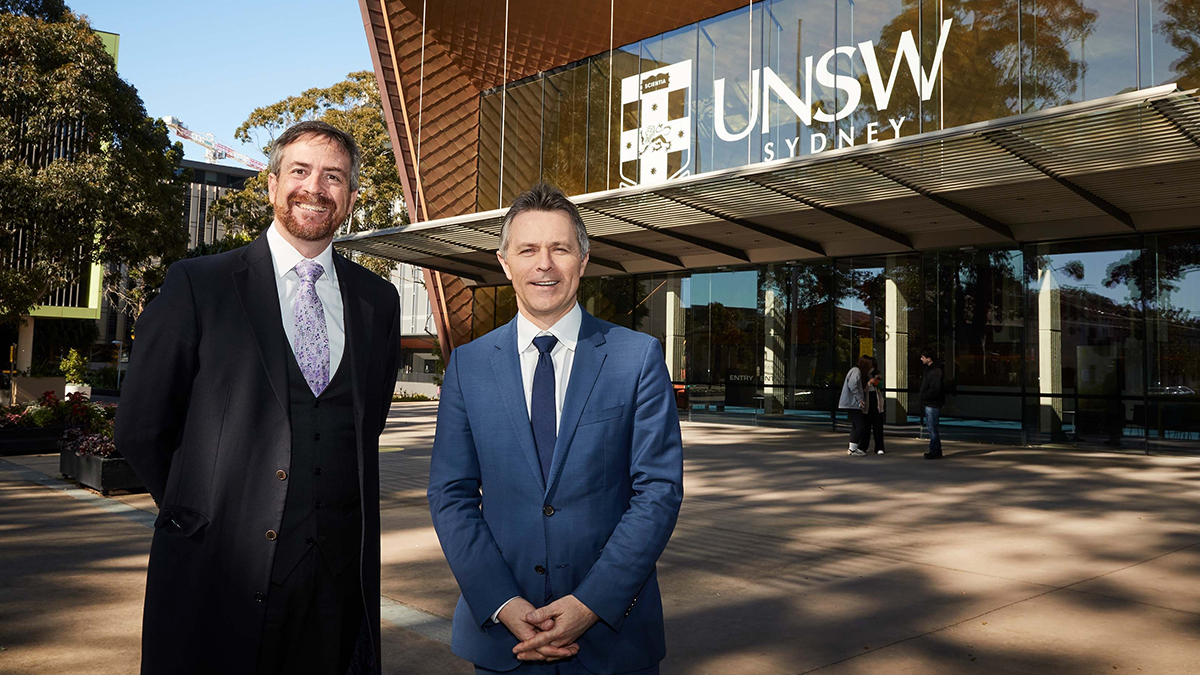 Hon. Jason Clare, MP, met with UNSW leaders, researchers, and students during a visit to campus.
More than two decades after graduating from UNSW Sydney, Minister for Education Hon. Jason Clare MP was back on the Kensington campus to meet with students, learn about some of the university's research strengths, and tour world-leading facilities.  
"It is the most wonderful experience to be back here," said Mr Clare, who graduated in 1998 with a Bachelor of Arts (Hons) and a Bachelor of Laws degree. 
In his first visit to his alma mater since his appointment in June, Mr Clare met with UNSW Vice-Chancellor and President Professor Attila Brungs, where the pair discussed opportunities for university-government collaboration, teacher retraining and expanding access to higher education for low SES, Indigenous and students from rural and regional Australia. 
"It was a delight to have Minister Clare on campus," Prof. Brungs said. "He appreciates the university. He spoke about all parts of university life, and it was a reminder of the work the whole university community does and what we do for society."  
The meeting reaffirmed Mr Clare's commitment to higher education, which he declared during his keynote speech at the Universities Australia Conference earlier this month.  
"There is so much good we can do, working together. That's what I want to do," he told the audience in his first major speech to the university sector. "And that, at its core, is what the Australian Universities Accord will be about. A reset. And an opportunity to build a long-term plan for our universities, together." 
Mr Clare saw an example of university-government collaboration firsthand when he met with UNSW Chancellor David Gonski AC to view the construction of the Randwick Health & Innovation Precinct.  
The Precinct brings UNSW together with government, industry, four specialty hospitals, pre-clinical facilities and nine institutes spanning neuroscience, mental health, cancer, and other fields.  
Mr Gonski explained the Precinct is located among UNSW research and teaching facilities. The Precinct, which will connect all academics on the UNSW Kensington Campus across the array of disciplines relevant to health to the Precinct, is scheduled to open in 2026. 
Mr Clare said the Precinct is a great example of bringing health and university campuses closer together. 
"It works," Mr Clare said. That's the way universities and hospitals should work together."  
A highlight of the campus visit was meeting with students from UNSW Law and seeing the transformation of the Law Building. Mr Clare reminisced about his hour-long train ride from his home in Cabramatta to Central Station before jumping on the bus from Eddy Ave to High Street.  
"Even though I didn't get to study in this building, it still feels like home," Mr Clare said.   
Mr Clare also toured the ARC Training Centre for Automated Manufacture of Advanced Composites, home of the recently announced Sovereign Manufacturing Automation for Composites Cooperative Research Centre (SoMAC CRC). Led by Professor Gangadhara Prusty, SoMAC is a consortium of university and industry partners leading a $260M program over the next decade to advance Australia's next-generation composites manufacturing industry, including green energy production, space vehicles manufacturing and civil and marine infrastructure. 
The UNSW Sunswift Racing team showed off its latest solar powered vehicle, Sunswift 7, and shared the challenges they have faced in the last two years as they work to set a Guinness World Record for the fastest solar electric car over 1000km. 
"I appreciate the opportunity to come back," Mr Clare said. "[Prof Brungs] has tried to sign me up for a couple of courses. It is wonderful to be back, and it is a treat to get to meet students."  
Comments