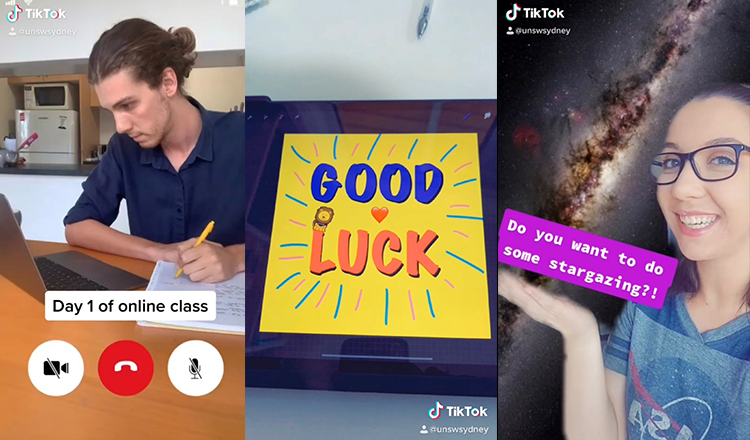 UNSW has been awarded Best Use of TikTok at this year's Australian Social Media Marketing Awards.
UNSW has gone back-to-back at the Australian Social Media Marketing Awards, winning the 2020 award for Best Use of TikTok following last year's award for UNSW Pulse.
An app for making and sharing short videos, TikTok has 800 million active users worldwide, 41% of whom are aged between 16 and 24, making it an excellent tool to communicate with current and prospective UNSW students.
Launched almost a year ago, the UNSW Sydney TikTok account has grown to almost 14,000 followers and maintains a strong connection with this young audience through relatable student life content as well as easy-to-understand academic content.
"TikTok is the Wild West of creativity and is like no other platform we have a presence on," said Mitch Lamm, the Social Media Coordinator who manages the UNSW TikTok community.
"As a University entering this space, we had to learn to reshape our understanding of traditional communication standards and step outside of normal production methods, a reflection of UNSW's commitment to innovative ideas and outside-of-the-box thinking."
Jack Breen, Digital Lead: Social Media at UNSW added, "By being where our audience is, creating bespoke made-for-platform content, and using language that is authentic and fun, we are building a relatable brand persona and keeping UNSW top-of-mind for our future students."
Have a great idea for a TikTok but not sure where to start? Feel free to reach out to Mitch Lamm from the Social Media team. In the meantime, find us on TikTok at @UNSWSydney.
Comments