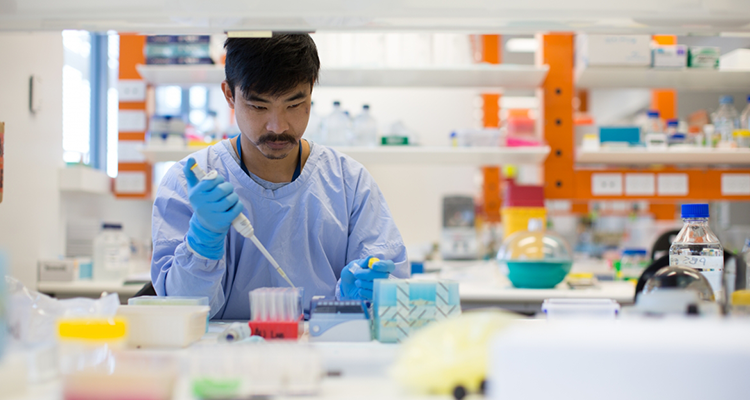 Grant funding of up to $250,000 is available as part of NSW Treasury's Innovation Districts COVID-19 R&D Challenges.
NSW Treasury's Innovation Districts COVID-19 R&D Challenges grant funding program is now open.
The Innovation Districts Challenges are designed to accelerate the commercialisation of research products that address the impacts of COVID-19 by businesses in partnership with universities and the CSIRO in NSW. The NSW Government is supporting innovation and tapping into the creativity and expertise across the state by investing $3 million to take promising products to market.
NSW Treasury is working with UNSW as one of its partners in the Boosting Business Innovation Program to hold three rounds of challenges in innovation districts across NSW. Grant funding of up to $250,000 is available to eligible businesses on a competitive basis.
"Out of the first challenge we hope to see innovative ways of addressing the impact of COVID-19, whether assisting in detection of the virus, improving patient care, or solutions that help the people of NSW safely get back to activities they enjoy," said Minister for Jobs, Investment, Tourism and Western Sydney Stuart Ayres MP about the first challenge that was launched on 2 October.
UNSW, along with the 11 other universities and the CSIRO, will nominate three project proposals to be assessed by the panel of judges. One of those proposals is guaranteed to receive $10,000 grant funding. An independent panel will be provided by NSW Treasury to judge the 36 applications on a competitive basis with funding being awarded to the top three applications in the state.
This program is a great way for researchers to access funding for their business ventures or expand their network and create opportunity for collaboration with industry partners.
Any business with a product or service that directly addresses the impact of COVID-19, and can be considered a health and wellbeing solution for the people of NSW, should review the eligibility criteria and complete an expression of interest before 23 October.
Find out more about the process, eligibility and how to apply on the Tech Connect website.
For further information, email danielle.neale@unsw.edu.au.
Comments