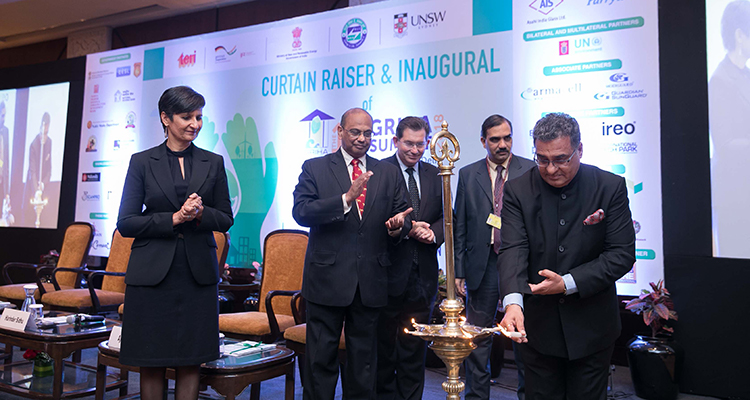 The UNSW-hosted GRIHA Summit in New Delhi brought together national and global leaders in sustainability across industry, government, academia, finance and policy.
UNSW was the proud co-designer, co-creator and co-host of the flagship Green Rating for Integrated Habitat Assessment (GRIHA) Summit in New Delhi with The Energy and Resources Institute (TERI) last December. This was a first in the Summit's history and an acknowledgement of our global reputation as a powerhouse of cutting-edge research in environmental sustainability and smart cities.   
Bringing together national and global leaders working in the field of sustainable habitats, experts from industry, government, academia, finance and policy and consumers, the Summit marked a significant contribution by UNSW and TERI towards transforming India's sustainable development agenda.  
UNSW's involvement with the GRIHA Summit is part of our broader strategy to have a positive global impact through partnerships that transform society for the better – socially, culturally and economically. The 20 strong pan-UNSW delegation, led by President and Vice-Chancellor Professor Ian Jacobs and Dean of Built Environment Helen Lochhead, included world-leading researchers in the fields of clean energy and sustainable housing, photovoltaics, waste-water treatment and intelligent transport systems. 
In his opening address, the Vice-Chancellor said, "If we are to address the sustainable development challenges of our region, we must work together, share ideas and experience, and commit to a generosity of partnership that opens doors, builds trust and leads us to solutions faster." 
Reflecting on the Summit, Pro Vice-Chancellor International Laurie Pearcey quoted Mahatma Gandhi, who once said, "Science without humanity is one of the world's deadly sins." 
"At UNSW and through our research effort showcased at this important Summit, we have demonstrated we are a university for science with humanity," Laurie said. 
UNSW's partnership with TERI in the Summit complements India's ambitious plan of ensuring access to adequate, safe, affordable housing and basic services for all citizens by 2030. It also demonstrates how UNSW's investment in India's education, knowledge exchange and research agenda are contributing to the Australian government's new India Economic Strategy to 2035, in which education featured as the priority sector to drive Indian-Australian ties over the coming decades. 
With the Summit heralded as an outstanding success, UNSW has again been invited by TERI to co-create the 11th GRIHA Summit in 2019 along with setting up a joint 'Living Lab' in India to showcase world-leading, multi-disciplinary research solutions for transforming India's sustainable development agenda. 
Comments