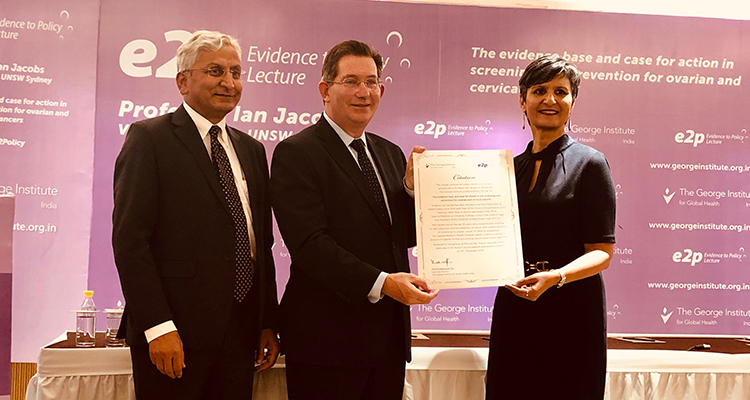 Welcome back!
I hope you had an enjoyable break and feel refreshed.
I am sure that most of you, like me, were more than ready for a holiday at the end of 2018. I spent the first part of my break catching up with family and friends in London and Cambridge, before returning to Sydney and spending some time up on the Central Coast. Over the last two weeks Chris and I have been enjoying our new family member, Jamie, a beautiful Rough Collie puppy. Having a 'Lassie' has been my dream since I was about five years old. My dream has come true and Jamie is wonderful, though I was quickly brought down to earth when cleaning up puppy poo at three in the morning! Nevertheless, I am enjoying every single moment.
Just before the break I had the opportunity to attend the 10th GRIHA Summit in New Delhi, which was co-hosted by UNSW and brought education and industry leaders from around our region to discuss issues related to energy and sustainable development. It was a thought-provoking couple of days and I look forward to continuing our relationship with GRIHA. During the visit I also gave the George Institute Delhi Annual Oration on the topic of screening for cervical cancer. Cervical cancer is entirely preventable and is now a rare disease in countries which, like Australia, are affluent enough to have comprehensive screening and vaccination programmes. Tragically, there are still over half a million cases, over 300,000 deaths and terrible suffering in less well-resourced regions, particularly in Africa and Asia. My talk focused on ways to tackle this problem based upon novel approaches to screening in low-resource settings using self-sampling and rapid HPV testing developed by the Kirby Institute team in PNG.
I then went on to Uganda for a quick visit with the partners we work with in Gulu. The topics we discussed included collaborative projects involving UNSW and Gulu University in education, engineering and health, including a cervical screening programme. From Uganda I travelled on to London to discuss developments related to the PLuS Alliance.
The break gave me time to reflect on the many ways UNSW people made an impact over 2018. It was a year of many successes and achievements and I would like to again say thank you to you all on a phenomenal effort.
This year promises to be similarly gratifying as we mark 70 years since we were incorporated by Act of the Parliament of New South Wales – the moment we officially became a university. It is remarkable to reflect that in just 70 years UNSW has evolved into one of the most respected and trusted universities in Australia.
The implementation of our 2025 Strategy continues. The initial couple of years of implementation of the Strategy asked a lot of staff and I hope that 2019 will see these efforts continue to bring benefits for UNSW. This year, teaching commences on the timetable of our new and much-anticipated UNSW 3+ academic calendar. You'll find an update on all the latest on 3+ in this edition of Inside UNSW. We'll also continue to build innovative spaces to research and learn, and progress our many exciting knowledge transfer, thought leadership and global development projects.
We recently heard the fantastic news that Professor John Church from UNSW's Climate Change Research Centre was announced a recipient of the 2019 BBVA Foundation Frontiers of Knowledge Award in Climate Change. This is one of the scientific community's major prizes, placing Professor Church, a global expert in sea level research, among the premier scientists in the world. Huge congratulations from the entire UNSW community on an accolade so well-deserved. You can read about Professor Church's contributions to ocean science here
Congratulations also to Dr Angelica Merlot, UNSW Scientia Fellow based at the Children's Cancer Institute, who has been nominated for the 2019 NSW Young Woman of the Year Award for her research achievements in pancreatic and brain cancer and anti-cancer drugs.
Some good news over the break for funding – the final NHMRC funding announcement for 2018 saw $57.2 million awarded to UNSW researchers. This took our overall 2018 NHMRC funding to a total of $82.8 million, placing UNSW third among the Go8. Meanwhile, UNSW topped the nation with the highest participation in industry-led research projects awarded grants in the latest round of the CRC-P Program, with five projects involving UNSW researchers receiving more than $11 million to pursue projects spanning artificial intelligence, health technology and a world-first eco-friendly fire retardant.
The 2018 Graduate Outcomes Survey and Employer Satisfaction Surveys also contained positive news for UNSW, revealing that UNSW graduates are highly sought-after in the jobs market, and earn among the top starting salaries in Australia. And for the second year in a row, UNSW topped the list of first preferences for students in NSW/ACT. These terrific results are testament to the excellence of our academic staff and an indication of the strong reputation UNSW continues to build. Students know that if they come here their experience will be outstanding, and employers know that UNSW graduates enter the workplace as adaptable, collaborative, and with the right skills for the job. If our world-record beating student solar car team is anything to go by, they are pretty innovative too.
Later next month, UNSW will co-host the Times Higher Education (THE) Research Excellence Summit Asia-Pacific, themed 'Research for the public good'. I look forward to welcoming researchers from across our region to discuss the challenges and opportunities which lie ahead for research in our part of the world. One of the discussions we'll have is about how we contend with the political challenges of research – including the populist forces which erode trust in scientific and expert opinion. THE published my opinion piece on this topic yesterday.
It is precisely because of these forces that the role of research in informing public opinion and guiding good policy is so important. Climate change scientists, for example, continue to face an uphill battle in having their findings adequately acted upon by governments. It's clear that the pressure is building – the World Economic Forum just last week named environmental risks and inaction on climate change as principal among the greatest challenges facing the world in 2019.
It is important that researchers across all areas of endeavour bring their expertise to bear on public conversations relevant to them. Over the break I saw countless examples of UNSW researchers doing a stellar job of this, bringing factual, reasoned and trustworthy analysis to a wide range of important public debates – the Menindee fish kill, pill testing, the Opal Tower, proposed changes to citizenship rights for terrorism offenders, rising sea levels, and the rolling chaos of Brexit, to name a few.
This form of engagement is a crucial avenue through which UNSW can champion reasoned decision-making and contribute meaningfully to the public good. As this is an election year for both the NSW and federal governments, more people will be looking to UNSW for analysis and expertise on the issues which matter to them.
An election year also means that our sector will make our views known on the ways in which we hope to be supported by government in the years ahead. The Federal Government's decision to strip $328.5 million out of research funding in December's mid-year budget update came as yet another shock to the sector, and highlights the urgent need for a better way forward. Not only do we need greater regard for the role of research, but we also need funding certainty. We need to know that research in Australia will be supported in a way that is fair, transparent, and in the nation's best interests.
My year spent as Go8 Chair gave me unique insights into the challenges facing our sector and it has left me with the view that a wholesale review of tertiary education in Australia is, as the ALP has suggested, overdue. A separate review into research funding and priorities, and a commitment to increase the proportion of GDP spent on research and development would also be welcomed at this critical juncture. I hope to work with my successor as Go8 Chair, UWA's Professor Dawn Freshwater, and other colleagues to advocate for these and other interests over the coming months and I will continue to push hard for a new Australian Translational Research Fund as an MRFF equivalent for non-medical research.
Deepest sympathy to Brian Boyle, our Deputy Vice Chancellor Enterprise, on the loss of his beloved wife Shona after her long struggle with breast cancer. Shona had her own highly successful career as a lawyer but also found time to attend and support many UNSW events. The thoughts of many in the UNSW community have been with Brian, his sons and family during the last few weeks. It is fitting that a new position known as the Shona Boyle McGrath Breast Care Nurse is being established in memory of Shona. For those that would like to make a donation you can do so here. Click on the donate button and after filling in the donation amount, it will take you to a page where you can fill in your details and specify that the donation is in memory of Shona Boyle. I know that Brian is receiving and will continue to receive enormous support from all of us in the UNSW community.
I would also like to pay tribute to a respected former member of the UNSW leadership who sadly passed away last week. Professor Gerry Govett was appointed to UNSW as the Head of the School of Applied Geology in the mid-70s. He went on to become Dean of the former Faculty of Applied Science, leading the Faculty until his retirement in 1996. In recognition of his prodigious contribution to the field of exploration geochemistry, Professor Govett was in 2009 awarded the Association of Applied Geochemists Gold Medal. He was also a talented and enthusiastic teacher, inspiring many students throughout his career including our current Academic Board President, Associate Professor David Cohen, who was his last PhD student. On behalf of the UNSW community, I offer condolences to Professor Govett's family and all those who knew him.
And I'll finish with an open invitation to all of you to pay a visit to the newly refurbished UNSW Bookshop and Café which I visited for the first time yesterday. I hope it will become an important feature of our campus – it's a superb and welcoming development and the coffee is great too!
I look forward to sharing 2019 with you all.
Best wishes,
Ian
Comments