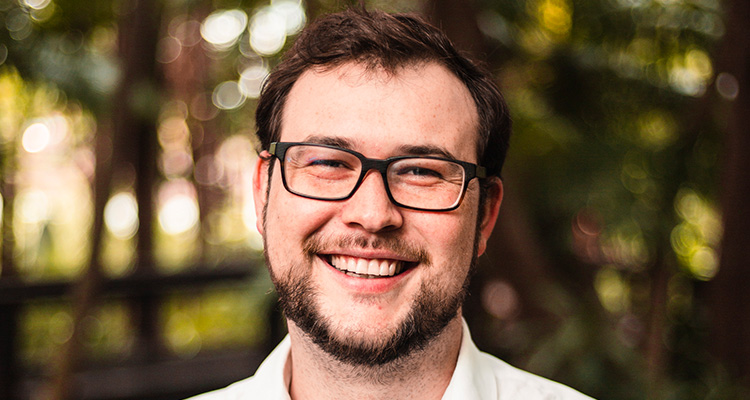 John Rotar has won the choral composition prize for his work Songs about birds, forests, flowers and mountains.
Brisbane-based composer and conductor John Rotar will receive a prize of $3000 and have his work performed by Corde, UNSW Sydney's chamber choir, in October 2023. Corde is a small choir drawn from across the UNSW campus community who sing challenging, unaccompanied repertoire.
Mr Rotar, who Limelight magazine has described as a "young, talented and innovative composer", has had over 130 works commissioned, recorded or performed by various leading musicians and ensembles across Australia, Europe and North America. His work has garnered him numerous compositional residencies, scholarships and awards, both nationally and internationally. He is an active performer with a particular love for choirs and choral music, and is the current Artistic Director and Conductor of The Australian Voices, and organist at the historic All Saints Church in Brisbane's CBD.
The Willgoss Choral Composition Prize is generously supported by Dr Richard Willgoss, a former UNSW Engineering academic, and Sue Willgoss. It's awarded to rising composers to be celebrated within their community, and to create a lasting contribution to choral composition in Australia. 
"I am so honoured and thrilled to be the recipient of the Willgoss Choral Composition Prize and I can't wait to hear my work come to life with the stellar voices of Corde!" said Mr Rotar.
"I would like to express my gratitude to Dr Richard Willgoss and Sue Willgoss for their ongoing support of this incredible competition. Competitions like this are not only vital to the career path of young composers like me, but are also an indispensable part of ensuring the future vibrance and health of new Australian choral music."
The adjudication panel was chaired by Sonia Maddock, Head of Culture and Choral Director at UNSW.
"There was a strong field of applications for the prize, and overall an extremely high standard of composition. There were examples of excellent craft, musical sophistication and stylistic interest. The winning work exemplified all these elements, as well as motivic variety, and appropriateness for the standard of the Corde chamber choir," they said.
Songs about birds, forests, flowers and mountains will be premiered by Corde in October 2023 at Sir John Clancy Auditorium.
Comments