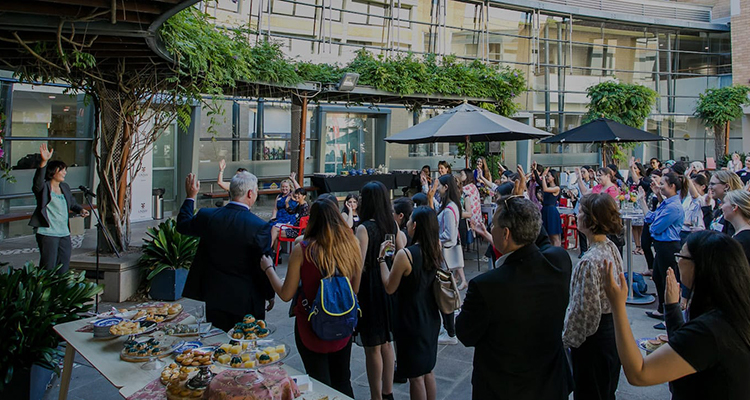 UNSW Hospitality is the exciting new rebrand of Venues and Events. 
Formed when UNSW Venues and Events and hospitality merged this year, UNSW Hospitality will continue to manage the many campus venues and offer additional new services, including:  
End-to-end event planning and management 
Concierge hosting 

Catering 

Creative and technical expertise 
With the all-new UNSW Hospitality, you can expect a hotel or restaurant experience in a university context, where hospitality excellence meets innovation and ideas, supporting UNSW organisers to make event planning easier. 
Brand new Hospitality website 
The all-new online catering portal on the hospitality website provides a simple tool for organising catering and planning events around campus. You can use the new website to:  
Explore UNSW's world-class venues 

Browse and order from UNSW's new caterers 
Access advice and live event expert support 

Personalise your catering dashboard 

Review and rate your experience 
Brand new catering options 
Hospitality is also proud to announce that three new, innovative and award-winning caterers, all creating fresh food choices with their own unique style, will now be servicing UNSW.  
Catering Project  
Exclusive provider of catering to UNSW CBD Campus and campus-wide.  
Harman & Harman 
Exclusive provider of catering to our AGSM venue and campus-wide.
Bayleaf 
Exclusive provider of catering to the John Niland Scientia Building venue and campus-wide. 
New campus cafés  
The doors have opened at UNSW's newest café, The Point, located in the AGSM Building. Run by catering partner Harman & Harman, The Point is the latest offshoot of their popular Avoca Beach institution. The Point promises great coffee, great food, friendly service and something for everyone. 
Another exciting cafe offering that's opening up in the next two weeks is The Little Marionette (TLM) at the Clancy Kiosk. Set to redefine the coffee experience at UNSW, TLM will serve sophisticated, artisan coffee and high-quality, healthy food and pastries from the acclaimed Black Star Pastry. Other highlights include exclusive coffee-related experiences, including 'cupping' - the coffee equivalent of wine tasting.
And opening in April, look out for Scientia Kiosk on the ground floor terrace of Scientia. Bayleaf Sydney Group is behind this new café that will offer quirky and creative high tea-style fare, a range of quality teas and fresh barista coffee. 
Contact 
Need more information about UNSW Hospitality?  
Phone +61 2 9385 1515 or email unswhospitality@unsw.edu.au 
Comments