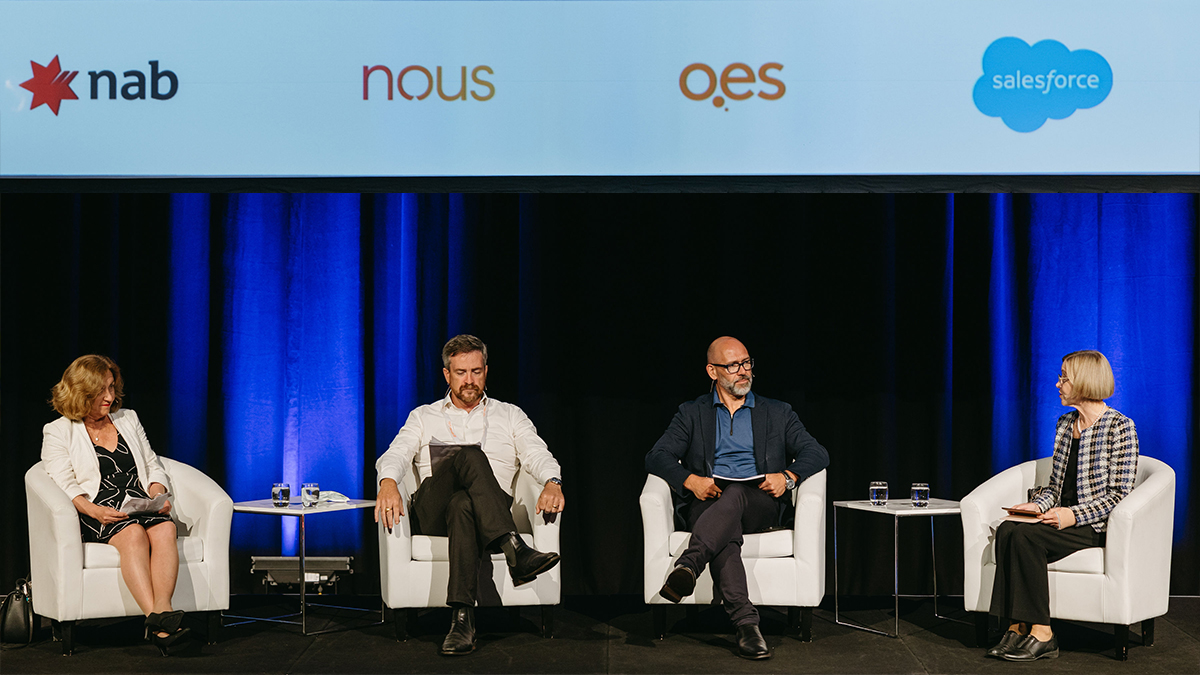 Dear colleagues
Over the past year I have met thousands of members of the UNSW community during my visits to our Faculties, Divisions and Schools, as well as through many other forums. It has been a privilege to experience colleagues' passion for UNSW's positive impact on the world around us, across myriad disciplines and fields of endeavour. Thank you for your openness in sharing your work and ideas with me – both your pride in UNSW's achievements and your thoughts about how we can do better. I am committed to acting on your insights and ensuring mechanisms that enable your thoughts and feedback to shape UNSW.
With this in mind, later this month we will launch the UNSW staff survey, called 'Insight'. Insight will ask colleagues throughout the University about your experiences and perceptions of working at UNSW. While a number of Faculties and Divisions have conducted surveys in recent years, it has been many years since we had a university-wide survey. This provides an important opportunity not only to hear from all our colleagues at once, but when combined with the responses to other surveys, ascertain priority areas to make UNSW an even better place to work. The critical part of this exercise is how we will transparently discuss, develop and implement both cross-university and local actions to address your input. I am hoping there will emerge major themes that we can work on together as a University community and then in two years' time when we repeat the survey, hold ourselves to account as to our progress on these themes.
I make this personal commitment to you now. We will take action based on your responses to this survey. All responses will be confidential and secure. While participation is voluntary, I strongly encourage you to take part. To ensure the feedback we receive is robust and your views are represented, I would love a survey completion rate of more than 80% of our community.
I will write to you about Insight in more detail next week.
Now, please enjoy this edition of Inside UNSW, which is filled, as always, with wonderful news and achievements from across the UNSW community.
UNSW supports process of reconciliation
Reconciliation is at the heart of the UNSW Indigenous Strategy 2018–2025 and the UNSW ethos of having a positive impact on the world around us. I am proud to share that UNSW has reaffirmed our support for the Uluru Statement from the Heart, including its call for a First Nations Voice to Parliament. Our University has actively supported the process of the First Nations Voice from its early days, including through the Indigenous Law Centre and the Uluru Dialogues.
Professor Megan Davis, Pro Vice-Chancellor Society, was instrumental in the dialogue process and the First Nations National Constitutional Convention that led to the Uluru Statement from the Heart and its call for the Voice. Megan gave a moving keynote address to an audience of 1000 at the Universities Australia conference on Wednesday 22 February, receiving a standing ovation. Federal Education Minister Jason Clare aptly described the power of Megan's address when he said, "Nothing I say tonight will move you like Professor Megan Davis this morning".
UNSW proudly heeds the call of the Uluru Statement from the Heart for all Australians to walk together for a better future.
Acute Services Building opens
Many of you, like me, will have been watching the construction of the Acute Services Building (ASB) on Botany Street with interest over the last couple of years. The ASB is the first stage of the Randwick Campus Redevelopment and the first major upgrade to Prince of Wales Hospital for 25 years. Some hospital services have started moving into the new building and the main entrance, opposite UNSW Gate 11, will be accessible from mid-March.
UNSW has a 5000 square metre extension off the new building, called the Integrated Acute Services Building (IASB) due to open in 2024. This is an exciting development for our Randwick Health and Innovation Precinct, bringing together research, education and clinical services, and strengthening links between researchers and clinicians. This collaboration will provide researchers with important insights into current models of care and support the translation of research into practice. UNSW is immensely proud to be a part of this project, in partnership with the NSW Government, which will benefit communities locally and across Australia.
Thank you to the many, many people at UNSW who share in delivering this exciting new phase of the precinct and for your ongoing commitment to our vision for improving lives.
Universities Australia Conference
I was really pleased to join colleagues from the higher education sector for the Universities Australia Conference in Canberra recently, at which I chaired a panel of leading experts on Australia's engagement with India's National Education Policy and participated in the Jobs and Skills Panel. The conference was a wonderful opportunity to explore the power of universities to affect positive change.
A welcome start to the day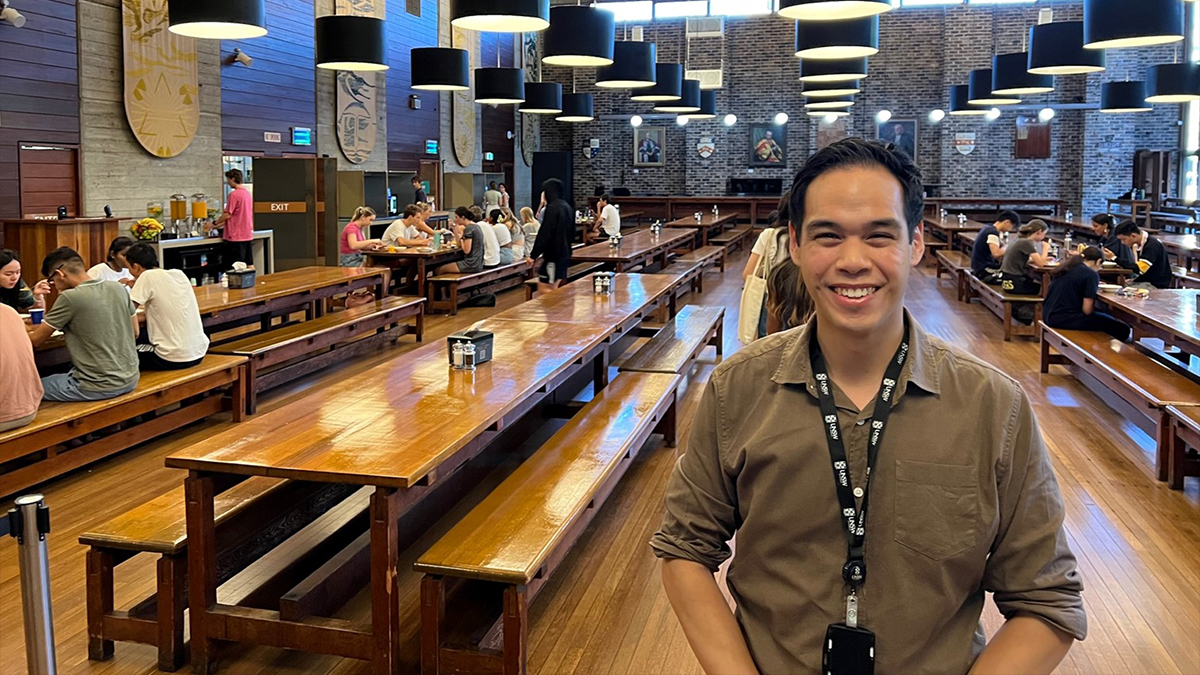 It can be quite daunting walking into a college dining hall as a 'fresher', but Thomas Pak (pictured) does a great job of putting students at ease. Recently I popped into Goldstein Dining Hall and had the pleasure of meeting Thomas, assistant manager of the Dining Hall, who was providing a friendly welcome to all the new and returning college residents as they arrived for breakfast. Even if you're not a morning person, it's hard not to feel optimistic about the day when greeted by Thomas!
Cutting-edge research addresses complex water challenges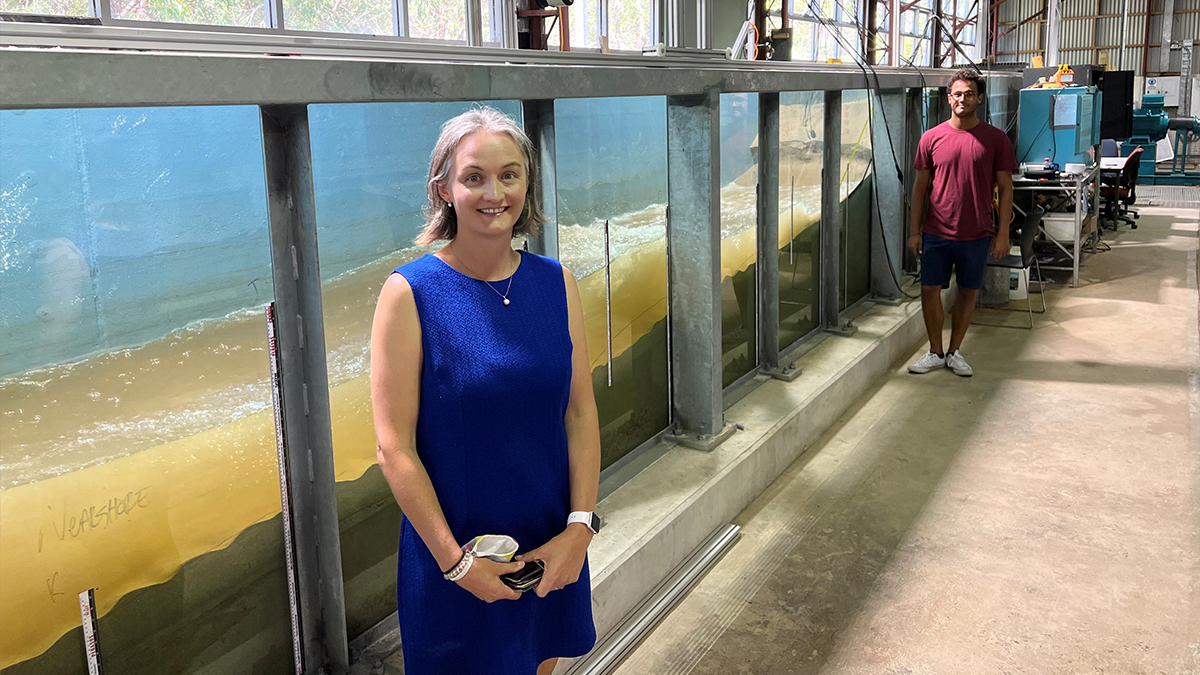 It was wonderful to visit the Water Research Laboratory (WRL) in Manly Vale recently and meet the team of researchers, including Associate Professor Kristen Splinter (pictured), who are using their expertise to solve challenging water engineering problems. Last year Kristen received a $932,000 Australian Research Council (ARC) Future Fellowship to advance the ability to predict shoreline change. The project aims to enhance understanding of how sandy coastlines adapt to future climate variability, providing significant benefits by enabling a better assessment of coastal hazards and risks to assets and infrastructure.
This is an exemplar of the pioneering research being carried out by the WRL team to find solutions to the pressing water and engineering issues facing our society. It's pleasing to see the impact of this work, with recommendations being widely adopted by our industry partners and embedded in the community.
NUW Alliance working together for impact
I am pleased to have assumed the role of chair of the NUW Alliance this year. The Alliance, comprising the University of Newcastle, UNSW Sydney, the University of Wollongong and Western Sydney University, works on the premise that we can do more together than we can alone. The Alliance seeks to leverage its critical mass to tackle the challenges facing communities across NSW and deliver impact beyond the reach of individual universities. Importantly, through the Alliance we can institutionalise collaboration and respond to new challenges with agility and rigour. 
I thank Professor Alex Zelinsky, Vice-Chancellor of the University of Newcastle, for his excellent stewardship of the Alliance over the last two years and look forward to continuing to drive benefits for NSW through this important collaboration.
There's plenty more Inside UNSW…
You may notice changes to signage and the names of buildings and spaces over the coming weeks. This is part of an exciting new project that we'll tell you more about in coming editions of Inside UNSW.
Don't forget, the first of three Recharge Weeks planned for 2023 begins on Monday 20 March. The week prioritises wellbeing, so please, I encourage you to reduce your meeting schedules and email traffic as much as practicable that week. It's a great chance to create some clear headspace, focus and catch up.
Best regards
Attila
Professor Attila Brungs
Vice-Chancellor and President
Comments