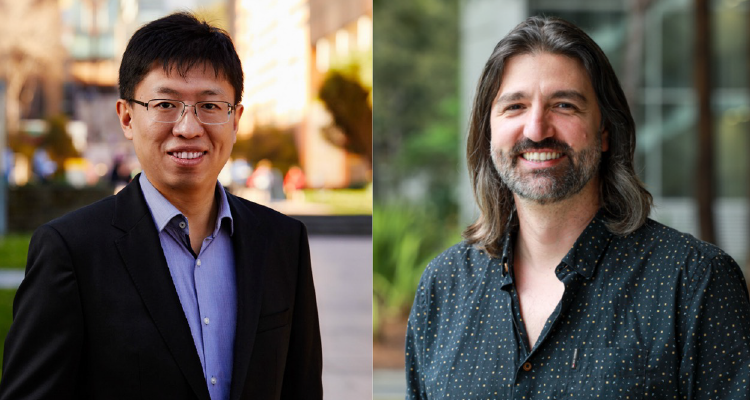 UNSW Sydney's Associate Professors Ang Liu and Michael Kasumovic have received a Citation for Outstanding Contributions to Student Learning as part of the 2022 Australian Awards for University Teaching (AAUT).
In their applications for the award, both A/Prof. Liu and A/Prof. Kasumovic addressed the criterion of Innovation or leadership that has influenced learning and teaching and the student experience. Their contributions in this area are exceptional and they have both demonstrated a commitment to enhancing the quality of education for their students.
The prestigious AAUT national awards are open to applicants from all 43 Australian universities. Only 59 citations were awarded in 2022 and the winning educators came from 26 institutions, four of them (including UNSW) were Go8 universities.
"I'd like to extend my warmest congratulations to our two recipients of the 2022 AAUT - Citations for Outstanding Contributions to Student Learning," said Professor Louise Lutze-Mann, Acting Deputy Vice-Chancellor, Education & Student Experience.
"We recognise and celebrate your dedication to enhancing the student experience and continually improving education at UNSW. Thank you and well done on achieving this highly competitive national award!"
Associate Professor Ang Liu
Ang Liu is Associate Professor of Engineering Design at the School of Mechanical and Manufacturing Engineering.
He has been awarded a Citation for his outstanding achievements in personalising learning at scale in engineering design projects, which has significantly improved the student learning experience. Teaching engineering design can be complex due to its ill-defined problems, open-ended solutions and iterative processes that require personalised guidance. In addition, with large class sizes and inconsistent tutor marking, providing personalised feedback is a challenge.
A/Prof. Liu introduced a series of innovations to achieve this. One was to introduce personalised feedback to counterbalance the subjectivity in marking team-based design assessments. He also introduced a new feedback provision procedure that improved the inconsistency of assessment marking by forming an editorial committee with expert assessors, and he cross-examined the marking consistency to finalise grades.
He also introduced a decentralised model to allow tutors to facilitate interactions while building their skills in team management and helping students gain peer perspectives. He assembled a team of senior undergraduates as co-facilitators and advised the students to regard them as "coaches".
As a result, the average student satisfaction with his teaching was 93.4 per cent in 2017-2019. His success in personalised learning in MMAN2100 led to improvements in UNSW's engineering design curriculum. A/Prof. Liu's approach became the foundation of a new faculty-level course, –DESN2000 Engineering Design and Professional Practice – now offered to over 1000 students in every engineering discipline each year.
"I am honored and overjoyed to receive this prestigious award. I am most grateful for the continued strong support from the school, faculty, and University ever since I joined UNSW in 2016, without which, this recognition would be impossible. As a firm believer of technology-enhanced learning, I believe that the advent of new technologies will have profound impacts on the higher education enterprise," A/Prof. Liu said.
"Not only new learning technologies can be adopted to personalise students' learning experiences, but also new learning opportunities should be created to equip our students with innovative design thinking and global preparedness towards lifelong learning."
A/Prof. Liu's leadership roles in multiple pedagogical projects have resulted in six articles published in leading educational journals. He has also received several external and internal educational research grants. He was invited to support the establishment of a new global design school, TEDI-London in the UK with UNSW's PLuS Alliance partners Kings College London and Arizona State University (ASU), which introduced a new model of design education aimed at providing students with more personalised learning experiences.
"The Faculty of Engineering is extremely proud of Associate Professor Liu and his AAUT award. He is a thought leader in the faculty when it comes to education, and design education in particular," said Professor Maurice Pagnucco, Deputy Dean (Education), UNSW Engineering.
"He has pioneered several education initiatives in his school and for the faculty. He is also a leader among the Education Focussed community. This award is both a testament to and a well-deserved honour for his leadership and impact in engineering education at UNSW. We look forward to future great achievements from Ang."
Associate Professor Michael Kasumovic
Michael Kasumovic is an Associate Professor in the School of Biological, Earth & Environmental Sciences (BEES) at UNSW Science.
He has achieved significant success in improving student learning experiences through his creative approach to teaching using video games and digital experiments. A/Prof. Kasumovic's innovative work has not only transformed the way students learn evolutionary theory, but has also significantly contributed to improving student satisfaction and learning outcomes.
Over the past seven years, A/Prof. Kasumovic has developed 30 games and apps that help students learn different biological, psychological and mathematical concepts through discovery. Each app turns students into scientists as they collect authentic data visualised in digital worksheets in real-time, reinforcing theoretical concepts learned through discovery.
In 2017, he turned students into predators in the game Eat Prey Live, which transformed the way students learned evolutionary theory. Students felt challenged, and collecting data that summarised how organisms evolve in the game improved their understanding of the content. Multiple experiments could be completed in a term, providing students with more opportunities to practise scientific skills that develop data literacy. Experiments that previously took 2-8 hours were completed in just 15 minutes.
A/Prof. Kasumovic also created Reservoir Crabs, an augmented reality (AR) game which reduces anxiety among students observing animal behaviour for an evolution course. The game replaces the use of live crickets and fish in competition studies.
Since 2015, over 300,000 students globally have downloaded A/Prof. Kasumovic's apps, collectively gathering over 10 million data points. The feedback from his students has been overwhelmingly positive, with 476 students in three second and third year courses between 2017-2020 enjoying (100 per cent broadly agree) and preferring to learn this way (94 per cent broadly agree). He improved student satisfaction by 45 per cent in a second-year Ecology and Evolution course he began coordinating in 2020 using this approach.
"I love watching students discover new ideas and theories through playing our games. I've had some of the most rewarding conversations with students over the last few years as the games allow students to speak from experience, rather than through rote memorisation," A/Prof. Kasumovic said.
"To this day, I can't help but smile when I see that 'ah-ha!' moment appear on a student's face as they discover something on their own. The games have provided an environment where students are comfortable to learn from mistakes, and that's when real learning happens."
A/Prof. Kasumovic's innovative approach has not gone unnoticed. He has been awarded over $1.8 million in external funding to improve learning on a national scale. He also presented his work at the Australasian Evolution Society Conference in 2018 which led to his game being widely adopted in courses across Australian universities.
"Michael is one of the most innovative lecturers in the School of Biological, Earth and Environmental Sciences and has led several initiatives that create new and memorable learning experiences for his students. He thinks deeply about how students learn and engage with new material, and routinely influences his colleagues to reflect upon and revise their teaching approaches. His teaching is very well regarded by students, with student satisfaction among the highest in the school, which is frequently among the highest rated schools within UNSW," said Professor Alistair Poore, Head of School of Biological, Earth and Environmental Sciences,
Comments