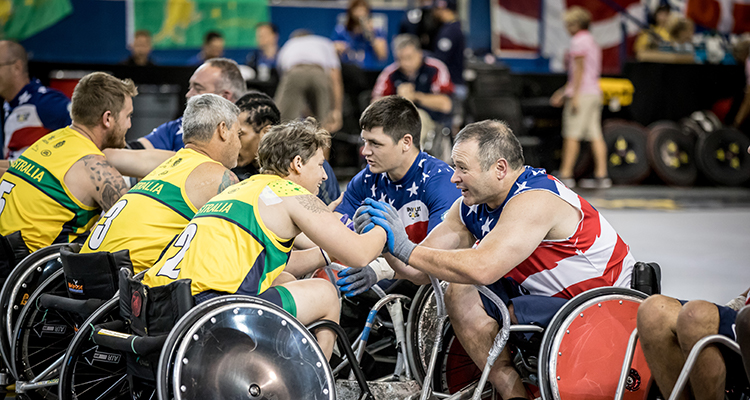 UNSW Canberra is supporting the rehabilitation of service personnel and veterans by signing up with Invictus Games Sydney 2018. 
The Games are an international sporting event for wounded, injured and ill veteran and active service personnel. They highlight the power of sport to inspire recovery, support rehabilitation and generate a wider understanding of those who serve their country. The Games, to be held from 20-27 October 2018 in Sydney, also celebrate the crucial role played by family and friends in the recovery process. 
UNSW Canberra Rector Professor Michael Frater said the partnership was a natural fit as the University had provided education for members of the Australian Defence Force for more than 50 years. 
"We are proud to have contributed to shaping the lives and careers of members of the Australian Defence Force," said Professor Frater.   
"The word 'invictus' is Latin for 'unconquered' and embodies the fighting spirit of our wounded, injured and ill service personnel and veterans. 
"The seven UNSW Canberra alumni competing in the Games certainly embody this spirit and we look forward to supporting them as they compete in athletics, indoor rowing, powerlifting, swimming and sailing, which will be a one-off event for the Games in Sydney." 
Former Australian Army Officer and UNSW Canberra alumni Benjamin Farinazzo is representing Australia at the Games for the first time, in powerlifting and indoor rowing. 
In recent years Ben was diagnosed with Post Traumatic Stress Disorder (PTSD) as a result of his military service. Ben also had a mountain bike accident and fractured his neck and spine in several places. 
Ben reflected on his time at UNSW Canberra with fond memories. 
"UNSW Canberra helped me with a supportive and engaging learning environment. As a student I was provided with a solid foundation in the development of critical analysis, effective communication and a broader understanding of the global environment. 
"I was also fortunate to form many strong lifelong friendships with both students and staff," said Ben. 
Professor Frater added that UNSW Canberra leads the Australian conversation and research efforts on the topic of moral injury – which is an inner wound sustained when an individual's value system is disrupted by morally challenging experiences. 
"The notion of moral injury is not new, but the need to understand and better manage this unseen wound is critical as more uniformed personnel return from overseas deployments affected by what they've seen and heard," said Professor Frater. 
"UNSW Canberra will use this partnership with Invictus Games Sydney 2018 to further raise awareness with a view to better supporting men and women returning from service in the future." 
Invictus Games Sydney 2018 Chief Executive Officer Patrick Kidd OBE expressed his appreciation for UNSW Canberra's support of the Games. 
"We are grateful to have UNSW Canberra join us on our journey to the Games," said Mr Kidd. 
"Together, through this partnership that we've announced, we can ensure the Games have a lasting impact for our defence personnel and veterans well beyond October 2018," he said. 
Tickets for the closing ceremony and further sport sessions are on sale to the public at www.invictusgames2018.org. 
Comments