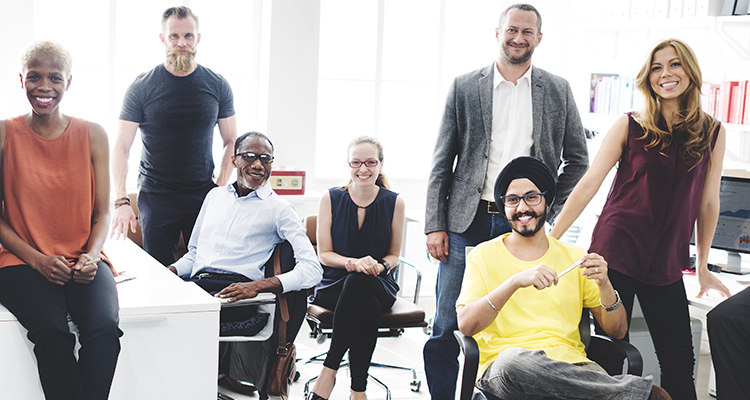 Now is the time to join 400 people who have already signed up for UNSW's first all-staff mentoring program to take advantage of career support and networking opportunities.
The Career Collaborator online platform is now live and we are calling for mentors and mentees to sign up to the first UNSW all-staff mentoring program. Career Collaborator enables you to easily find a mentoring connection to have supported career conversations and help to extend your UNSW knowledge and network. The UNSW Capability and Development team is passionate about encouraging all UNSW employees to explore their career, not only through myCareer but by having valuable career conversations with a mentor.  
This is not your typical mentoring network. In addition to traditional mentoring, the Career Collaborator program also encourages peer-to-peer mentoring - either colleagues at similar levels or experience and reverse-mentoring or a junior colleague will mentor a senior colleague. We are keen for staff to sign up as both mentors and mentees because we believe that everyone has something to share and give. 
Sarah Livisiannis, People and Culture Strategic Portfolio lead says, "We know from previous mentoring networks both at UNSW and elsewhere that people really value mentoring relationships as they provide an alternative way for staff to discuss their career and development with someone outside their own team. In many cases the mentors learn as much from the process as the mentees and in some cases very experienced staff have sought reverse mentoring relationships, where less experienced staff members provide insights and advice to more experienced colleagues." 
Do I need experience of being a mentor?  
No. UNSW fosters a culture of life-long learning. We believe it is inevitable therefore that there will always be times when you need input or assistance from someone with the necessary knowledge and experience and where they need your help and guidance in return. We believe everyone has something to give, which is why we recommend you sign up as both a mentor and mentee. Training is provided for all mentors. 
How does it work? 
The Career Collaborator is supported by an online mentoring platform called 'Chronus'. This platform uses a fancy algorithm to suggest connections based on your requirements. This reduces the administration time, making it easy for you to find a mentor or connect with a mentee. The platform provides information and training resources about mentoring and the roles and responsibilities. 
How can I join? 
It's easy to sign up and get started with Career Collaborator, just follow these five steps, or check out the video below. 
What are the benefits to joining? 
Every mentor-mentee relationship is different, but here are just some of the many benefits you can expect: 
For the mentee: 
Developing new skills e.g. in teaching, research, conflict resolution, digital expertise 

Gaining access to new professional networks and contacts 

Gaining greater insight into UNSW operations and culture 

Finding new ways to solve problems 
Help with career planning 

Increase in confidence and job satisfaction 
For the mentor: 
Developing skills in listening and coaching 

Enhanced self-esteem and confidence 
Developing leadership and interpersonal skills 

Gaining new insights into UNSW operations and culture, as well as their own current practice 

A chance to actively help the professional development of a colleague 
OK, I'm in! What other details do I need to know? 
The Career Collaborator is open to all UNSW staff and affiliates. You do not need endorsement or approval by your Manager to sign up, nor do you need any experience as a mentor. All you need is your zID or an email adrress and the desire to be part of a community which pays it forward. 
For more information and to sign up, head to www.unsw.to/careercollaborator. 
Comments