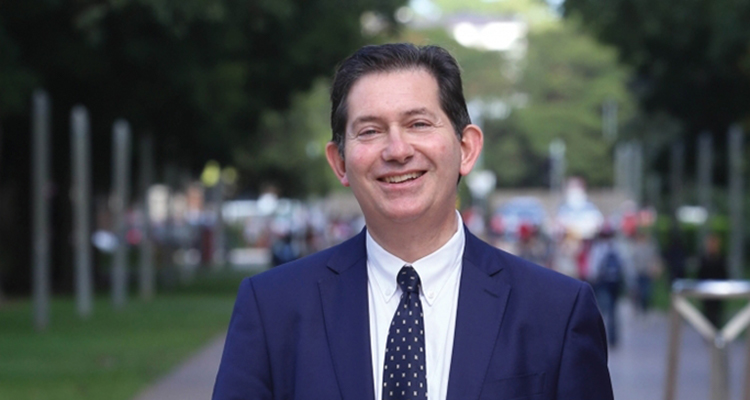 Colleagues
What better way to bring in Semester Two than some tremendous news from the Academic Ranking of World Universities. UNSW has performed well in the new Global Ranking of Academic Subjects, with the highest number of top-100 subjects of any Australian university. Between 2017 and 2018, we have doubled the number of UNSW subjects ranked first in Australia. We also performed well on a global scale, with 24 subjects in the top 50 in the world, and three subjects—Water Resources, Mining and Mineral Engineering, and Civil Engineering—in the top 10 in the world. This is a reassuring indicator of UNSW's research trajectory.
My jetlag after travelling to China and Europe combined with the pain of England's semi-final defeat are fading memories thanks to a full schedule of meetings and events over the past fortnight. A highlight was hosting a gathering of student leaders from across the Go8 here at UNSW last week. The students met for three days of networking and brainstorming on what their vision is for the future of Australia's research universities. I was impressed by the passion and insights of these students and felt energised about what lies ahead for our institutions. I donned my Go8 cap again today, when I welcomed Minister for Health, the Honourable Greg Hunt MP, to UNSW to speak at the Go8 Genomics and Precision Medicine Collaboration and Commercialisation Summit.
Another highlight was catching up with Dr Felix Kaducu, Dean of Medicine at Gulu University, and Honourable Minister of State for Health and Primary Health Care in Uganda, Dr Joyce Moriku Kaducu. As I mentioned in my message a few weeks ago, UNSW works closely with Gulu University on a range of initiatives and it was great to have the chance to discuss options to expand on our joint cervical cancer screening program in northern Uganda.
For those of you who made it to yesterday's first instalment of the 2018 Professorial Inaugural Lectures, you will know what a potent reminder it was of the quality of people and richness of expertise we have at UNSW. Professor Gabriel Lodewijks shared his insights into technological disruption in the aviation industry, and Professor Pall Thordarson brought us a few steps closer to understanding the origin of life on earth. Both speakers excelled in distilling their complex research into accessible and engaging presentations and in sharing with us the key people, personal and professional, who have shaped their lives. I congratulate both speakers and encourage you to get along to a few of the 30+ inaugural lectures scheduled over the next few months.
I was delighted to hear of the resounding success of this year's Nura Gilli Winter School. More than 100 Aboriginal and Torres Strait Islander students from all over the country converged on Kensington campus for a week-long taste of university. The Nura Gilli Winter School is an important element of UNSW's efforts to break down barriers to university for underrepresented student groups. Currently, less than one per cent of our student body is Indigenous, but we're working towards raising that to three per cent by 2025. We know that role models will be a crucial part of this effort, just as they were for UNSW Engineering student, Tamina Pitt, who was recently honoured as 2018's NAIDOC 2018 Youth of the Year. A wonderful ambassador for higher education and UNSW.
I'd also like to congratulate Associate Professor Bram Hoex, Scientia Fellow Dr Brett Hallam, and Post-Doctoral Fellow Dr Alison Ciesla, all from the School of Photovoltaic and Renewable Energy Engineering, who have been named in the prestigious 40 under 40 list for solar professionals. Besides making many of us feel our age, having all three recognised is testament to the fact that UNSW really is a world leader when it comes to solar engineering expertise. We also recently celebrated Scientia Professor Michelle Simmons' official admission into the Royal Society of London. As always, there are many outstanding members of the UNSW community achieving great things and it is a pleasure to be able to share in their success. Congratulations to all.
You will have seen news reports this week of new Universities Australia guidelines for university responses to reports of sexual assault and sexual harassment. UNSW's own general council and Interim President of the Australian Society of University Lawyers, Elizabeth Grinston, played a key role in the development of the guidelines, as did Professor Andrea Durbach. The guidelines call for the safety and wellbeing of students and staff who disclose or report sexual assault or sexual harassment, to be at the centre of any university response. I am pleased to be able to report that UNSW has already completed or is well on the way to satisfying all 13 key recommendations of the report, with many recommendations implemented over a year ago. You can find out more about UNSW prevention and response strategies or to report sexual misconduct here.
Finally, I encourage you to keep up the good work reducing your use of plastic. Although Plastic Free July is almost over, I hope you will have formed some new habits to take forward. I'm very happy with my new UNSW reusable cup and I'll make the effort to use it when I can. One last thing—on the topic of our environment—I would like to give a vote of thanks to our terrific grounds and landscaping staff in Estate Management. After two solid weeks of being the preferred place for graduation photos, the Library Lawn was looking worse for wear, but our expert grounds staff have nursed it back to good health just in time for Semester Two. Well done on a great job.
Best wishes,
Ian
Comments