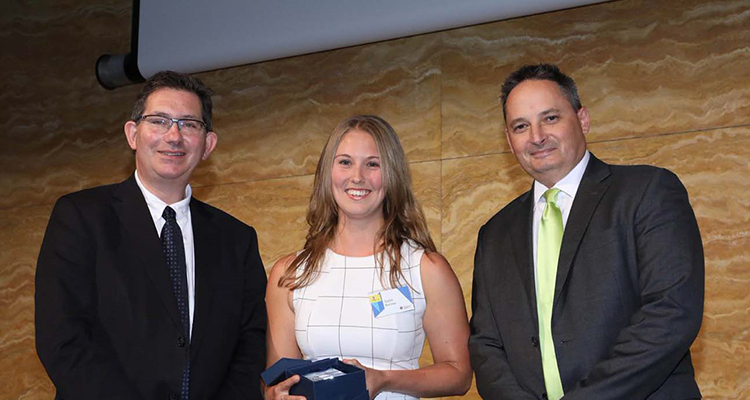 In the lead-up to President's Awards Night on 5 December, we spoke to 2017 award recipient Sophie Burrows about how and why she strives to demonstrate excellence.
Tell us about you. What is your role at UNSW and what team do you work in?
My time at UNSW started about seven years ago and my first role was as a Student Advisor for MBA students at AGSM. I then moved into the former Future Students Office where I took on an Outreach Coordinator role, managing external engagement activities with prospective undergraduate students.
Since November 2016, I've been working as the Student Engagement Manager for the UNSW3+ Academic Calendar Project. The main part of this role has been to ensure the changes and benefits of the new calendar are understood and communicated to the student body and student-facing staff, and to work with faculties and divisions to resolve any student issues or concerns.
Tell us a little about why you were nominated in the Demonstrates Excellence category.
I've always kept the student needs and welfare front of mind when communicating and supporting them through the transition to the new calendar. Change is hard for most people and, where possible, I've tried to anticipate students' needs, questions and the support required to make the transition as smooth as possible for them.
I've had to work closely with student-facing staff and together we've adapted our approaches to support as engagement has increased across the student body. From the implementation of the student change ambassadors for peer-to-peer information sharing, to student information sessions with professional and academic faculty staff, being able to construct new ways of thinking and adapting these when requested from the student body has been empowering.
The past 18 months have presented challenges – some expected, others unexpected – but I've tried to approach every day with a smile and an attitude that reflects my desire to support the student body.
What does demonstrating excellence mean to you? Why is it important?
Excellence to me means going the extra mile, continuously learning from those around me and not stopping until I find the best outcome for all stakeholders. I'm particularly passionate about ensuring students are well supported and have the best possible experience while they're at university. I strongly believe that new initiatives shouldn't be imposed on students but rather, delivered in a way that reflects their key drivers and acknowledges their concerns.
I'm also a strong believer that achieving excellence is a natural by-product of having fun, and with a positive, can-do attitude there's no challenge that can't be overcome.
While you were on the path to excellence you maintained a very customer-centred approach. Why was this important to you, and can you share some tips with others about how you did this?
In my role, the students are customers, and I want them to feel valued at all times. Having worked with some of the highest achieving and most creative students across UNSW, I understand how the student experience shapes their future careers, beliefs, values and connection to the University. I've kept that at the forefront of my mind when trying to assist them with the transition to the new calendar.
Communication is mainly about listening, and so over the past 18 months I've listened to feedback from students and student-facing staff and have adapted my approach to improve the ways I communicate. It's important to have a strategic plan and vision, but it's more important to be open-minded with your approach and take the advice of experts around you.
Away from the workplace, what hobbies or activities do you enjoy?
I love exercising - it's rare that I go anywhere without my active wear! I love pilates, going to the gym, reading, relaxing at the beach and spending time with my partner and friends. For my team members who read this, I also really enjoy karaoke and am exceptionally good at bowling!
Comments