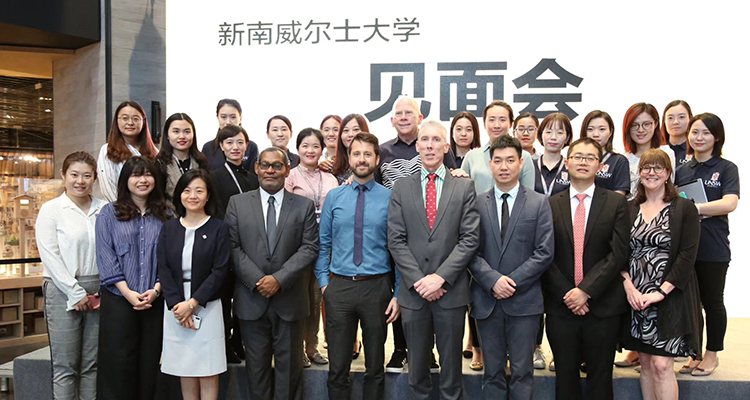 Nine delegates from UNSW recently travelled to China to visit UNSW Foundation Studies Campuses and spoke to students about study options here at UNSW.
UNSW Global currently manages 11 offshore campuses that run the UNSW Foundation Studies program. Annually, approximately 500 students graduate from these satellite campuses, and in many instances, these students are high achievers who are sought after by our Go8 competitors.
The purpose of the visits is to develop a genuine connection between these international students and UNSW, making them feel a part of the UNSW family. The University delegates answered questions from potential students about course content, study majors and career opportunities. The visits were also intended to provide students with a sense of what it is like to live and study in Sydney at a world Top 50 university.
Over the course of six days, the team, comprising senior academics and professional staff, visited 14 schools in six cities, attended six agent partner events and spoke to over 1,000 students, clocking up nearly 20,000km in travel by plane and train.
The important work now continues with our Future Students Experience team initiating a set of communications with the students to keep UNSW front of mind, particularly in the lead up to them receiving their final examination results and making that huge decision to come to UNSW to complete their undergraduate degree.
The week of activities were coordinated by our UNSW China Team, with the delegation from UNSW including:
Dr Vaughan Rees Associate Professor (Associate Dean, International and Engagement): Faculty of Art and Design

Dr Isabelle Jalbert Associate Professor (Associate Dean International and Engagement) Faculty of Science

Professor Marc Williams (Associate Dean International) Faculty of Arts & Social Sciences

Dr Lili Dai (Senior Lecturer) Faculty of Business

Mr Alvin Li (Senior Student Advisor) Faculty of Business

Mr John Kennedy (International Development Coordinator) Faculty of Engineering

Mr Matt Henderson Head of Partnerships (Asia) Division of External Relations
Comments