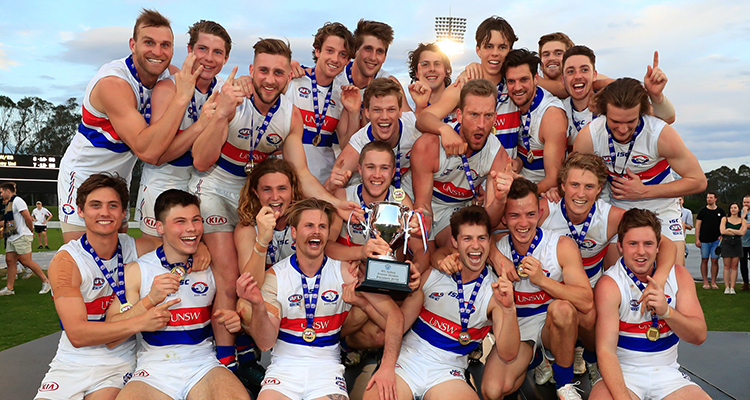 It was a clean sweep for UNSW/Eastern Suburbs in the AFL Sydney grand finals, winning the U19s, Men's Division 1 and both Men's and Women's Premier Division competitions.   
Despite coming into the match as underdogs, the Women's Premier Division side rose to the occasion and claimed a hard-fought win against Macquarie University 45-22, making it three premierships in a row for the club in the top women's grade. 
Former Ben Lexcen Scholar Claire McGarity praised the side's preparation under outgoing coach Tracey Kick – who also holds a coaching position with AFL side GWS Giants.  Despite losing in their previous three encounters against Macquarie, McGarity knew the commitment and effort of the team would shine through.  "We were prepared for a tough grand final and were determined to finish the season with nothing left in the tank," she said during the post-match celebrations. 
It wasn't so comfortable for the Bulldogs in the Men's Premier Division. With a goal in the dying stages giving them a three-point victory over Sydney University, the Bulldogs completed a remarkable turnaround after being down by as many as 27 points in the first half. It was the first victory for the club in the premier men's competition since 2012. 
The win also capped a remarkable weekend for the club, cementing itself as the best performing club across all grades in 2018.  "I had faith that the boys would make magic happen, and they did," said coach Steven Pollock, a former SANFL player.  
In the other grand finals involving UNSW/Eastern Suburbs, the U19s defeated North Shore Bombers by 57 points and the Men's Division 1 side beat Sydney Uni 45-27. 
Results  
Under 19s: UNSW/ES Bulldogs 14.11.95 - North Shore Bombers 5.8.38  
Women's Premier:  UNSW/ES Bulldogs 7.3.45 Macquarie University Warriors 3.4.22  
Men's Premier:  UNSW/ES Bulldogs 8.10.58 - Sydney University 7.13.55  
Division 1: UNSW/ES Bulldogs 6.9.45 - Syd Uni 4.3.27  
More info
https://www.facebook.com/unswesbulldogsaflclub/   
Comments