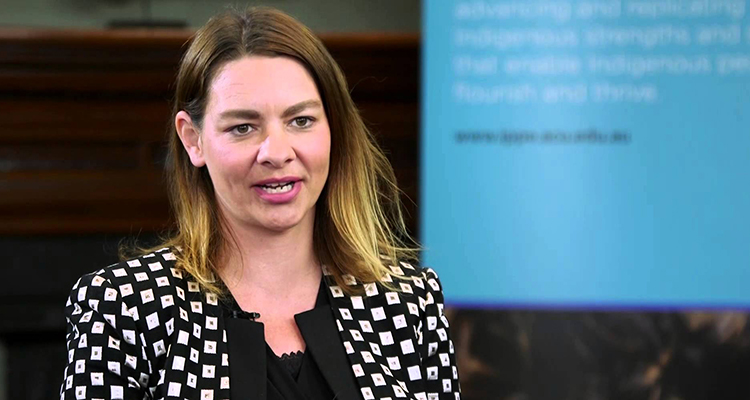 In the latest interview of the NAIDOC-themed series, Dr Fabri Blacklock talks about women who are role models, and the place of identity in her work and life.
For Dr Fabri Blacklock, Senior Lecturer, Art & Design, the 2018 NAIDOC theme - "Because of her, we can" - is an ode to all the special women in her life whose support and strong work ethic have led her to where she is today.
Which women (Aboriginal and Torres Strait Islander, or otherwise) have been or continue to be a role model for you and what impact have they had on your life?
Professor Janet Mooney, who is my old boss from Australian Catholic University, is a role model to me because she has worked really hard throughout her career in higher education. She was Director of the now dismantled Koori Centre at Sydney University for over twenty years and worked hard to make universities a welcome place for Aboriginal people to come and study. She has been a mentor to me since I started working in academia and has helped me to achieve my goals in Aboriginal research.
In my personal life, Aunty Zona Wilkinson, a Gamilaroi Elder from Mt Druitt, has been a big influence. She has supported me through some of the most difficult times in my life and always been available to help me in my time of need. She is tough and honest but has an amazing way of working and can bring together Aboriginal people across the country at a moment's notice to advocate for the Aboriginal community. If an issue comes up and people need help, she is on the phone networking. She is a walking, talking encyclopaedia of knowledge and experience. She is also one of the Elders I have interviewed for one of my research projects.
Also, if it wasn't for Professor Rhonda Craven – a non-Aboriginal who has worked in Aboriginal education for over twenty years - I would not have a PhD as it is not something I had ever thought about pursuing. Rhonda has an amazing knack for challenging people to achieve goals in academia. She encouraged me to enrol in a PhD, telling me it would be "a walk in the park". Obviously, she lied - it was really hard - but I am so happy I achieved attainment of the highest degree you can be awarded. I wouldn't be where I am today if it wasn't for Rhonda. She is constantly encouraging Aboriginal people to seek careers in higher education. I think I would be confident in saying she has successfully nurtured, mentored and supervised more Aboriginal PhD students to graduation than any other academic in the country.
It's my late nan Barbara who has had the most significant influence on my life, more than any other person. She instilled in me the passion to never give up on achieving my goals. She always had little sayings like "there is no such word as can't" and "where there's a will, there's a way". These are constantly being replayed in my head whenever I am feeling defeated and think I can't do something. She was English and a big advocate for Aboriginal people and the most disadvantaged people in our society, especially for children who needed help, as she was an early childhood teacher.
Your PhD recorded oral histories with your Elders and documented your family's artworks and the stories behind them. What did you learn through this?
I learnt that Aboriginal people were the most down-trodden people in this country. My Elders were treated like dogs at certain times throughout their lives. They were refused service in shops; called names; chased and beaten at school. But throughout all of this, they maintained their dignity and never retaliated or held grudges. They just got on with their lives and worked hard on farms to provide for the family. They lived by the principle of 'respect' even if they weren't getting respect back.
They also had an outstanding work ethic which is instilled in me. I remember my Aunty June Blacklock saying: "I've got no education, but I've got two hands". She told me that whilst she couldn't read and write well, she had two hands that could provide work and that was what she was determined to do. She worked hard to earn good money, so she didn't have to struggle like her parents. She had a successful business and owned a couple of houses and is now comfortably retired.
I think the most empowering part of recording the oral histories however is that they tell the personal perspectives and experiences of Aboriginal people because 'white Australia has a black history' and these stories are often not told in mainstream Australian history.
Why is it so important to embed Aboriginal research methodologies, pedagogies and perspectives into Australia's mainstream education?
Aboriginal ways of being, knowing and doing are often deemed in academia as inferior to traditional academic practices. An excellent example is oral history which is one of the main areas I work in. Aboriginal culture is based on oral and visual communication as a tool for teaching and learning, as opposed to writing and reading. Oral communication is deemed by some people as unreliable because it relies on people's memories. However, I always challenge people by saying how did we maintain our culture and survival for many thousands of years in one of the world's most isolated, driest and diverse landscapes if oral communication is unreliable?
I recorded oral histories with my Elders because I thought it was important for Aboriginal perspectives and experiences to be shared. Our experiences are often excluded in Australian history books or are told through non-Aboriginal historians who have dominated Aboriginal history. In fact, in the last six months I have read articles about Aboriginal history and they always quote a non-Aboriginal historian. If Aboriginal methods and pedagogies were valued, we could make a huge difference in terms of engaging and retaining Aboriginal kids in education. Likewise, the research that is conducted by universities needs to change to privilege Aboriginal methods like oral yarning and include Aboriginal people as research partners. They ultimately know what works best in their communities and if they are considered partners rather than participants, we can work together to find practical solutions.
What role does art play in engaging Aboriginal communities with schools, community organisations, national and international corporate companies?
Oral and visual communication is how we communicated and taught our young people. Art plays an important role in education and can engage people from all walks of life. People might not want to tell their story verbally but will often feel comfortable telling their story through art.
When I was teaching art in pre-schools I taught a young girl who was mostly non-verbal. She started to speak to me in the art class much to the amazement of her teachers who she wouldn't talk to. Art can be considered as a universal visual language because it can bridge a gap between different cultures and create understanding and appreciation of Aboriginal culture.
I have been employed by Australian corporate companies like Lend Lease to create public art programs that engage their communities because they value the way it can bring people of different cultures together.
What do you hope to achieve in your lifetime that will help pave the way for the generations to come?
I hope to be able to make a difference that improves Aboriginal peoples' wellbeing through access to culturally inclusive education. I know UNSW is committed to increasing Aboriginal staff and student numbers and I hope my teaching and research can contribute towards that.
I always include Aboriginal perspectives in all my classes and I mostly teach non-Aboriginal students.  I think it is extremely important for all of UNSW students to learn about Aboriginal culture because 'Aboriginal education is everybody's business'. UNSW has a large number of international students and I always find them to be really interested in learning about Aboriginal culture.
WHO…would you like to be for a day?
I would love to be Beyonce for a day because she is a strong black woman. And also so I can dance and sing.
WHAT…is a little-known fact about you?
My name is Aboriginal even though it doesn't sound it, the linguists have obviously misinterpreted the translation. It means 'little one' and it comes from a central desert community.
WHEN…are you at your happiest?
When I am with my children at the beach swimming and playing.
WHERE…is your favourite place in Australia?
Fraser Island – or K'gari as the local Badjula people call the island – off the coast of Hervey Bay in Queensland is the most beautiful place I have ever been on earth. I have travelled around the world through work, but I always go back to Fraser Island. I have lost count of how many times I have been there, but I always discover something new. It is the world's largest sand island and is a paradise of Australian nature.
WHY…do you choose to be part of UNSW?
UNSW is one of Australia's leading universities and is committed to Aboriginal education and improving Aboriginal staff and student numbers. The Art & Design Faculty continually engages with the Aboriginal community through our courses and outreach programs to make the University a welcome environment for Aboriginal people. It is awesome to see the staff are dedicated to Aboriginal education. As one of Australia's largest universities we are in a position to be able to improve access to education for Aboriginal people.
HOW…do you define or measure success?
Health and happiness are the most important things in my life. If you choose a career that you love, then you get paid to do something you love and as a result you will be happy. As a single mother, I measure success with being able to provide the necessities of a healthy life for my two sons. I purchased my first house when I was 22 and I have continued to work hard to build significant assets for my children to inherit so they don't have to struggle. I also instil in my sons that a strong work ethic is important if you want to be successful.
Comments