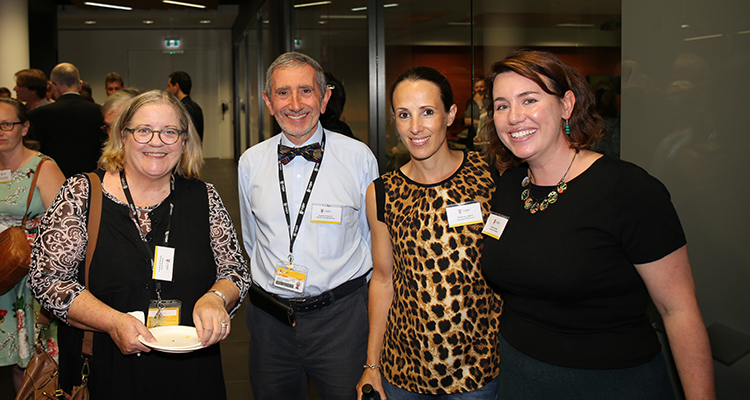 UNSW's Education Focussed Career program has pushed the University to the forefront of learning and teaching in tertiary education.
At an event welcoming 26 new Education Focussed career academics, Professor Geoffrey Crisp, Pro Vice-Chancellor (Education) said the new cohort "is changing the face of UNSW and changing the definition of what it means to be a great university".
The networking event, held in the Tyree building, was part of a welcome to the second cohort of Education Focussed academics as they commenced their new career path.
With a membership now comprising more than 200 academics and spanning all faculties, UNSW is leading the way in educational excellence and increasing the focus on educational leadership, pedagogical research and teaching experimentation. The goal is to double the number of EF academics in the coming years, and to have 25% of academics in UNSW in Education Focussed careers by 2025.
Professor Crisp acknowledged the work of newly appointed Pro Vice-Chancellor (Academic Excellence) Professor Anne Simmons and Associate Professor Cath Ellis, Associate Dean (Education) Arts & Social Sciences, in bringing together the community, and reaffirmed the support the University was giving to education professionals.
"We want to support you as much as possible," Professor Crisp said. "I am immensely proud and pleased to be at a university that wants to change the face of what it means to be a great university. This is the first time that I've seen a university try and do this properly and consider what it means for the careers of the people who are going to take on Education Focussed positions."
Associate Professor Ellis is one of four Education Focussed champions who have been working closely with Professor Simmons to design, develop and deliver this initiative in the 2025 Strategy.
"UNSW is committed to pursuing excellence in research, but we've also decided to pursue educational excellence and that means we need to be able to have real leaders and specialists in education just as we do in research," she said.
"These people are going to be leaders for educational excellence at UNSW. Students are going to experience a more engaging, more rewarding and more fulfilling learning experience when they come here."
Professor Crisp echoed the sentiment, highlighting UNSW's commitment to funding Education Focussed academics to ensure they received the recognition they deserved for their work.
"Funding for your career development is available; funding for those projects that you need to do to improve the student experience, and funding to make sure you are able to collect the evidence you need to get yourself promoted. That's an important part of this process.
"You are the pioneers and people will look to you as a model for how you become a great research and teaching university."
The audience also heard from members of the community who were appointed in the first intake in 2017 and gained insights into some of the Education Focussed Foundation Funding (EFFF) projects that were underway. Speakers from diverse backgrounds ranging from Business to Physics, and Biotechnology and Biomolecular Sciences to Statistics presented on a variety of projects, with many focussed on technology-enhanced learning and how it could supplement traditional teaching methods.
The commencement of the second round of Education Focussed academics is an important milestone for the Education Focussed careers program at UNSW.  Their appointment marks the beginning of a rolling EOI process that allows academics to start the process of converting to the Education Focussed career model at any time. 
For more information on the EF model and the EOI process, download the Education Focussed Careers Information Pack.
Comments