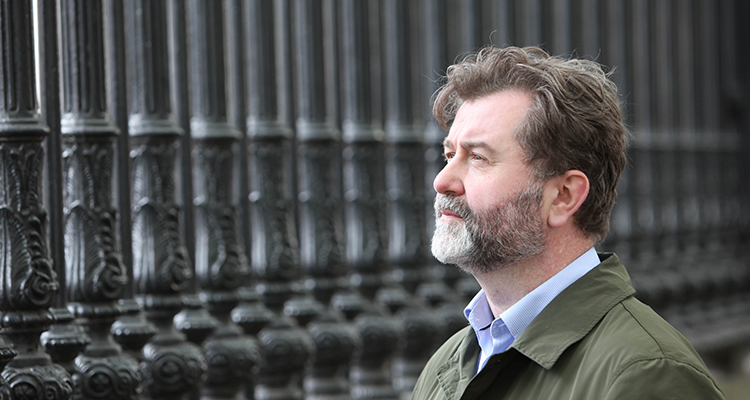 Professor Paul Gladston, one of the world's leading experts on Chinese contemporary art and culture, has been appointed the inaugural Judith Neilson Chair of Contemporary Art at UNSW Sydney.
The Chair was established in February 2017 with a $6 million gift from philanthropist and White Rabbit Gallery founder Judith Neilson.  
It aims to develop new knowledge and a better critical understanding of the global significance of contemporary art and culture.
Professor Ross Harley, Dean of UNSW Art & Design, congratulated Professor Gladston: "As the inaugural recipient of this Chair, Professor Gladston will lead our research and dialogue in contemporary Chinese culture internationally. His expertise and academic leadership will enhance UNSW's global excellence in this field and help expand our expertise in contemporary Chinese art in a global and historic context. We welcome Paul to our faculty and UNSW."
Professor Gladston will be based at UNSW Art & Design to lead scholarly research into contemporary art, with a particular focus on China. UNSW Art & Design is recognised as one of the world's leading art and design schools, with an outstanding record for producing critically acclaimed artists, designers and media creatives, and is ranked 31st in art and design schools in the QS World University Rankings. 
Professor Gladston will also have access to the White Rabbit Collection, one of the world's most significant collections of contemporary Chinese art, an invaluable research resource and focus for critical debate.
Professor Gladston joins from the University of Nottingham where he was Professor of Contemporary Visual Cultures and Critical Theory and Director of the Centre for Contemporary East-Asian Cultural Studies. Before this, he was seconded from the University of Nottingham as inaugural Head of the School of International Communications and Director of the Institute of Comparative Cultural Studies at the University of Nottingham Ningbo, China.
He has written extensively about contemporary art and art theory, including Art History after Deconstruction (2005), Contemporary Art in Shanghai: Conversations with Seven Chinese Artists (2011), Contemporary Chinese Art: a Critical History (2014) and Deconstructing Contemporary Chinese Art (2016). Contemporary Chinese Art: a Critical History was awarded 'Best Publication' at the Art Awards China in 2015. He was inaugural Principal Editor of the Journal of Contemporary Chinese Art between 2014 and 2016. His forthcoming book is titled Contemporary Chinese Art and Aesthetic Modernity: Towards a Critical Contemporaneity.
Professor Gladston said: "The Judith Neilson Chair provides an incomparable platform for critical research into contemporary art, and contemporary art in and from China. This resonates strongly with my existing scholarship in these areas. I am very excited about developing what I hope will be an internationally recognised focus for scholarly, curatorial and artistic excellence."
In addition, Yu-Chieh Li has been appointed as the Judith Neilson Postdoctoral Fellow of Contemporary Art and will join the University later this year. 
Yu-Chieh Li is currently Adjunct Researcher at Tate Research Centre: Asia, where she works on a project on Performativity in the Greater China Region. She completed her Masters at the University of Heidelberg, where she has been a researcher in the fields of European and East Asian Art Histories. She also completed her doctoral dissertation on conceptualism in China and the USA there. 
Founder and director of White Rabbit Gallery Judith Neilson said she was looking forward to working with Professor Gladston.
"I established this Chair to support a leading scholar to deepen the intellectual rigour of research into global contemporary art, and we have found that in Professor Gladston. We must give the work, the artists, and the distinctive and shared traditions the rigorous critical attention they deserve, and I look forward to working with him to achieve this," she said.
Professor Gladston will take up his position in May 2018.
Comments