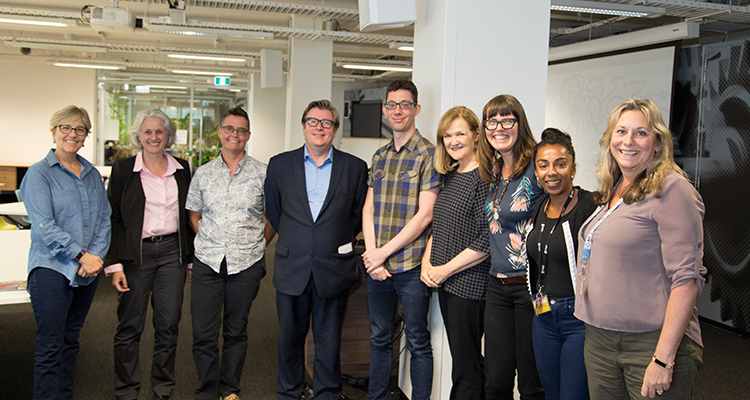 UNSW's new Children and Youth Research Network held its inaugural event last week, which featured a keynote presentation from the NSW Advocate for Children and Young People, Andrew Johnson.
Mr Johnson, who has global experience, said Australia lagged behind the rest of the developed world in embedding child rights in everyday processes.
"Australia does a lot of things well, but we are the least mature jurisdiction in the Organisation for Economic Co-operation and Development (OECD) in child rights and that's quite startling."
"We live in a rich country," he said, after commenting on the lack of access to funding and the number of displaced young people in Third World countries. "Our problem here is about cultural barriers. How do we change those culture barriers? What's the best way to do that?"
Breaking down those cultural barriers and having an impact on policy, research and practice make up a large part of what Dr Kate Bishop, Convenor of the Children and Youth Research Network (CYRN) at UNSW, hopes the network can achieve.
"I'd love to see a UNSW expert researcher at the table of any discussion, political or otherwise, where they can advocate from their informed perspective on behalf of children and young people," she said in her opening address.
The CYRN has the support of the Grand Challenge on Inequality, the Australian Human Rights Institute, the Disability Innovation Institute and SPHERE to address major challenges facing children and youth.
Following its first meeting in October 2017, the Network now has over 50 members from all faculties and research centres and is already bearing the fruit of the intra-faculty connectedness.
Professor Raghu Lingam, a recent appointment to the School of Women's and Children's Health as a Professor of Paediatric Population Health, views these kinds of events as playing an essential role at UNSW.
 "It will inform not only what we do in terms of research and the research agenda but, more importantly, the policy agenda and actually linking the research agenda to the policy agenda," he said, before elaborating on the platform that such networks provide.
"We're setting up a population research group, and that's why I was keen to come along to this today. We're trying to network within UNSW and think about child health from the most holistic way possible, so [we're] thinking about multi-disciplinary child health research."
"The central aim of the new Network is to enhance the work of all of us working in the area of children and youth research at UNSW through a collective identity, to strengthen the reach of our research for the benefit of children and young people," Dr Bishop added.
"In addition to this, I hope this network will increase our capacity to take on interdisciplinary research to tackle many of the pressing interdisciplinary challenges facing children and young people."
The Children and Youth Research Network plans to host four events this year, including a research showcase in September themed In their best interests.
For more information contact Dr Kate Bishop directly.
Comments