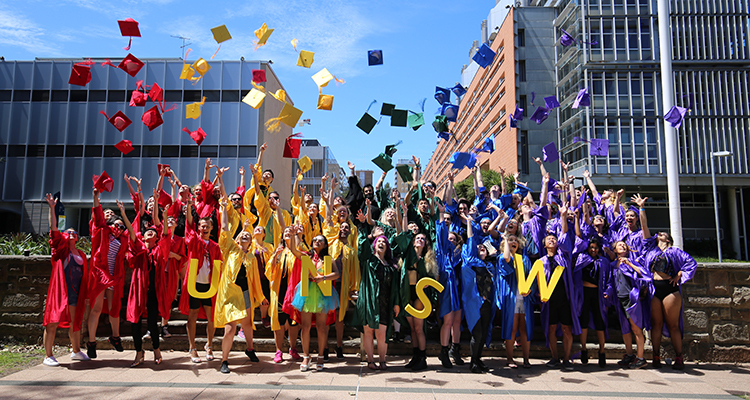 UNSW proudly marched in the 2018 Sydney Gay and Lesbian Mardi Gras Parade on Saturday.
Seventy staff, students and alumni dressed in rainbow robes and accompanied the UNSW float along Oxford Street, supported by the Division of Inclusion and Diversity.
Professor Eileen Baldry, Deputy Vice-Chancellor Inclusion and Diversity, was thrilled that UNSW was taking part in the parade.
"It's about bringing people together, celebrating our diverse community, and helping build an inclusive culture," she said, adding that UNSW has equity, diversity and inclusion goals as part of its 2025 Strategy.
"Being involved in events, such as the Mardi Gras, demonstrates our commitment to those goals," Professor Baldry said.
Joseph Daher, UNSW student and event organiser, said he wanted to ensure that the UNSW contribution to Mardi Gras remained "for the community, by the community."
"This year marks UNSW's second time in the parade, as well as my second time organising the float," he said.
"The project is important to me partly because I feel ownership and need to see it through, but also because of everything that UNSW at Mardi Gras represents, and ensuring its ongoing legacy as a project that is driven by the UNSW community."
Joseph is the President of Engiqueering, a UNSW society that supports LGBTIQ students in STEM programs and whose members were heavily involved in the development of the float toward its theme of "Open book. Open heart. Open mind."
Patrick Armstrong, from the Division of External Relations, also participated in the march.
"The atmosphere was incredible," he said following the festivities. "The University is such a diverse community and it was fantastic to be able to celebrate a large part of that this weekend."
Photos and video from the event will be available for viewing soon.
Further information
For more information regarding LGBTIQ training, resources and initiatives, please visit the UNSW Diversity and Inclusion website.
Comments