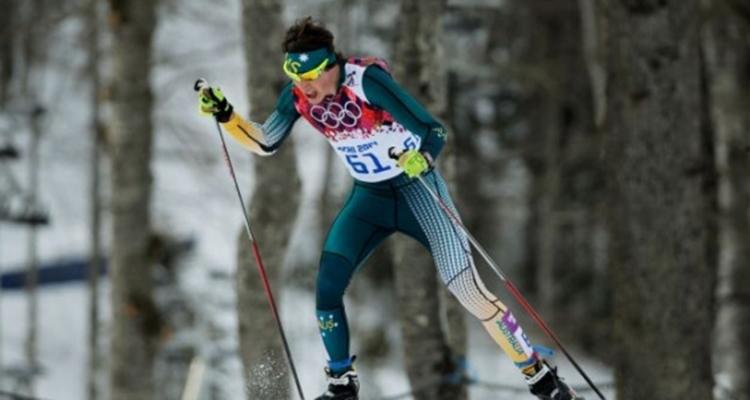 In the freezing cold of Pyeong Chang, student Callum Watson and alumni Rohan Chapman-Davies and Hayden Smith flew the flag for Australia and UNSW throughout February at the Winter Olympic Games.
Callum, who is a Ben Lexcen Scholar and is completing an Environmental Engineering degree, finished 58th in both the Men's 15km + 15km Skiathlon and Men's 50km Mass Start Classic, 70th in the Men's 15km Free and 25th in the Men's Team Sprint Free Cross-Country Skiing events.
He suffered a punctured lung in a skiing accident in 2014 after competing at the Sochi Winter Olympics, and told the UNSW Newsroom prior to competing at Pyeong Chang that "there is so much that has gone into the last four years that the feeling of accomplishment, relief and excitement have made this an incredible experience already."
"To be selected to compete for Australia at Pyeong Chang is an achievement I'm incredibly proud of. Many people have asked if the feelings of it all subside the second time around and the answer is definitely not," he said.
Alumnus Hayden Smith (BCom 2014) represented Australia in the 4-Man Bobsleigh at the Olympic Sliding Centre, overcoming a crash in training to record a team-best time in their second of three runs before eventually placing 25th overall.
Originally a 100m sprinter and rugby player, Hayden was told to give bobsleigh a try by one of his running coaches who had suggested he was probably "too heavy" to be a successful sprinter.
"The only way I can describe that first run would be like being in a frozen washing machine on spin cycle going 100 [kilometres per hour]," Hayden told his local newspaper last year of his first experience in the sled.
Since then, he has utilised his athletic prowess and business acumen to forge two very different careers, founding the Banana Hammock brand of men's swimwear to help support his dream of competing at the Winter Olympics, while also spending time as a risk assurance analyst at a dairy and drinks company.
Fellow alumus and Commerce graduate Rohan Chapman-Davies, who was only told he'd be competing in Pyeong Chang in late January due to a quota reallocation, was unable to advance beyond qualifying in the Men's Moguls at his Olympic debut.
Scott Kneller (BCom/Eng 2015), who competed at the Vancouver Winter Olympics in 2010 and at the Sochi Winter Olympics in 2014 as part of Australia freestyle ski team, was also a member of the Australian team as Athlete Services Manager in Pyeong Chang.
UNSW extends its congratulations to all our 2018 Winter Olympians on their remarkable achievements and wishes them all the best in future competition.
Comments