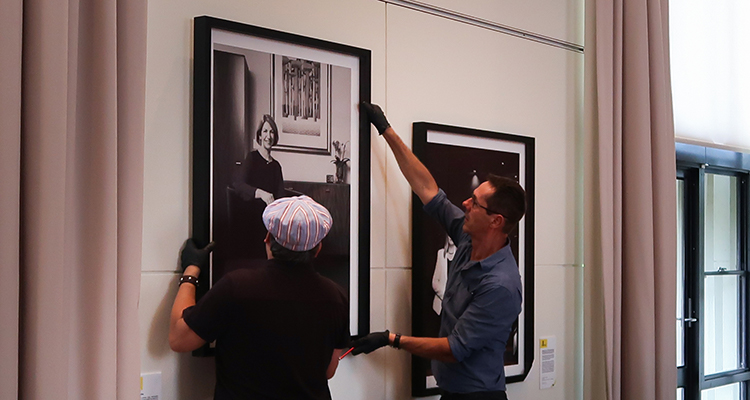 The 2025 Strategy announced to the world a bold and ambitious vision to become Australia's Global University and take up a position in the top 50 ranked universities globally.
A newly presented exhibition, by esteemed Australian photographer Gary Heery, celebrates the contributions some of the amazing individuals across the University are making the success of the strategy.  As part of the exhibition, each subject was asked to respond to the same question: How can UNSW really make a difference as Australia's Global University?
The subjects who sat for the portraits represent the width and breath of the 2025 Strategy, from leading researchers to Grand Challenge champions and those involved in the deployment of the strategy itself.
One of the subjects featured is Professor Louise Chappell who is the Founding Director of the Australian Human Rights Institute, one of the institutes created by the 2025 Strategy. The Institute promotes public awareness and academic scholarship about domestic and international human rights standards, laws and procedures. 
Than Zaw Htwe and Khaing Khaing Aye are also featured in the exhibition.  Both are UNSW Engineering PHD Scholarship recipients from Yangon Technical University in Myanmar.  The partnership between UNSW and Yangon Technical University was created through the Institute for Global Development.
Associate Professor Bingqin Li is from the Social Policy Research Centre and is one of the Strategic Hires and Retention Pathways (SHARP) recruits.  SHARP is a 2025 Strategy program to attract and retain the top global research talent at UNSW to build research capacity and impact, ensuring we become one of the leading research-intensive universities worldwide.
Photographer Gary Heery was born in Sydney and attended UNSW to study sociology and psychology.  He moved to the United States in 1974 to pursue a photography career and became a photographer of choice for celebrities and major brands alike. 
He has shot album covers for Frank Zappa, Madonna, Joe Cocker and Roy Orbison as well as shooting film and music stars for magazines such as Esquire, Rolling Stone and Interview.
The exhibition has been hung in the Chancellery, and can be seen in the corridor leading from main reception to the Council Chamber and in the Chamber itself.  The portraits in the Council Chamber replace a range of painted portraits featuring UNSW's previous Vice-Chancellors and Chancellors. These portraits form part of the rich history of UNSW and are currently being restored and prepared for rehanging in a new space.
Comments