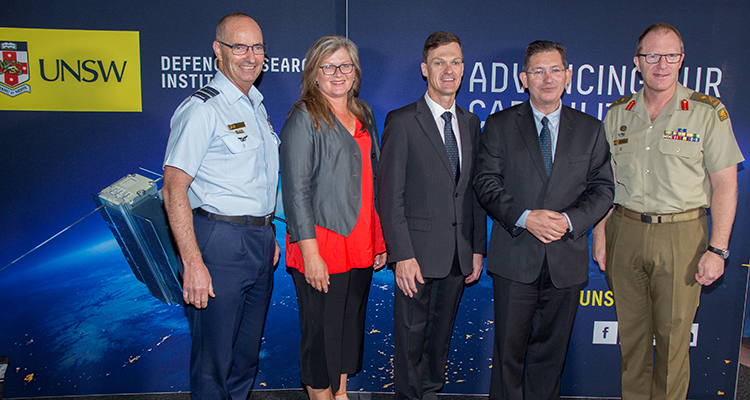 The new UNSW Defence Research Institute will deliver world-class defence research to enhance Australia's security.
President and Vice-Chancellor Professor Ian Jacobs launched the institute at UNSW Canberra, where it will have its headquarters. 
The Defence Research Institute draws on the expertise of researchers from the UNSW Sydney and Canberra campuses and covers diverse defence-related topics including cyber security, space, systems engineering, artificial intelligence, logistics, hypersonics, defence related public sector management and conflict studies.
Professor Ian Jacobs said the institute would fill a critical gap in a rapidly changing sector.
"Today's servicemen and women rely on their governments to equip them, not just physically, but intellectually, to meet the demand of a modern, constantly changing, high-tech defence environment," Professor Jacobs said.
The institute's knowledge will be shared across academia, government and industry, as well as with global policy makers.
UNSW Canberra Rector Professor Michael Frater said the institute would shine a light on the ground-breaking research conducted by the university's academic staff.
"UNSW Canberra is one of the world's leading research institutions, a pioneer in defence studies and a global leader in cyber security education," Professor Frater said.
"It's a natural home for Australia's largest university-driven defence research institute."
The Defence Research Institute was launched on Friday, 16 February, before UNSW Canberra's 50th anniversary celebrations at Parliament House.
Professor Jacobs said it was fitting for the institute to open on the same day as the event.
"Such milestones give us pause to reflect on not only where we have come from, but where we are heading," he said.
"The UNSW Defence Research Institute is a perfect example of the future.
"It speaks of UNSW's enduring and evolving relationship with the ADF and our ongoing contribution to Australia's security. It is that relationship which gives us such a depth of understanding of the defence landscape and puts us in a unique position to carry out valuable research."
Comments