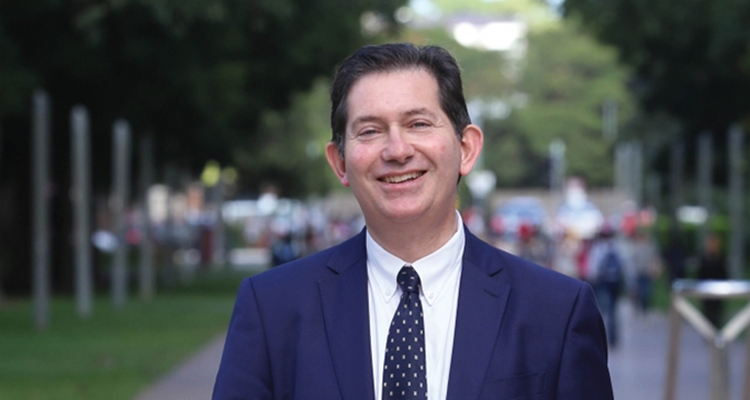 Dear colleagues
It has been good to see the bustle and energy around campus in the past few weeks with the return of our students. The new students I have spoken to greatly appreciated their warm welcome and the encouragement during O-Week to engage with all the opportunities the UNSW environment provides.  It was particularly pleasing to see the UNSW community embracing the message that creating a safe and respectful environment, one where we look out for and care for each other, is everybody's responsibility. I have had a positive response to our unequivocal message that disrespectful behaviour, harassment and discrimination in any form will not be tolerated on our campuses. My thanks to all of the staff and students – particularly the Yellowshirt student volunteers – who have been working hard for months to make O Week a success.
The start of the year has been busy with a series of events. We marked the Chinese New Year with a memorable event at the Friendship Garden in Darling Harbour, held an exciting and successful Digital Health Symposium and launched the Founder's Program with an inspiring event which highlighted initiatives to foster entrepreneurship and further embed innovation in the UNSW culture.
UNSW Canberra celebrated the 50th anniversary of UNSW's relationship with the Australian Defence Forces at a dinner attended by many distinguished alumni in Parliament Hose. We took advantage of that day to announce the launch of our new Defence Research Institute which will focus many of the research strengths in Canberra and link to those in this field elsewhere across the University, in areas such as cyber-security and space research. The UNSW Management Board attended both events as well as a showcase of the breadth of the work being carried out at the Canberra campus. The achievements over the last 50 years and the contribution to Australia have been enormous. We were excited by the plans of the Rector Michael Frater and his team for the future of UNSW Canberra as a key contributor to the training of the Australian Defence Force and as a global leader in defence related research. 
The Management Board completed reviews of all 17 University faculties and divisions in early February. The reviews highlighted the extraordinary change agenda which staff in each School and Faculty successfully delivered in 2017. We were left confident that the challenge of delivering complex change will be largely completed this year, that the benefits of this massive effort are beginning to emerge and that the rewards from the range of developments and deployment of the resources we have mobilised will accrue over the next few years.  The early successes are reflected in the 2025 Strategy in Action document – see below.
At the end of February, I attended the Universities Australia conference and a Group of 8 Board meeting (my first as Chair) in Canberra. These events provided a welcome opportunity to discuss issues facing our sector – not surprisingly government funding and relations with China were major talking points – and to hear about what our colleagues are doing in other institutions around the country
On a sad note, we have learned of the passing of Professor Garth Nettheim and Professor Kerry Jacobs. Professor Nettheim was one of Australia's pre-eminent legal scholars and a distinguished Dean of Law at UNSW. Professor Jacobs, of the UNSW Canberra Business School, was a long-term member of the UNSW Academic Board and a great contributor to the quality of our School of Business. Both will be remembered fondly. Our sincere condolences to their families, friends and UNSW colleagues.
The tone of some of the political and media attention currently being given to Australia's relationship with China is of great concern to the University. There are many aspects to this issue but above all I want to emphasise that UNSW is an inclusive environment where Australian and all of our overseas students are welcomed and valued. We are proud of our international students and all that they achieve at UNSW and when they return home. The rightful place of education in any such national debate is as a force for a stronger, more substantive, understanding relationships. People-to-people ties nurtured at higher education institutions are as important as the qualifications gained, a fact attested to by the continued support of our almost 300,000 strong alumni spread across the world. That was highlighted for me at a wonderful alumni event in in Hong Kong last weekend, organised by our Division of Philanthropy, on the topic of the "Future of Asia" which I attended along with several other UNSW staff. The delegates included alumni from numerous countries across the globe, contributing to a fascinating programme and reflecting on just how important their UNSW education has been in their careers and in ensuring positive interactions between Australia and their home countries. They highlighted the mutual understanding it fosters and the social and economic benefits it generates. One welcome side effect was the direct economic benefit to UNSW through pledging of several million dollars of very generous donations to Strategy 2025!
2025 Strategy: In Action
Finally, I am pleased to share with you today a comprehensive update on the progress we have made together on our 2025 Strategy. 2025 Strategy: In Action chronicles an extraordinary range of achievements across UNSW and shows we are delivering on our promise to be a global leader of change through problem-solving innovation in research, education, thought leadership, social engagement and knowledge transfer.
When the Strategy was agreed in 2015 we committed to ensuring that it would be put in to action and not collect dust on a shelf. The achievements detailed in this update indicate that we are keeping our promise. My thanks to all staff, academic and professional, for the hard work that has brought us to this point. I acknowledge this transformation has been challenging at times, but the progress through our collective efforts is now delivering important outcomes.
The concept of a global university striving to serve society locally, nationally and globally is a powerful one which we are bringing to life. Our collective efforts at UNSW have and will continue to improve  lives.
2025 Strategy: In Action captures the story and progress so far.
Best wishes, Ian
Comments