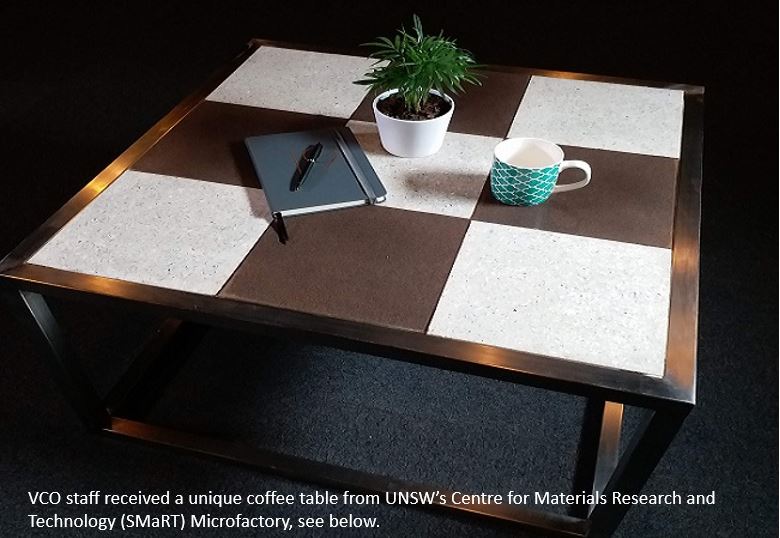 I am pleased to let you know that the Fair Work Commission has now approved The University of New South Wales (Academic Staff) Enterprise Agreement 2018. The new agreement for academic staff came into effect on Monday 15 April and includes a number of points which align with the UNSW 2025 Strategy. These include a pathway for our casual academic staff to transition into Education Focussed positions and initiatives which support gender equity and Indigenous employment. If you have any questions regarding the new agreement please contact your local HR representative or a member of the Employee Relations team. At this stage, we are awaiting advice from the Fair Work Commission in respect of the new agreement for professional staff. I hope to have good news for our professional staff soon.
I am delighted to announce that after an extensive international search, we have appointed Scientia Professor Vlado Perkovic as our new Dean of Medicine. Vlado has been Executive Director of The George Institute Australia since 2012 and has an outstanding record as a researcher and leader. He played an important role in forging the partnership between The George Institute and UNSW in 2017, and since that time has worked closely with and has got to know many members of UNSW and the Faculty of Medicine. Vlado will take over from Professor Rodney Phillips when Rodney takes on the role of PVC Health at the end of September. Warmest congratulations to Vlado on this important appointment.
Next month will mark the opening of UNSW's new staff lounge. Located on Level 11 of the Library Building, The Lounge will be a place for all staff – professional and academic – to meet, network, collaborate and unwind over a coffee or a meal. Ever since I arrived at UNSW, staff have asked for a place like this to meet with colleagues and to entertain collaborators and external visitors. This initiative has been led by Shahina Mohamed, Chief Operating Officer (VCO), working closely with the BACS team. I am grateful to all involved for making this happen. You can read more about what to expect from The Lounge in this edition of Inside UNSW.
I will be visiting each School and Divisional centre over the next few months as a part of the consultation process to guide the next phase of Strategy 2025. These meetings provide an opportunity to hear about developments across the university, to provide an update on progress with Strategy 2025, to answer questions and to hear your ideas on the future direction of UNSW. My first visits during the last two weeks have been to the School of Minerals and Energy Resources Engineering, the School of Civil and Environmental Engineering, the School of Computer Science Engineering and the School of Biomedical Engineering. I heard impressive presentations from the Heads of school and there were thoughtful questions from staff on a range of topics. Among the issues discussed were Education Focussed positions, student satisfaction ratings, PhD studentships, critical research infrastructure, the need for greater flexibility in budgeting, and gender equity initiatives. As well as discussing pressure points, these visits were also a useful opportunity to discuss new initiatives. For example, we spent time discussing the Randwick Health Precinct, and the extraordinary opportunity it presents for all areas across UNSW. Other examples were the opportunity provided by the new Futures Institutes to break down barriers across UNSW, and our efforts to forge stronger partnerships with industry, through collaborative research and work experience for our students. The program of school visits extends throughout the year and I look forward to hearing your questions and ideas. 
It was a pleasure to attend the 66th UNSW Blues and Sports Awards on Friday. The evening was a great celebration of our talented student athletes, alumni sportspeople, coaches, officials and volunteers. I was reminded of just how positive and inclusive UNSW's sporting community is, and what a vital role our sporting organisations play in UNSW life. Congratulations to everyone who was involved and honoured on the night.  
It was good to see UNSW perform well in the ARC Linkage Project round announced by Minister Tehan last week. The three UNSW projects receiving more than $1.2 million included: a museum project which will allow visitors to explore and interact with artefacts remotely, drawing in data from across the four Museum of Applied Arts and Sciences locations; a project which will use blockchain technology to strengthen data privacy and security in the farming industry; and a collaboration which will work towards bringing the Sydney Rock Oyster reefs back from extinction. Well done to everyone involved.
VCO staff had a surprise last week when we received a unique new coffee table for our office from the UNSW Centre for Materials Research and Technology (SMaRT) Microfactory. It is a coffee table in more than one sense, with a tabletop made primarily from recycled glass, coffee grounds and coffee cups from around UNSW and Sydney. It is a world-first prototype constructed at SMaRT which is headed by Scientia Professor Veena Sahajwalla. It was good to meet and chat to COO Chris Brymora about the varied applications of their recycled materials, and their promising plans to expand into the world of furniture design and manufacturing. Many thanks for the table, we promise to take good care of it.
In another celebration of UNSW entrepreneurship, a group of students from the UNSW Business School has won first place at the world's largest innovation consulting competition, the IXL Innovation Olympics. The team was set the challenge of helping their university client achieve its vision of being the 'University of the Future' – whatever their advice was, I'd love to hear it! Congratulations to the team.
Best wishes, Ian
Comments