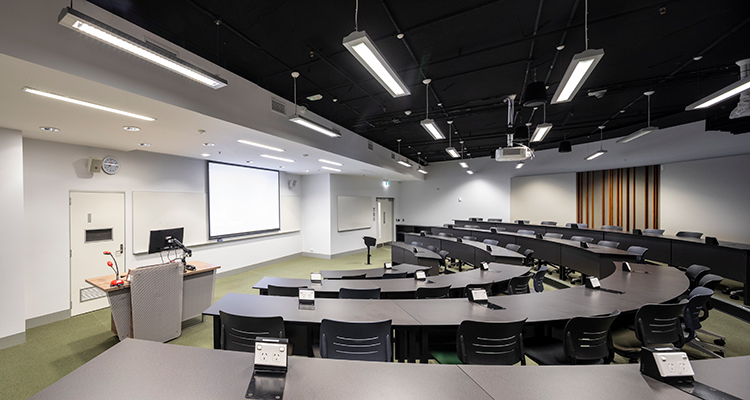 Eighty teaching spaces have been upgraded or newly built to support collaborative and interactive learning as part of the 2025 Strategy. 
As part of the ongoing work to deliver quality learning and teaching spaces across UNSW, Learning Environments (PVC Education) has embarked on a journey since 2016 to deliver world-class environments as part of the Educational Excellence theme of UNSW's 2025 Strategy. 
These learning and teaching spaces have been transformed to provide: 
Flexible, future-focused learning spaces that respond to UNSW's current and future needs 

Integrated physical and digital campuses that use the best learning technologies available 

Experimentation and innovation in teaching with new educational technologies. 
Learning Environments have partnered with various UNSW faculties and divisions such as Built Environment, Business, Estate Management, Law and the Library to transform the teaching and shared student study spaces across the Kensington campus into vibrant precincts. 
With the opening of our two newest precincts, the Business School (Quadrangle Teaching Precinct) and the Law Library, there are now 80 teaching spaces which have been either upgraded or newly built to support collaborative and interactive learning. This has been achieved by adding features such as 'turn & learn' lecture theatres, power enabled seats and ergonomically designed study furniture. 
Shared student spaces have also received a make-over.  There are also 2,550 newly created student study spaces transforming the campus with an enriched environment for learning with access to an increased number of study spaces with power, high-speed Wi-Fi and newly built reheat stations with microwave facilities. 
"These new spaces are wonderful examples of the commitment by UNSW to be a world leader in supporting student learning and enabling staff to develop innovative pedagogies," said Professor Alex Steel, UNSW's Acting Pro Vice-Chancellor, Education. 
The activation of these precincts has enhanced the active learning initiative by facilitating opportunities for flipped or blended teaching and has provided students with the opportunity to engage in scholarly, collaborative and social learning outside of the classroom. 
All students and staff are invited to check out these vibrant precincts across the Kensington campus and provide feedback through the iPad surveys located in the shared student study spaces. 
Want to know more about the newly opened shared student study spaces? View the 'Where can I study on campus?' guide for further details. 
Comments