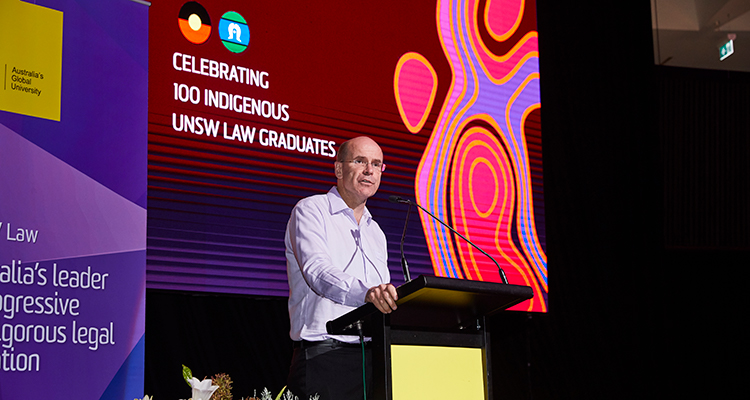 As the University celebrates the graduation of more than 100 Indigenous students from UNSW Law, three incredible alumni share their stories.
Last month, UNSW Law held a special alumni reunion event to mark the faculty surpassing 100 Indigenous graduates, making UNSW the first Australian university to graduate 100 Indigenous law students. Key members of the community and their families gathered at the Roundhouse to celebrate this milestone and recognise the many achievements of our Indigenous graduates.
"The graduation of 100 Indigenous students from UNSW Law is a significant milestone. These students have gone on to extraordinary careers, ranging from high judicial office through to political and community service," said Scientia Professor George Williams, Dean of UNSW Law.
"Their success reflects the efforts of the students themselves, their families, their teachers and the many others who have provided support to ensure that they have access to a world-class legal education."
To further recognise the importance of supporting our Indigenous community at UNSW – and the impact this can have on our students – three incredible UNSW Indigenous Law alumni share their experiences across study, career and community.
Dr Pat O'Shane AM LLB '76
In 1976, Kunjandji woman Pat O'Shane became our University's first Indigenous graduate and Australia's first ever Indigenous law graduate. Soon after, Pat became a lecturer at UNSW and practiced as a barrister with the Aboriginal Legal Service.
Her groundbreaking achievements continued, as she went on to become the first Aboriginal woman in Australia to be appointed the Head of the Ministry of Aboriginal Affairs (from 1981 to 1986) before also being appointed the first female Indigenous Magistrate of the Supreme Court.
It was in the 1960s that Pat's journey to studying law began. While living and working in Cairns as Queensland's first female Indigenous teacher, she was also an active member of the Cairns Aboriginal and Torres Strait Islander Advancement League.
In this role, Pat helped to initiate legal action against two police officers for the alleged assault of two Aboriginal women in a nearby settlement in Meribah.
"Those court proceedings went on for days. I'd never been inside a court before. It was a wooden shed basically, and very hot," said Pat. "I thought to myself then, one day I'm going to do law so that I can help women like them. So that's what I did."
A few years later, Pat moved to Sydney where she was introduced to Emeritus Professor Hal Wootten AC QC, UNSW Law's founding Dean, who invited her to pursue law studies with accreditation from her previous studies at Teacher's College. In 1973, having received an Aboriginal study grant from the Federal Government, she began the first graduate degree offered in any Australian law school.
Pat's trailblazing achievements have made her a role model to many in the legal and Indigenous communities. She has received many prestigious accolades including being awarded a Member of the Order of Australia (AM) in 1984 for public service in the field of Aboriginal welfare.
"I would like to see more Indigenous young people studying law and trying to change this society into a more fair and equitable place. That must surely be the aim of all of us," said Pat.
Damien Miller BA LLB '98
Damien Miller graduated with a Bachelor of Arts and a Bachelor of Laws in 1998 after what he describes as "a very exciting time to be an Indigenous student at a university like UNSW."
Damien was born and raised in Brisbane, but has strong family and cultural connections to the traditional lands of his people, the Gangalu in Central Queensland.
In 1993, after being recognised as Aboriginal Scholar of the Year by the NAIDOC committee, he decided to move to Sydney to study at UNSW.
"UNSW had a great reputation for embracing social justice and putting students first, and there was a lot of great thought leadership emanating from UNSW Law particularly around Indigenous rights. That was very appealing to me," said Damien.
It was also an historic time for the Indigenous community more broadly. Native Title was being legislated following the famous Mabo v Queensland case, then-Prime Minister Paul Keating made his famous 'Redfern speech', and the reconciliation movement was receiving recognition.
While studying, Damien joined the Department of Foreign Affairs and Trade (DFAT) where he worked part time as an Indigenous Cadet before eventually joining the Department full time after graduation.
Since then, he has gone on to serve as a Diplomat to Malaysia and Germany before being appointed the official Ambassador of Australia to Denmark in 2013 with concurrent accreditation to Iceland and Norway. With this appointment, Damien became the first Indigenous person to become an Australian Head of Mission.
Reflecting on his time at UNSW, Damien recalls the strong camaraderie between him and his fellow Indigenous students.
"I was very fortunate to study with some amazing trailblazers. People like Kelvin Kong, one of the first Indigenous surgeons Anita Heiss, one of Australia's leading Indigenous writers and Terri Janke, an amazing Indigenous copyright lawyer. They were real role models," he said.
Jenavive Westbury BA LLB '17
There was never any doubt in Jenavive's mind that she would go to university to study law. How she would support herself through her studies was another question. A young Wiradjuri woman, Jenavive graduated from high school in 2011 and soon after enrolled in the pre-law program at UNSW.
Having moved out of home by 19, she had to juggle her full-time studies with supporting herself financially and finding a place to live. "My relationship with my parents was quite complicated," she says. "I moved out with no savings."
Jenavive was sleeping on friend's couches as she tried to scrape together a bond. She was able to breathe a sigh of relief, however, when she became the inaugural recipient of the UNSW Law Judge Bob Bellear Memorial Scholarship.
The award provides $20,000 a year to cover a student's cost of living at UNSW's Shalom College, meaning Jenavive finally had a room of her own, three meals a day, and a supportive community of students."It was a big relief to not have to be constantly focused on working and saving," she said. "It really changes someone's life when they receive a scholarship that allows them to focus on their studies."
She's also been very active in the UNSW Indigenous community working as a mentor with the Nura Gili Winter School program as well as being President of the UNSW Indigenous Society. "I felt a real sense of belonging to the Indigenous community at UNSW. It was one of the things that I enjoyed most at uni. I loved those programs and I'm glad I got to be a part of them."
Fresh from graduation, Jenavive is now working with Legal Aid and has stayed on at UNSW Law to assist with the celebrations to mark 100 Indigenous students graduating. Looking ahead, the sky is the limit for Jenavive.
"Receiving the scholarship has been a great experience for me. I was able to really make the most of my time at university and it has helped me to pursue my career," she said.
These alumni profiles were originally featured in the 2018 UNSW Donor Impact Magazine.
Comments