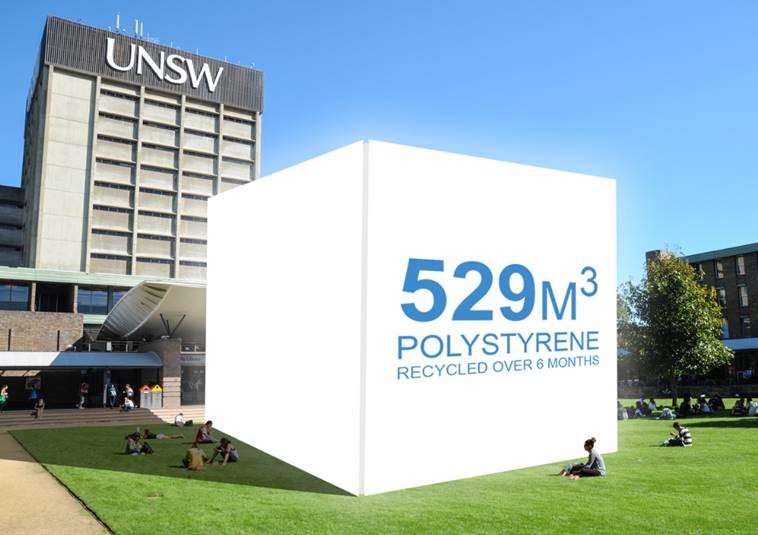 With a university community of over 6000 staff and 60,000 students, we each have a responsibility to minimise our waste when we're on campus.
Here are three simple ways that you can reduce your environmental footprint:
Refill your water bottle
Five new outdoor water refill stations were installed around Kensington campus just before O-Week, making a total of 12. These all-in-one bubblers let you refill your water bottles for free, and they're designed to be accessible to wheelchair users, people on bicycles and children.
Find your nearest refill station.
Recycle your polystyrene
Last year, Estate Management introduced a dedicated waste collection for polystyrene products. Polystyrene is found in packaging for foodstuffs, coffee cup lids, medical supplies, electrical consumer goods, and insulation panels for building.  
In the first six months of the program, UNSW has recycled 529 cubic metres of polystyrene from campus. That would fill 53 skip bins!
There are three polystyrene collection points on campus: Biological Sciences South (E26) waste room, The Kensington Colleges and University Terraces.

UNSW staff can request a polystyrene collection point. The polystyrene waste is collected weekly from campus.
Please contact waste and relocations supervisor, Ray Galway to learn how you can recycle your polystyrene through this scheme.
Recycle your printer cartridges
Did you know that printer cartridges are fully recyclable? UNSW has partnered with Planet Ark, Fuji Xerox and Close the Loop for the past five years to recycle over 26,000 cartridges.
There are more than 50 collection boxes around UNSW Kensington Campus. You can register for a collection box by visiting Close the Loop.  When full, call 1800 242 473 or book online for collection and emptying.
With your help, we can divert some of the millions of cartridges sent to landfill each year and reduce our environmental footprint. 
Comments