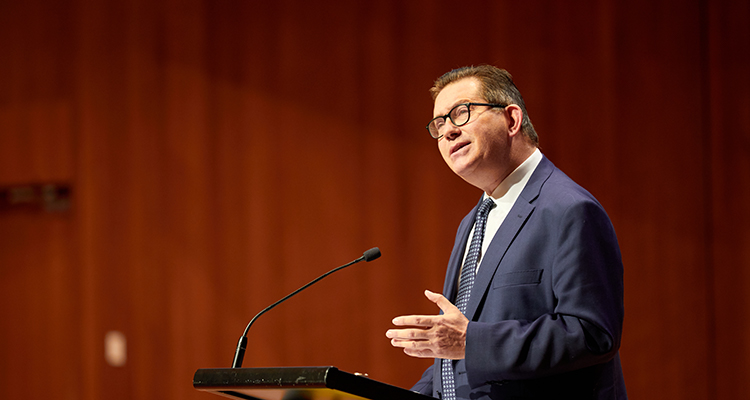 Colleagues
It was a pleasure on Monday to welcome our new students to O week and I hope that you have    enjoyed the excitement and buzz on campus this week. My thanks to all the staff and students who made it such a memorable time for the new students and quickly adapted to the heavy rainfall. Particular thanks to our student leaders in Arc and the yellow shirts for their great work in ensuring the success of the week.
The two-week government ban on travel from China from February 1st, triggered by the coronavirus outbreak, (and which has now been extended for a further week), meant that a large number of new and continuing students were unable to be with us for O week and are likely to miss Term 1. Our thoughts are with those students as they and their families deal with such a difficult situation in China as well as the impact of the travel ban on their studies. Fortunately, the flexibility of our UNSW 3+ calendar has enabled us to reassure our students who are in China that if they can join us for the start of Term 2 in June, they should be able to catch up on their studies and graduate on time with no delay or additional tuition costs. We are working with Arc to address other concerns related to issues such as accommodation.
Handling the wide range of issues related to coronavirus has consumed an enormous amount of the time of students and staff at UNSW over the past two weeks. A UNSW Incident Management Team has been meeting daily to coordinate the university's response and actions. Our team has been in frequent contact with the other Go8 universities, the NSW Universities group, Universities Australia, and Federal and NSW government departments to ensure that we share knowledge and ideas and that we are working with the best and most up to date information.
We have carefully followed the steps to minimise risk of transmitting infection on campus advised by NSW public health. There has only been one positive coronavirus test amongst members of the UNSW community – a student who returned from China in January. The student acted in an exemplary way, self-isolating on arrival in Sydney and then seeking help immediately after developing symptoms. She had mild symptoms, was cared for in specialist hospital isolation facilities and is now fully recovered and negative for the coronavirus. Reassuringly, although other members of the UNSW community who have developed respiratory symptoms have been tested, none have had a positive result. I am grateful to all the staff in divisions and facilities who have responded so thoughtfully and professionally to this challenge.
I am pleased to welcome some new members of our Senior Leadership Team as the academic year gets underway.
Professor Eliathamby (Ambi) Ambikairajah has been appointed acting Deputy Vice-Chancellor Enterprise. Ambi has been our Head of School of Electrical Engineering and Telecommunications for the past 10 years, and last year he received the UNSW President's Awards People's Choice Award. Thank you to Professor Nicholas Fisk, who very ably juggled the twin-responsibilities of Research and Enterprise since Professor Brian Boyle retired late last year.
Professor Rorden Wilkinson is our new Pro Vice-Chancellor Education and the Student Experience. Rorden joins UNSW from the University of Sussex, where he was Deputy Pro Vice-Chancellor Education and Innovation. Thank you to Professor Alex Steel for his excellent work as Acting PVCE in 2019.
Also from the University of Sussex, where she was Deputy Pro-Vice Chancellor, Equalities and Diversity, Professor Claire Annesley has joined us as Dean of Arts and Social Sciences. Read a profile of Claire in the Newsroom. I'd like to thank Professor David Blaazer for his superb stewardship as Interim Dean in 2019.
Professor Stephen Foster, the Head of our School of Civil and Environmental Engineering, has graciously accepted my invitation to act as Dean of Engineering as we finalise recruitment for Professor Mark Hoffman's successor. Thank you, Stephen.
The call for research projects for the 2021 round of our distinctive Scientia PhD Scholarship Scheme opens on Monday, 17 February. I encourage research supervisors to nominate a project to help UNSW attract the research leaders of the future.
This month we published the update to our 2025 Strategy. You'll find a short overview of the Strategy Update here with a link to the full document for you to download. One important priority in our strategy is increasing the representation of women in our leadership team. Applications are now open for our Women in Leadership program designed for women in academic and professional roles who would like to build their leadership capability.
This year's Sydney Gay and Lesbian Mardi Gras celebrations are underway and on Wednesday, 26 February, we hope to see the University Mall full in a display of solidarity and acceptance of our LGBTIQ+ community. Each faculty and division has been assigned a colour, so rally your colleagues and students to take part. Best wishes to all our LGBTIQ+ staff and students for a happy and fun-filled Mardi Gras.
UNSW is applying to be recognised in the Australian Workplace Equality Index, Australia's national benchmark for LGBTIQ+ inclusion. As part of this process, we are conducting an online survey about LGBTIQ+ inclusion at UNSW. The 15-minute survey is anonymous and open to all UNSW staff, irrespective of how you identify. I encourage you to take this survey to help us understand the experiences of our staff.
UNSW Archives is celebrating our trailblazing women in an online exhibition of women who have achieved key firsts at our institution. From June Griffiths, our first female graduate (1952), and for whom JG's Café is named, to Professor Eileen Baldry, our first female Deputy Vice-Chancellor, the exhibition is an excellent tribute to UNSW women.
UNSW is pleased to be the principal partner of the 10th anniversary Festival of Dangerous Ideas, 3-5 April 2020. The festival program – themed 'Dangerous Realities' – has been released, with an impressive line-up of more than 30 international and local speakers including our own Professor Megan Davis, Pro Vice-Chancellor Indigenous, and Professor Pasi Sahlberg, Deputy Director and Research Director of the Gonski Institute for Education.
Finally, you may have noticed that Inside UNSW looks a little different this week. This is the first glimpse of a new visual identity that is being developed with the help of students and staff across our community. This fresh approach has taken inspiration from our founding mission: 'knowledge by hand and mind', adding in a new element, 'heart', to reflect the passion and the commitment to making a difference in society that binds the UNSW community together.
Best wishes
Ian
Comments