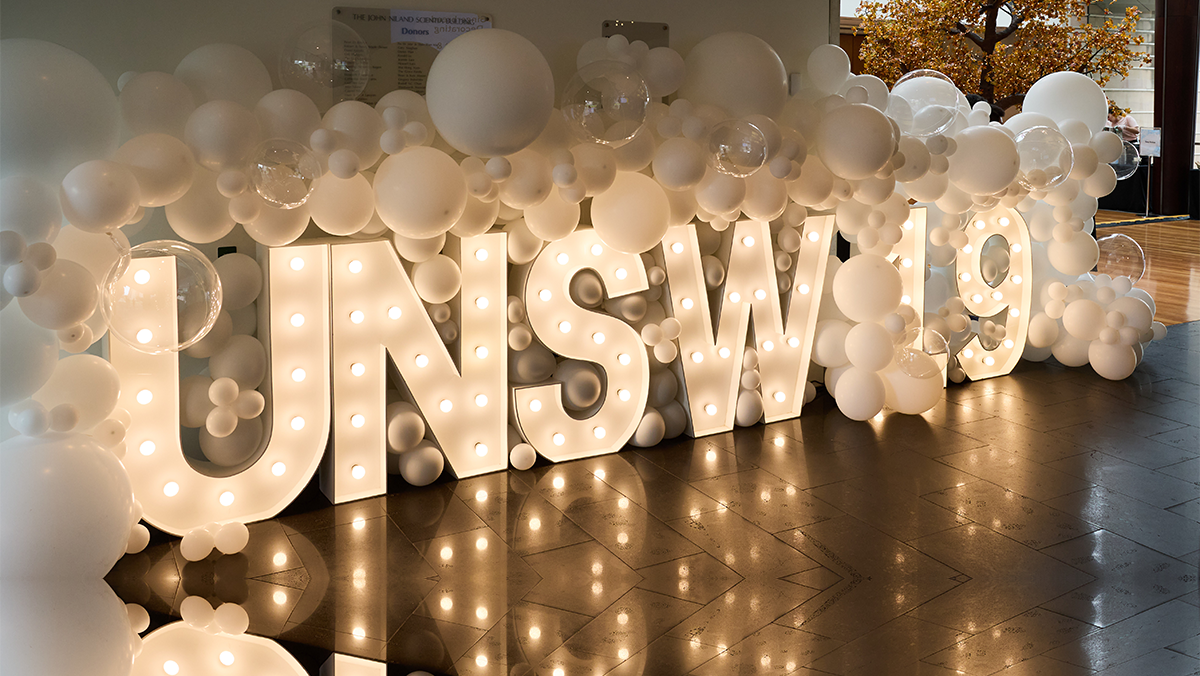 Dear colleagues
It has been a busy few weeks. UNSW reaffirmed its support for a First Nations Voice to Parliament by lighting up the library and gathering on University Mall for a group photograph. We had a wonderful Winter Warmers celebration to thank everyone for our remarkable equal 19th QS World University Ranking (see picture above), and analysis from our Insight staff engagement surveys has resulted in two clear University-wide actions to pursue.
Winter Warmers celebration
The Winter Warmers celebration was a fabulous event and thank you to colleagues for our extraordinary QS Rankings success. The John Niland Scientia Building was transformed, complete with a virtual fireplace, igloos and donut wall, and the atmosphere was wonderfully warm.
The event was a huge hit, drawing crowds of around 800 each day. What a terrific turn out! The beanbags on the Scientia lawn looked like a most inviting place to soak up some winter sun and the donuts definitely lived up to the hype! I'm told there were 2500 donuts consumed and yes, I partook (I even managed to nab one hot out of the fryer). Word spread quickly about how good the donuts were, they were so popular in fact, that an extra 500 had to be made on day two. The warming soup (2000 cups) and gingerbread hit the spot too. I didn't get a chance to try the mulled wine, but I heard it was also popular and the aroma was certainly lovely! Thank you to everyone who so generously donated clothes, toys and books to Vinnies: we collected around 50 bags.
I enjoyed the opportunity to thank a host of colleagues in person for your ongoing hard work. I sincerely hope that the Winter Warmers event was an enjoyable time for all who attended, it was, albeit small, a token of thanks for each person's contribution to our equal 19th ranking. It's really important that we take time out to acknowledge our achievements and stop for some collegial R&R when we can. It was fantastic seeing so many staff enjoying time with their colleagues and making new friends.
A big thanks to the event organisers too. I'm not the only one who had great things to say about the event. Here's a snippet of what some of our colleagues said, and you can read the full comments in this edition of Inside UNSW.
"What a memorable event on such a perfect winter's day in Sydney!" – Donna Flynn, UNSW IT (pictured top right in the gallery below)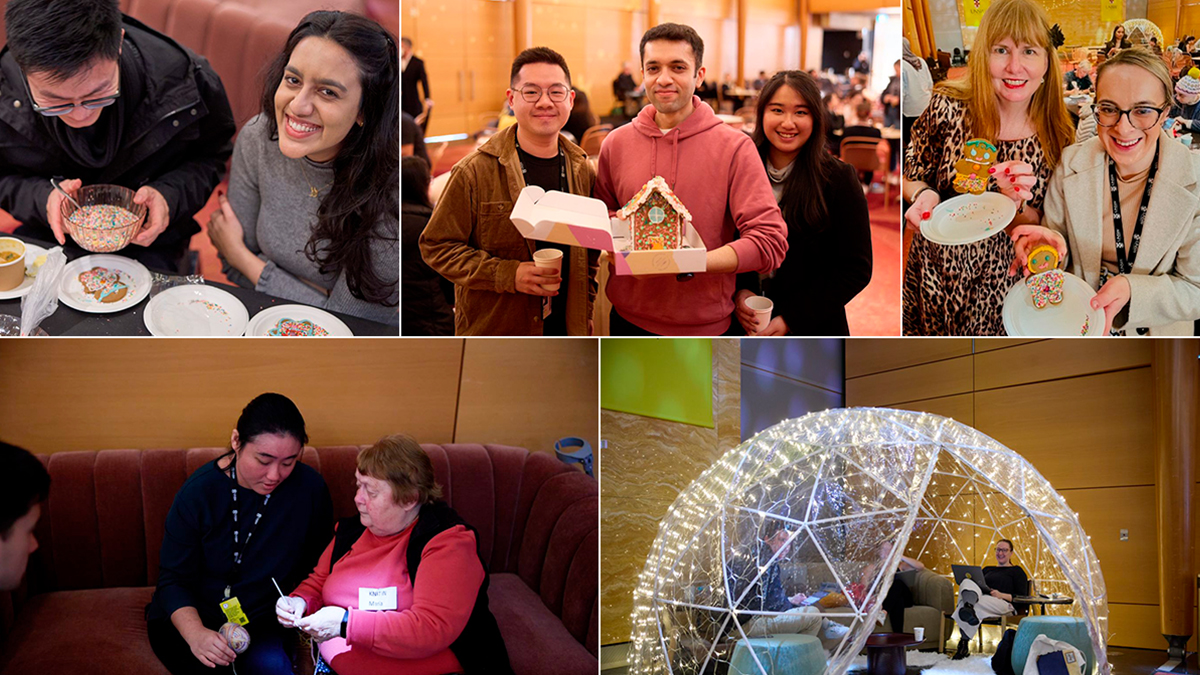 "We had lots of fun, delicious soup, donuts and mulled wine. We created great team bonds during gingerbread house decorating. Thanks for organising such a great event." – Nihan Turgutoglu (pictured bottom left in the gallery below with colleagues from the Biotech & Biomolecular Science technical team)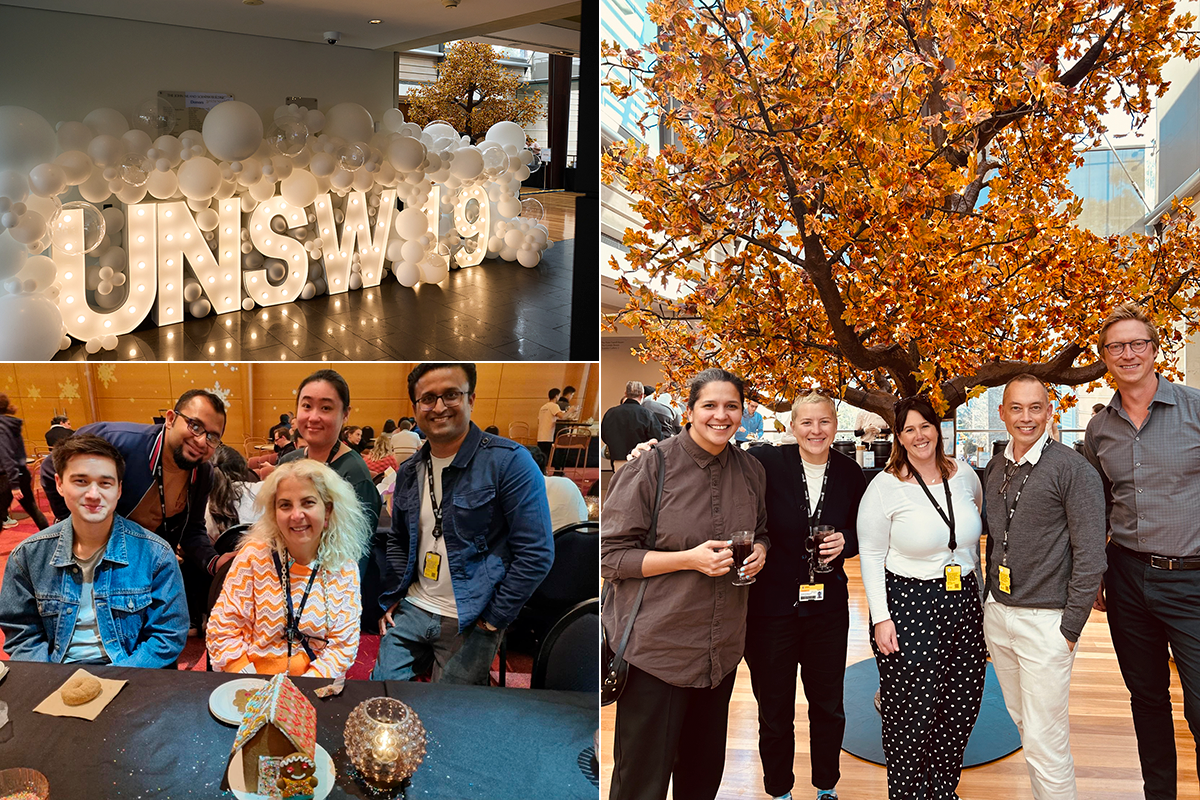 "Great to connect with everyone at the Winter Warmers, the beanbags were super comfy, can't wait for the next event hopefully in spring!" – Shaun Williams, Human Resources (pictured top right in the gallery above)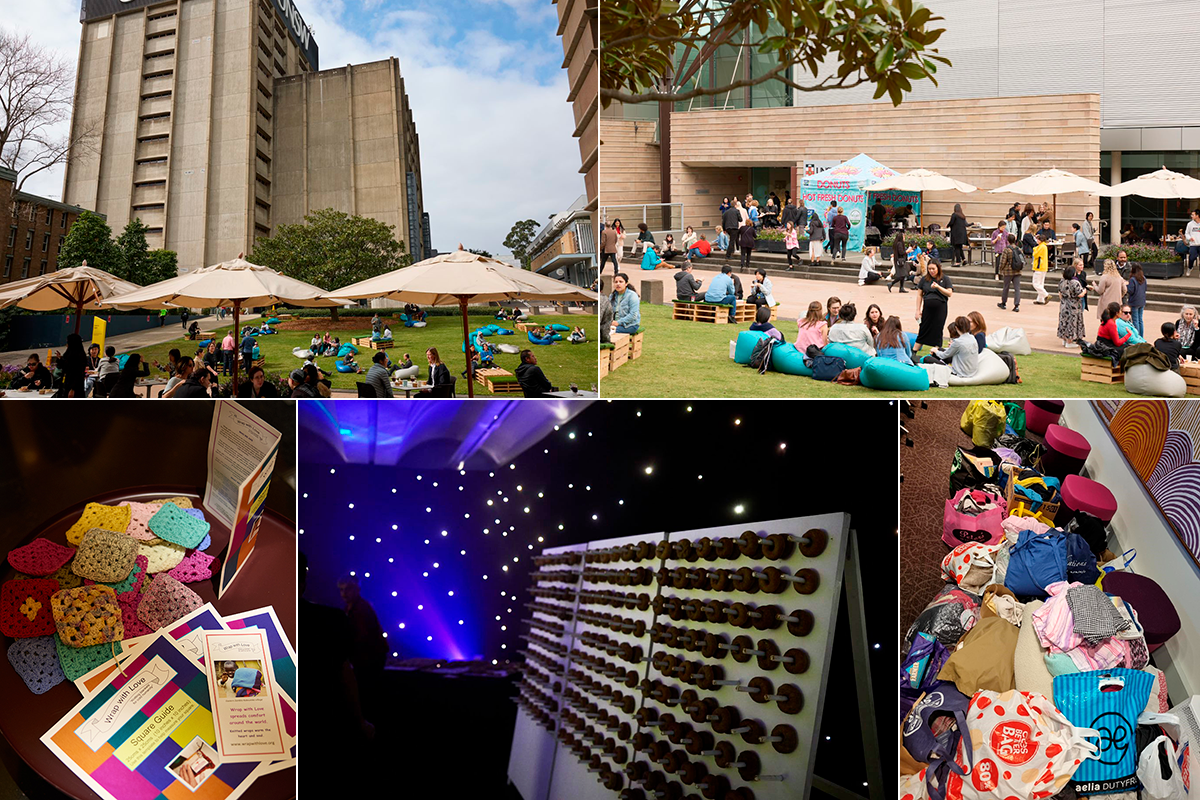 UNSW reaffirms support for First Nations Voice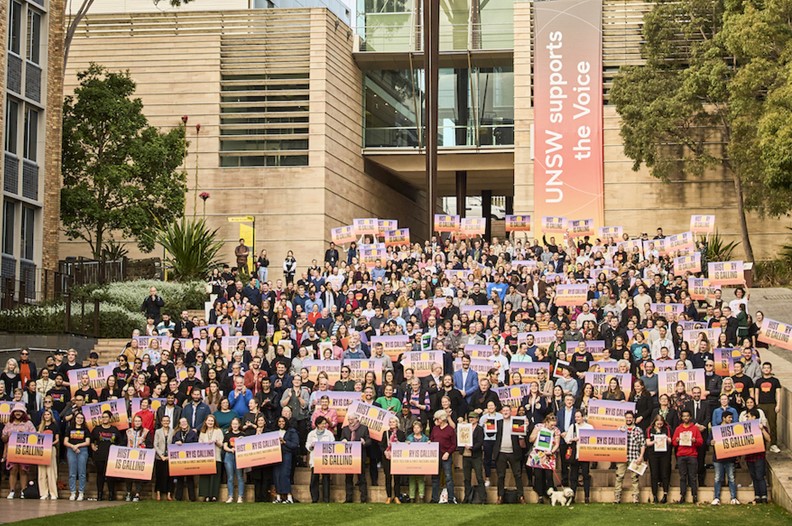 Each night last week we lit up the UNSW Library building in the colours of the Aboriginal flag to reaffirm UNSW's support for the First Nations Voice to Parliament and bring attention to this important national conversation. On Wednesday, around 1000 students and staff gathered at the top of University Mall to show their support in front of the 'UNSW supports the Voice' banner unfurled on the John Niland Scientia Building. It was an honour to have Uncle Vic Simms, a Bidjigal Elder from La Perouse, address us in a moving speech before the photo shoot.
Following that, UNSW students joined a special livestream event hosted by the Australian National University that connected universities across Australia for an in-depth dialogue covering diverse perspectives regarding the Voice referendum.
UNSW has supported the Uluru Statement and its call for a First Nations Voice to Parliament from the early days, however we acknowledge and respect that there are differing opinions and encourage a respectful, inclusive debate at our University. A variety of resources about the Voice, the referendum and the Uluru Statement, including links to a range of official campaign websites is available on the UNSW website.
Insight Survey – University-wide themes for action
Thank you to everyone who took part in the two phases of the Insight staff engagement survey. Local area results have been shared with all leaders, and you will be hearing more about these within your Faculty, Division, School or Department.
Our biggest opportunities to improve were consistent across the feedback from the staff who participated in the surveys. This has made really clear the two themes we will focus on at a University-wide level:
The leaders in my Faculty/Division demonstrate that people are important to the University's success.
At UNSW we act on promising, new or innovative ideas.
There are also themes being developed specific to each Faculty, Division and workgroup. Again, I reiterate my, and the University Leadership Team's, commitment to acting on these themes and holding ourselves to account for progress in the coming months.
I encourage you to read more about the next steps in the action planning process and how you can get involved.
Indigenous Students Awards
On Thursday, I had the pleasure of attending the Indigenous Students Awards, which recognise academic excellence and spirit. It was wonderful to celebrate the many and varied achievements of students from faculties across the University, and meet some of UNSW's future leaders and innovators. Seeing their success, and the supporting role the University plays in that success, was a timely reminder for me why I am so privileged to work at this University. Read more in Inside UNSW.
New health and safety tools
As you know, the health and safety of students and staff is a priority for me. We have two new tools that continue to build our proactive approach to health and safety – a Health & Safety Brief designed to support proactive and meaningful conversations about health and safety in meetings, and a '2 Be Safe' poster for labs and makers spaces that highlights the importance of considering potential hazards or risks associated with the task about to be undertaken. Please let the safety team know if you haven't received them in your local area yet. A reminder we have recently launched the Salus Roam app (with a few normal hiccups) for on-the-go reporting. Safety is our collective responsibility and something we need to be actively practicing every single day. Head to the Safety website for more information.
Appointments, awards and investments
Best regards
Attila
Professor Attila Brungs
Vice-Chancellor and President
Comments