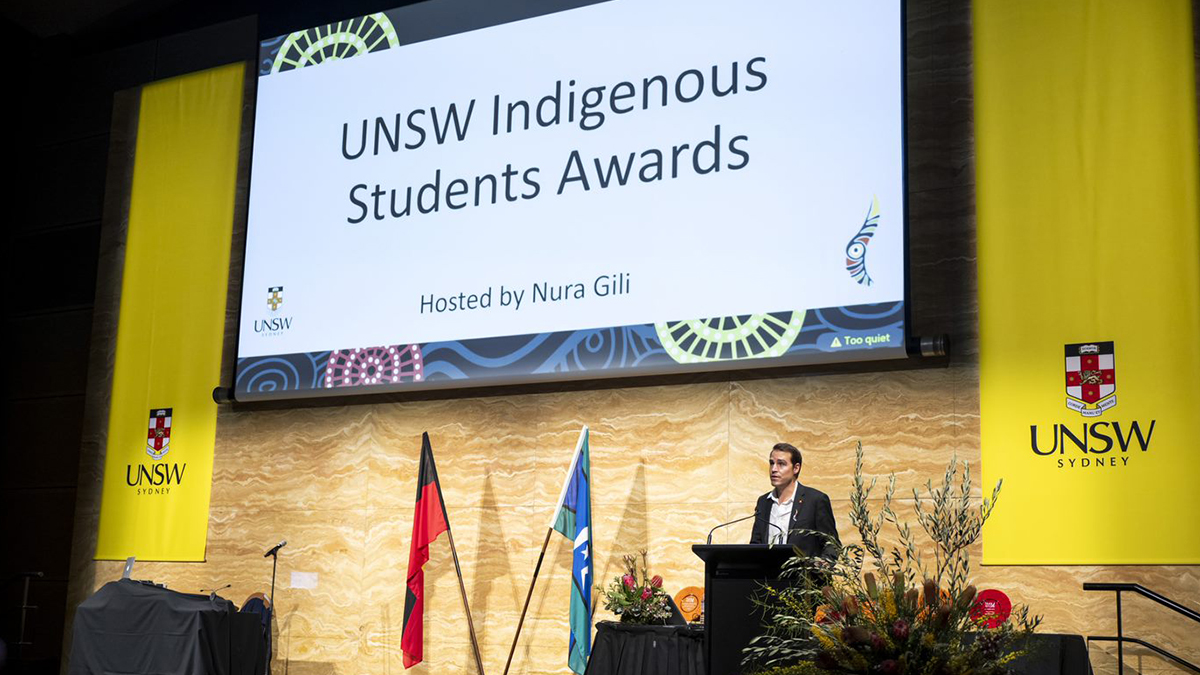 Nura Gili had the honour of hosting the UNSW Indigenous Students Awards night, celebrating with students, staff and the local community.
These Indigenous Students Awards recognise academic excellence and spirit in each of UNSW's faculties and campuses. It was wonderful to celebrate with the community again after postponing due to COVID-19.
Student with the highest cumulative weighted average mark at the end of the academic year in each faculty received awards. The Spirit award recognises qualitative characteristics such as persistence, resilience, academic growth and attitude, and were determined following a school nomination process and faculty panel.
Spirit Award recipient Tiah Payne from Arts, Design & Architecture said she was honoured and proud to receive the award.
"Being presented with the award was an acknowledgment of all my hard work, dedication and commitment to my studies and uni. It was a way of saying 'We see you'," she said.
"The Indigenous Award night was an amazing night for not only the award winners being recognised but for all of us being recognised for our achievements and hard work. It was also an opportunity for us to say thank you to all the wonderful Nura Gili and UNSW staff who support us. I encourage everyone to attend these evenings, as it's a great night for us to come together."
Highlights of the evening included a cultural dance by the Gamay dancers, a Welcome to Country by Aunty Maxine Ryan and an inspiring speech by UNSW alumna Dr Khyarne Biles. 
Nura Gili would like to thank all community who attended and the UNSW faculty senior leadership team for their enthusiasm to present the awards, recognising the wonderful achievements of our Indigenous students. 
Congratulations to the following award recipients. 
Arts, Design and Architecture
Undergraduate academic award: Lua Pellegrini 
Postgraduate academic award: Dayle Sumner
Spirit Award: Tiah Payne
Business School
Undergraduate academic award: Brodie Booth 
Postgraduate academic award: Danielle Captain-Webb 
Spirit Award: Yanti Ropeyarn
Engineering
Undergraduate academic award: Caitlin Ramsay 
Postgraduate academic award: Trent Ayscough 
Spirit Award: John Licitra 
Law & Justice
Undergraduate academic award: Corey Blyth 
Postgraduate academic award: Karla Jeffrey 
Spirit Award: Oliver Williams 
Medicine & Health
Undergraduate academic award: Keaton Hudson-Buhagiar 
Postgraduate academic award: Jackie Thomas
Spirit Award: Trayden Miller-Mundine / Benjamin Jones 
Science
Undergraduate academic award: Sally O'Bryan 
Postgraduate academic award: Bradley Jay 
Spirit Award: Bryce Liddell 
UNSW Canberra
Undergraduate academic award: Breydon Lee Verryt-Reid
Spirit Award: Katherine Russell
Comments