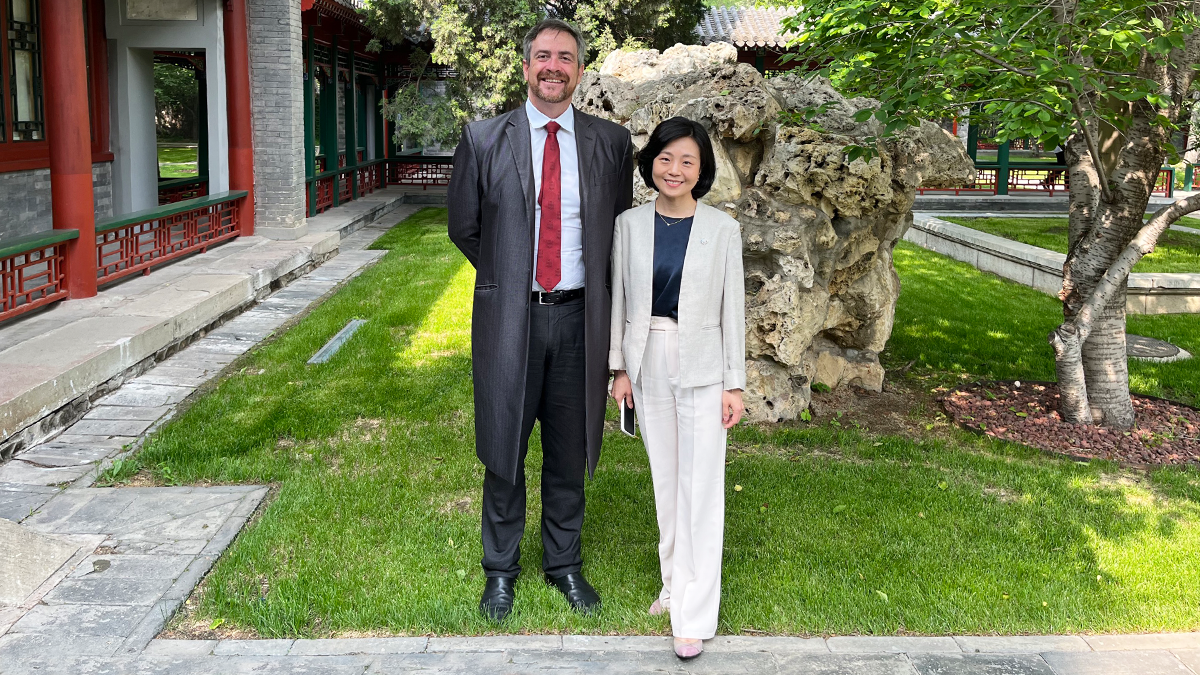 Dear colleagues
I write to you from China, at the beginning of a week-long trip to reconnect with colleagues, alumni, industry partners and associates from universities in Beijing and Shanghai, after several difficult years where we were unable to get together in person. UNSW has a long-standing relationship with the people of China, including wonderful alumni living and contributing across the nation. I value this opportunity to revitalise our engagement across education, research and knowledge exchange, and to work together in areas which will make a positive difference to the globe, tackling some of society's greatest challenges.
Though I've been to China many times, this is my first visit as Vice-Chancellor of UNSW. I am proud to be an ambassador for the University, in the company of people who have a passion for having a positive impact on the world around us through education and research.
The trip is already off to a tremendous start with visits to Tsinghua University (pictured above with Rachel Wei, UNSW's China Country Director), Beijing OriginWater, Ministry of Science and Technology, Chinese Academy of Sciences and the George Institute, with a full schedule planned for the remainder of the week. I look forward to meeting with our esteemed UNSW alumni in Shanghai, and to celebrating the Centre for Transformational Environmental Technologies' (CTET) five-year anniversary and launch of its pilot demonstration facility. I also look forward to meeting with agent partners and colleagues from UNSW College (formerly known as UNSW Global, but more about that later in this message). I will bring you a full round-up of the China trip in the next edition of Inside UNSW.
Graduation celebrations and aspirations
It's always such a pleasure to be on campus during graduation, a time of great excitement and jubilation, as students return with their proud families, carers and those who have supported them in their studies to celebrate years of hard work and dedication.
I had the honour of graduating newly minted alumni at the Law & Justice, Business, and Science graduation ceremonies, and encouraged them, as they take their place among our outstanding alumni, to use the opportunity their education bestows upon them to have a positive impact on the world.
As the first week of the graduation festival coincided with the examination period, I couldn't help but think about the students heading to their exams. I hope that seeing the graduates gathering for photographs on the Library Lawn would serve as a great motivator and proof that hard work and exams do one day pay off! 
I would like to acknowledge the Examinations team and the Graduations and Prizes team in the Division of Education & Student Experience (DESE) for their great work in coordinating these programs, and I thank the hundreds of staff and volunteers who make these programs not only possible but a great success.
Insights and actions – staff Town Hall on 7 June 2023
I hope you've had a chance to read the email Chief HR Officer, Deena Amorelli, and I sent to staff yesterday with some top-level insights from phase one of the Insight staff survey. The calendar invitation included a link to join an online staff Town Hall on Wednesday 7 June 2023 via Teams Live.
We are looking forward to sharing detailed results from Insight and potential focus areas that we can act on together. The survey participation rate of 61 per cent has provided valuable information about what's important to you – and I assure you again that the Senior Leadership Team is genuinely committed to responding with meaningful actions.
The second phase of Insight, which will be conducted mid-year for staff employed on a casual basis, will build on the results we share in June. Thank you to everyone who took part in the first phase.
Now recruiting Nexus Fellows – a critical link in educational excellence
I am delighted to share that our Nexus Program is in full swing, with recruitment for Nexus Fellows commencing this week – both internally and internationally.
The Nexus Program aims to connect the excellent educational initiatives that are happening throughout UNSW in our Schools, Faculties and the Pro Vice-Chancellor Education & Student Experience (PVCESE) portfolio. Making these connections will enable students and educators across the University to benefit from a broad range of innovative teaching tools and practices.
We are aiming to recruit 40 Nexus Fellows, Education Focussed academics who will make these connections, amplifying innovations that are being implemented locally and translating University-wide programs for local application. Nexus Fellows will be innovators, peer coaches and mentors: a community of passionate teachers who are zealous about providing a world-class educational experience for UNSW students.
To complement the work of Nexus Fellows, we have recently recruited a vibrant network of 24 Nexus Education Developers, who collaborate with our academics to create high quality learning experiences for our students.
I recorded this video message for academics who are interested in becoming Nexus Fellows.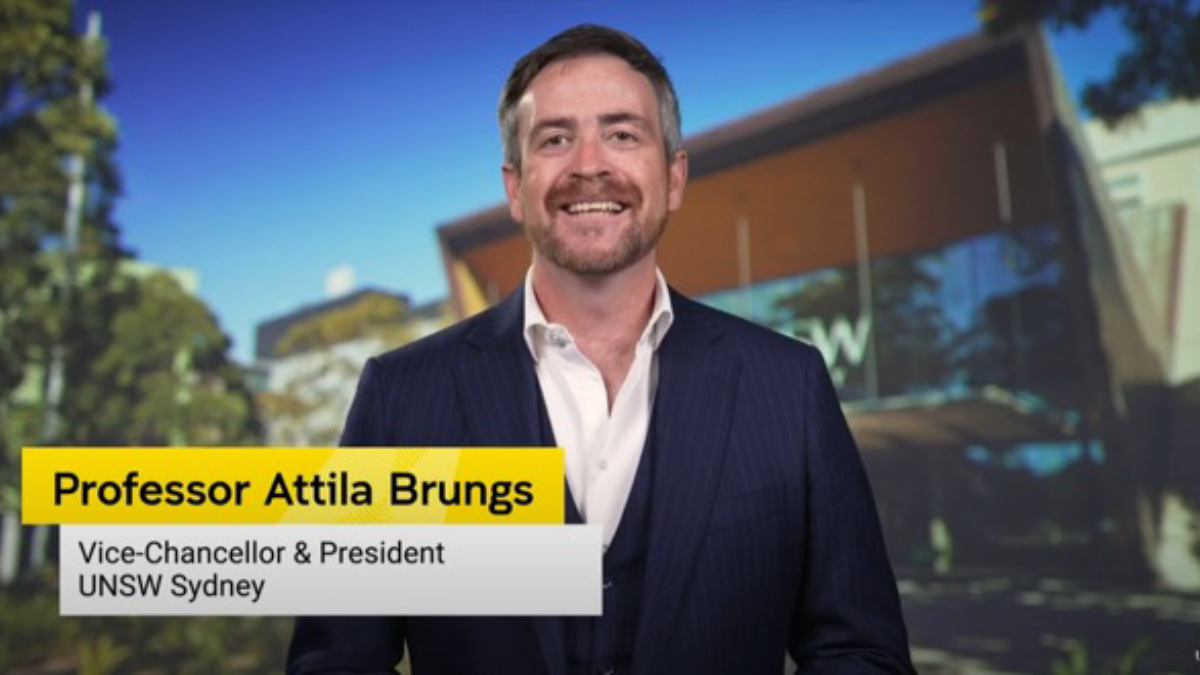 You can find out more on the Nexus Program website.
Underpayment review and remediation update
I would like to reiterate the message I sent to all staff by email on Thursday 11 May 2023 with an update on UNSW's review and remediation of staff underpayments. UNSW deeply regrets the underpayments that occurred and sincerely apologises to everyone who has been impacted, including current and former staff.
UNSW initiated a comprehensive review in 2020, through which the University has made more than $10 million in remediation payments, including interest and superannuation, to a significant number of current and former staff who we know have been impacted. The review continues. We will continue to make changes to improve processes and systems to ensure staff are paid correctly and we will keep staff informed as the review progresses.
If you have any concerns or questions, please contact your HR Business Partnering team.
Remus Tudor's work is electric
I love meeting UNSW colleagues and learning about the work they do. It's one of the privileges and most enjoyable parts of being VC. I try, most days, to do at least one complete circuit of the campus without having to rush to a meeting.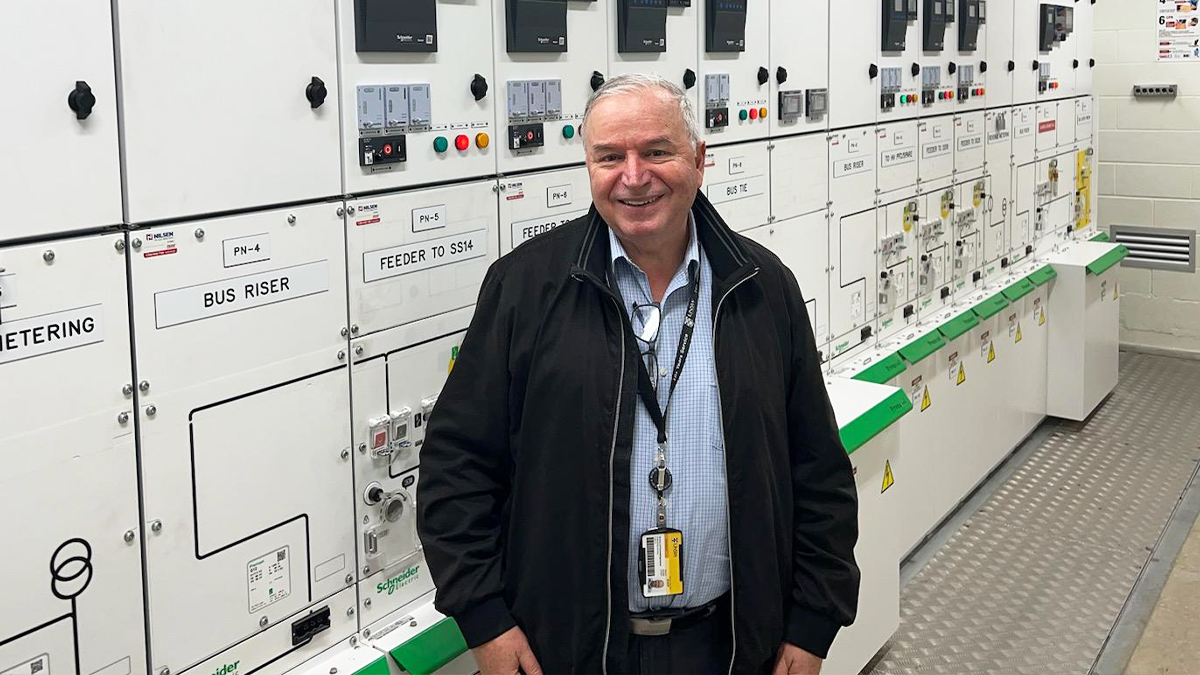 Recently, during one of my walks, I met Remus Tudor, an Electrical Engineer in Estate Management. That's him in the photo above.
Remus has been working on the upgrade of the 40-year-old High Street Incoming Substation that will provide additional supply and fault protection to the UNSW High Voltage network on Kensington Campus. This project will improve the reliability of power supply to two out of five high voltage ring mains that supply two thirds of the campus buildings, including several research, education and student amenities. The project supports our goal to power our campuses using 100 per cent renewable electricity as part of our net zero emissions commitment.
If there is power required, Remus has probably been involved. He was a guest at the recent event celebrating colleagues who have worked at UNSW for between 10 and 20 years. Thanks for your ongoing service, Remus. You're a real UNSW powerhouse!
UNSW Global is now UNSW College
As mentioned earlier in my message, on Thursday I will have the pleasure of meeting with colleagues from UNSW College in Shanghai to mark its name change from UNSW Global and to celebrate the great work UNSW College does in preparing students for study at the University. UNSW College's new name reflects its growing and diverse community of students and unique position as a prestigious international education pathway provider. It is a change in name only, as UNSW College will continue to provide steppingstones and pathways to undergraduate programs at UNSW Sydney but, for the first time, the organisation will operate as a higher education provider in its own right, opening up opportunities for an even broader scope of program offerings.
Congratulations to all who were involved in UNSW College's successful application to the Tertiary Education Quality and Standards Authority (TEQSA) for recognition as a higher education provider. Their application was praised as one of the highest quality TEQSA had seen and led to a seven-year registration. 
Federal budget 2023–2024
In the budget handed down by the federal government last Tuesday, it was announced $128.5 million would be allocated over the next four years to create 4000 new student places to deliver graduates from STEM disciplines to develop the skills needed to support the AUKUS program. With the largest engineering faculty in Australia, UNSW will play a critical role in meeting national skills needs into the future and this funding will allow us to leverage our strengths in energy defence and nuclear education to enable the workforce required to deliver Australia's future defence priorities. We look forward to continuing to work with the federal government in this and other areas of national importance and UNSW educational and research strength.
Enjoy reading this edition of Inside UNSW. I look forward to sharing more about my trip to China and next week's O-Week when I write to you again.
Best regards,
Attila
Professor Attila Brungs
Vice-Chancellor and President
Comments