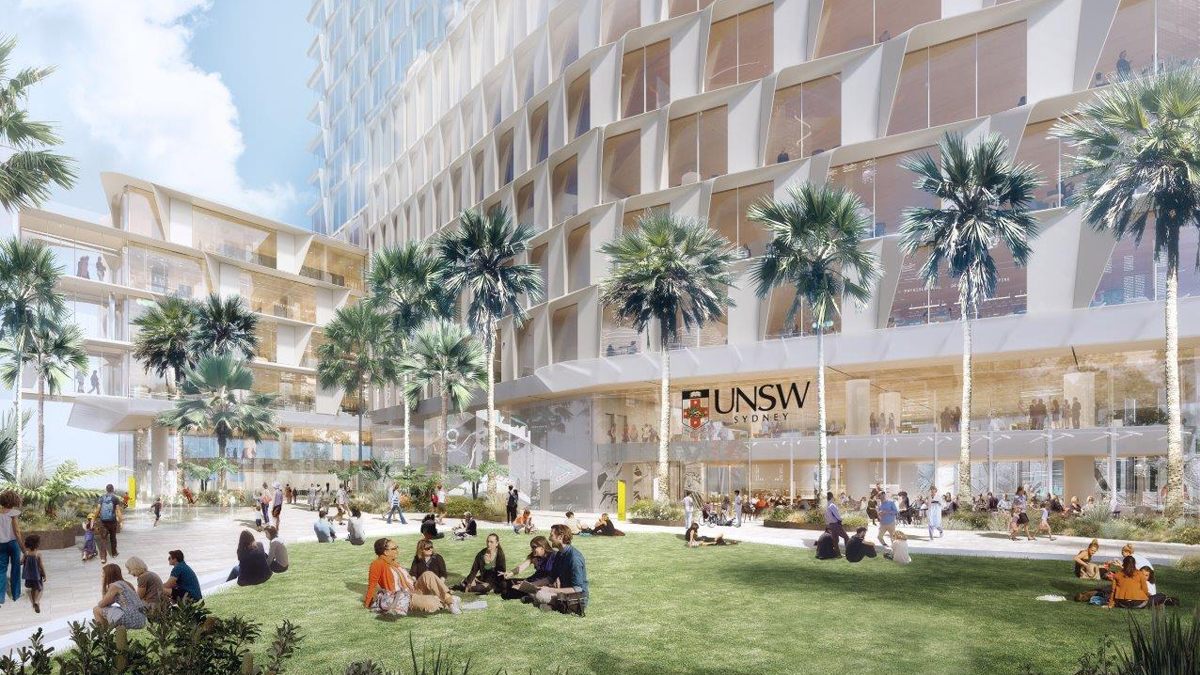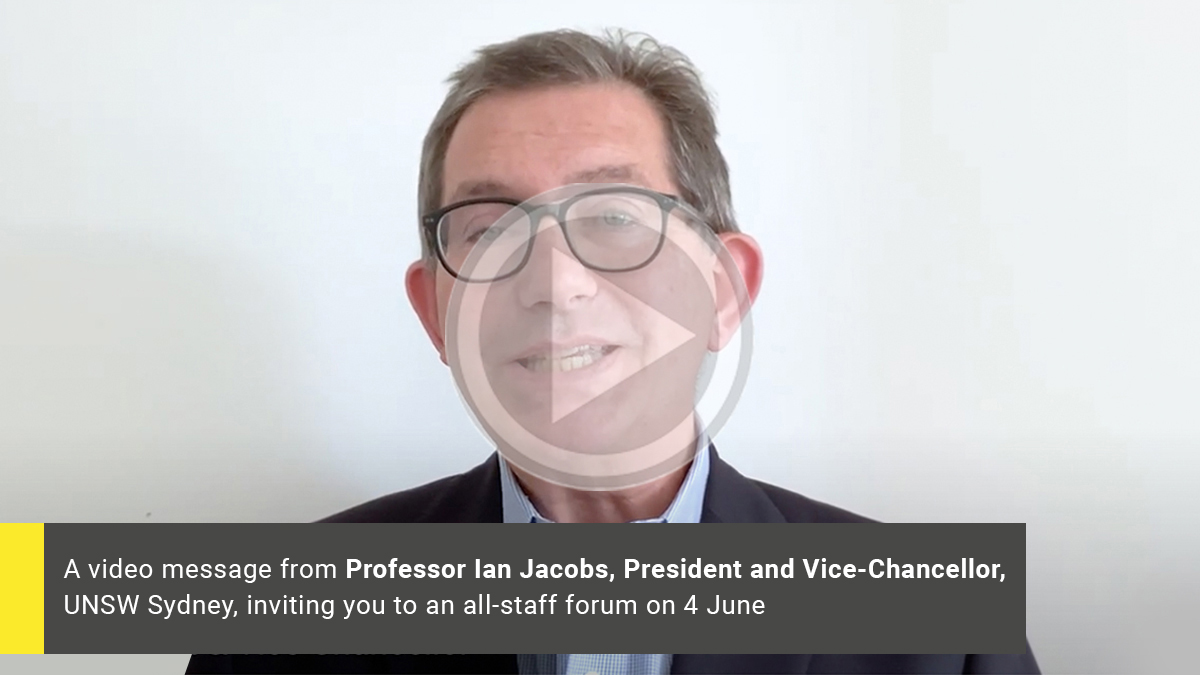 Dear colleagues
As we approach the mid-point of the year, you are invited to submit questions for an all-staff forum to be held next week. I have recorded a video update on some of the topics you may like to ask about, but you can submit questions about any aspect of UNSW, by 5pm on Monday 31 May. The Senior Leadership Team will answer the questions at an online all-staff forum from 11am – 12.30pm on Friday 4 June. An electronic invitation to the forum will follow shortly.
Log in and submit your questions for the forum.
Read the transcript of the video message.
UNSW Health Translation Hub – sharing the vision
UNSW and our Randwick Health & Innovation Precinct (RHIP) partners have reached an exciting milestone in the planning process for the UNSW Health Translation Hub (UNSW HTH), with the State Significant Development Application now on public exhibition with the NSW government.
It is exciting to be able to share images of the UNSW HTH proposal with you for the first time. These artist's impressions indicate the thoughtful design elements of the hub, with light, accessibility, collaboration areas, and open green spaces all important features of this visionary building.
The proposed UNSW HTH, on the corner of Botany and High streets, will bring together researchers, clinicians, educators, students and industry, to translate expertise and innovation into better patient care and better health outcomes for the community. The hub will enable UNSW academics across an array of disciplines to connect seamlessly with UNSW Medicine & Health and with our RHIP partners – towards the shared mission of improving health for all.
The UNSW HTH State Significant Development Application is on public exhibition until Tuesday 15 June 2021. Well done to our colleagues in Estate Management and UNSW Precincts for preparing this impressive proposal.
Thank you for a successful May Graduation Festival
I would like to thank everyone involved in making the May Graduation Festival such a great success. There is no more joyous time on campus than Graduation Festival and the ceremonies of the past few weeks – 38 ceremonies for 5353 graduates, to be precise! – seemed especially significant. It was good to see the graduates, decked out in their gowns and accompanied by proud families, back on campus, cameras clicking and phones held high as mortar boards were thrown in the air against the backdrop of the UNSW Library.
I took a few minutes to sit out near the Library Lawn last week to take it all in. It was a visible reminder that the nurturing of the mind and the development of the person, with which it is our privilege to be entrusted, has continued despite the turmoil of the past year.
Thank you to the Graduation Team, Security, Estate Management, Arc and the more than 300 colleagues from the Faculties and Divisions who volunteered to assist with the ceremonies. I also thank you for responding expeditiously when new COVID-19 restrictions were put in place at the eleventh hour.
Federal Budget 2021-22
Universities were conspicuous in the recent federal budget by their omission. Given the contribution our universities have made to responding to the pandemic and the potential we have to contribute to the recovery, this is a missed opportunity.
Nevertheless, there were a few components of the budget to draw your attention to, including: a $1.1 million package to incentivise universities to invest in research PhD students and develop closer links with industry; $42.4 million over seven years to establish the Boosting the Next Generation of Women in Science, Technology, Engineering and Mathematics (STEM) Program by co-funding scholarships for women in STEM in partnership with industry; $54.2 million over four years to establish a Global Science and Technology Diplomacy Fund to support strategically important science and technology collaborations with global partners; and a new 'patent box' concessional tax rate of 17% for patents in the medical and biotech sectors registered in Australia, which the government will consider expanding to the clean energy sector.
UNSW Sorry Book
On National Sorry Day (26 May) we remember the Stolen Generations whose lives were devastated by past policies to remove Indigenous children from their families and communities. This day acknowledges and signals deep regret at the impacts these past policies had, and continue to have, on Indigenous Australian communities today.
A UNSW Sorry Book has been created online to share our sorrow for the pain and trauma caused to all those stolen Indigenous Australian children, their families and communities. The UNSW community is invited to join in sending a message of support by visiting www.edi.unsw.edu.au/sorry.
UNSW receives $8m in grants for health and medical research
An indicator of the importance and impact of the research conducted by universities is the grant funding that we receive for specific projects. I congratulate colleagues who have received grants in the recent round of funding for health and medical research. UNSW received more than $8 million for researchers to examine new treatments for use of methamphetamine ('ice'), Crohn's disease, spinal cord injuries, and new methods for detecting epidemics. This life-saving research is indicative of the value of universities to local communities and on a global scale. My best wishes to the individuals and teams who will carry these projects forward.
Applications open for Equity Diversity & Inclusion Grants Program
As we strive to enhance a UNSW culture that encourages equity and supports a diverse, inclusive community, the Division of Equity Diversity & Inclusion (EDI) has opened applications for the EDI Grants Program 2021. Current UNSW students and staff may apply for grants of up to $5000 for projects that contribute to EDI's mission to instil equity, diversity and inclusion across the University and equip our community to contribute to a fair and just society.
The impressive creations from past years' EDI Grants provide great inspiration for this year's round. In 2019, projects included a short film that addressed the challenges faced by refugee women, and an app to facilitate inclusion at conferences. I look forward to seeing what our students and staff produce from this year's program. Grant applications are open until 5pm on Tuesday 22 June.
Dr Mariam Farida honoured as a leading Arab voice in Australian media
Congratulations to Dr Mariam Farida, Academic Learning Facilitator in the PVC Education & Student Experience portfolio and UNSW Middle East Expert, for her award at the Honouring Arab Women in Mainstream Media and Literature event recently. Mariam was acknowledged in particular for her contributions in academia, including in fields of research in which women are underrepresented, such as Middle East politics, non-state groups, and global and national security. Mariam has this year been seconded to Corrective Services NSW to contribute to its Countering Violent Extremism project.
International honours for Temporary
Congratulations to the team behind the Temporary storytelling project, which has been honoured in two international awards programs.
The Temporary podcast was honoured in the Documentary Podcast category of the 2021 Webby Awards, the leading international awards for excellence on the internet. Temporary is an eight-part documentary produced by the UNSW Centre for Ideas, the Kaldor Centre for International Refugee Law and Guardian Australia, giving voice to people who fled their homes to seek refuge in Australia but found no way to secure permanent protection.
The introductory story to Temporary, 'A Legacy of Endless Limbo', won the long-form category in the annual awards of the American Society of Journalists and Authors, in the excellent company of writing from eminent publications including The Washington Post, National Geographic and Smithsonian Magazine.
Local Challenge to keep active this winter begins on Monday
A virtual race from Uluru to Kakadu sounds like an excellent way to keep physical activity up this winter.
If you agree, there's still time to join UNSW students, staff and family members in the Get on Track Local Challenge. The Local Challenge is a friendly competition between teams of four. Each participant tracks their own activity and then uploads their 'steps' to contribute to their team's progress. So, rather than be 'left to your own devices' this winter, you may like to consider using your own fitness device to stay active while having some friendly fun. The Local Challenge 'runs' from 31 May until 23 August.
You can find out more, including how to take part, here.
Please ensure that, wherever you are on campus or in the wider community, you comply with COVID-safe regulations including wearing of masks when required, physical distancing, and using QR codes to check into buildings and other locations. Continue to refer to our Safe Return to Campus Guidance and check the NSW government website for the latest COVID-19 updates and alerts.
I remind our staff that free, confidential counselling is available through our Employee Assistance Program. The service is also available for immediate family members. Students who would like to access support services can contact Student Support Advisors for assistance.
Best wishes
Ian
Comments