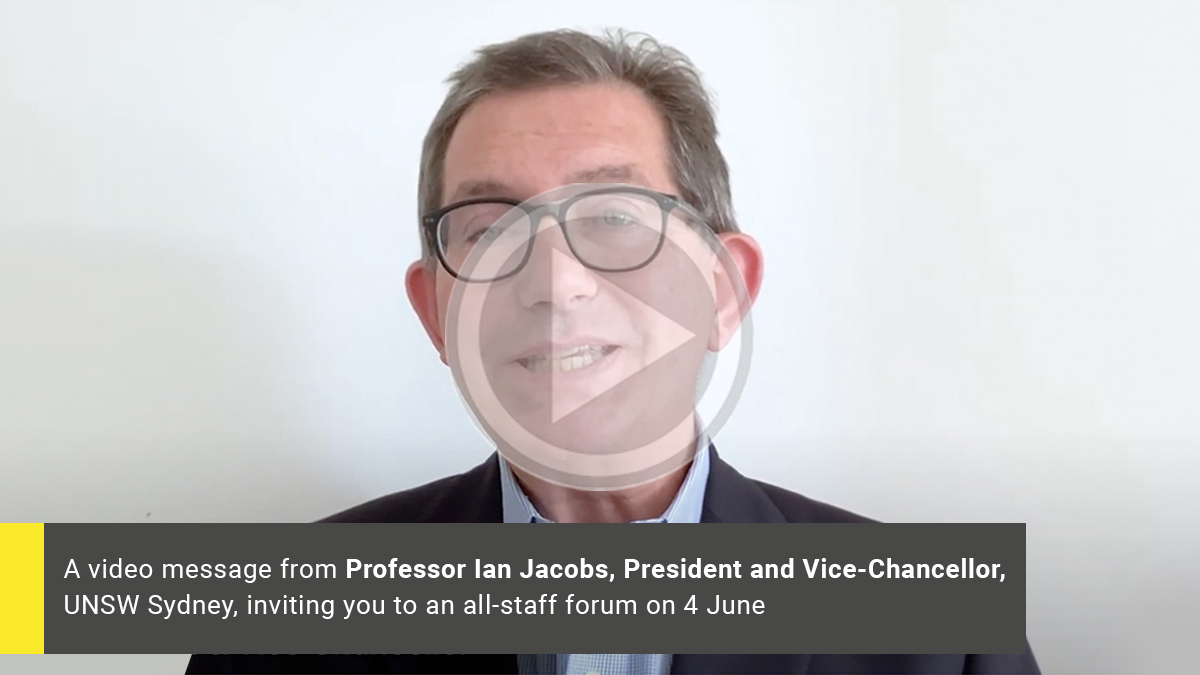 This is the transcript of the Vice-Chancellor's video message to staff in Inside UNSW Edition 9 2021.
Hello colleagues
I begin by acknowledging the traditional owners of this land and paying my respect to elders and all aboriginal and Torres Strait Islanders.
I have prepared this message to invite UNSW staff to submit questions for an online University staff Forum, which will be held on Friday the 4th of June at 11am until 12.30pm.
And in this video, I will cover four areas. First, some reflections on the UNSW response to the pandemic; second, some information and reassurance about our current status; third, the importance of staying true to our values and ethos in these difficult times; and fourth, some of the opportunities that lie ahead.
At the online staff forum the Senior Leadership Team and myself will respond to as many of the questions you raise as possible. Please send in your questions by Monday, the 31st of May using the link in my message in Inside UNSW.
Firstly, some reflections on our response to the pandemic.
I want to start by acknowledging the extraordinary work of our staff during the past year – unquestionably the hardest in UNSW's history. I realise that many of you have dealt with increased pressures of life at UNSW alongside the personal and family stresses that the pandemic has caused.
I am proud of the way our staff, students and alumni have responded to the pandemic – quickly and proactively. The dedication of staff to providing the best possible student experience during a time of unprecedented challenge and change was matched by the adaptability of our students. A heartfelt thank you.
Your stellar efforts over the last year are valued and appreciated by Council, the senior leadership, your colleagues, your students and myself.
One of the many aspects of the pandemic was of course the economic impact. Our contingency plans to respond to a sudden fall in student enrolments were quickly actioned when the pandemic hit. As a result, we delivered a deficit of just $19M in 2020, slightly less than our financial plan of a $32M deficit. 
So, the second topic that I will cover is to provide a degree of reassurance about our current situation.
I realise that the unavoidable steps to respond to the pandemic – changes in working arrangements, resources and staff numbers – have put many of you who were already working hard under greater pressure and you will understandably have concerns about what is in store this year.
There are of course uncertainties about how the COVID-19 pandemic will affect Australia in the months and years ahead, which the university leadership cannot predict or control. But the proactive steps we all took in 2020 enable me to give you reassurance and confidence about our current circumstances.
The painful, but essential steps to reduce staff numbers at the end of 2020, along with ongoing reductions in non-staff spending, have ensured financial stability for 2021.
That confidence is reinforced by our student enrolments in Term 1, which exceeded our load plan and numbers for T2 also look positive. It is clear that our students want to continue their education at UNSW despite the challenges. Most of our students who are overseas and cannot travel to Sydney are staying with us online and we have strong local commencements. For example, demand for Arts, Design & Architecture, which we may have expected to fall because of the increase in fees is very strong.
Given all of this, I am confident that we will not need to make any additional major changes to expenditure or staffing levels this year.
I am also optimistic about our longer-term finances, but as anyone who reads the media will know, there is a high degree of uncertainty related to the pandemic and geopolitical factors that are simply out of our control.
We are not relaxing and we're constantly striving to safeguard our future. As you would expect, there are ongoing discussions with government, both state and federal, highlighting the need to provide additional research support beyond 2021, and steps to allow our international students to travel to Australia as soon as possible. On the latter, I am hopeful of an announcement in the very near future.
Thirdly, I want to emphasise the importance of staying true to our values and ethos in these difficult times.
I am heartened by the message in so many discussions I have had with staff, students and alumni emphasising that it is at times of adversity – times like these – that it is most important to dig deep and stay resolute and firm to our mission. Our mission, which motivates so many in the UNSW community on a daily basis: 'To improve lives in Australia and globally, through innovative research, transformative education and commitment to a just society.' I am heartened and proud that that is exactly what we are doing across all of our activities.
Teaching and learning is one example.
In a year that saw big falls in student satisfaction in the QILT survey across most universities, it was pleasing to find that UNSW had the smallest fall in overall satisfaction in the Group of Eight and some of the highest satisfaction with teaching quality amongst the Group of Eight.
The quality of your work shines through in the latest myExperience results for Term 1 this year.
We had the highest ever response to the survey; the highest ever international student satisfaction scores; the highest ever satisfaction with teaching for both undergraduate and postgraduate students, and the latter hit the 90-plus mark for the first time.
That reflects a level of commitment and care for our students which is so critical and admirable, especially given the pressure that our staff are facing.  
Further improving the experience for our students is a major focus in 2021 and I am excited by the plans developed under the leadership of Rorden Wilkinson and Merlin Crossley for the next five years.
Your performance in research has been equally impressive. You have secured more grants than ever, better quality publications, and truly diverse partnerships, with almost 7000 joint publications with collaborators from 169 countries. And we now have 32 Highly Cited Researchers at our University, compared to 3 in 2015, moving us ahead of universities such as Princeton, Imperial College London and the National University of Singapore.
And the economic situation didn't stop our Knowledge Exchange activity. In the past five years, the revenue has more than doubled, to over $200 million and remarkably in 2020 there was an increase from $209 million in 2019 to $222 million.
Even in Philanthropy, despite the external environment, at the end of 2020 we went past the mid-point of our 2025 fund raising target, having secured more than $350 million.
And our community has been recognised this year through international and national prizes and awards: Martin Green, with the Japan prize; Alison Bashford, the Dan David Prize; and Merlin Crossley with the Lemberg Medal.
Six outstanding UNSW researchers have been recognised by the Australian Academy of Science, and importantly the contribution of UNSW academics to keeping our community safe from COVID has seen such experts as Professors Mary Louise McLaws and Raina MacIntyre advising government and being trusted voices, highly sought after by the media.
Members of our community continue to lead on important issues that will shape our society for the better. Professor Megan Davis and the Uluru Dialogue Group based at UNSW's Indigenous Law Centre is leading public debate about a referendum on constitutional reform and a Voice to Parliament. And UNSW's wonderful Rosemary Kayess was elected chair of the UN Committee on the Rights of Persons with Disabilities.
And I couldn't talk about our values and ethos without mentioning the pride we can take in staying true to our commitment to equity, diversity and inclusion in such difficult times.
Female representation at all staff levels held steady or improved during our workplace change last year; in 2021, to date, 73% of commencing scholarships have been awarded to low-SES students; and there has been a wonderful response to the 'Be A Better Human' initiative to help strengthen a respectful and inclusive culture.
The fourth and final topic I want to comment on involves the opportunities that lie ahead.
One of the key decisions we took at the start of the pandemic was to look forward and embrace the opportunities it has opened up, as well as responding to the challenges. There are many examples of new initiatives. The Horizons Plus program is one of them and is pushing ahead with exciting new plans in continuing professional education and lifelong learning.
Our Environmental Sustainability Plans continue to make headway. Last year UNSW achieved 100 per cent renewable, emissions-free electricity on our campus – a wonderful moment – and we committed to divest from fossil fuels. We are now working hard to progress our commitment to go further and achieve zero emissions across the University. 
The rapid expansion of UNSW Online last year positioned us as the fastest growing online postgraduate program provider in the Group of Eight. That creates exciting new opportunities and gives us access to a new market, which complements existing student cohorts. My thanks to those who have pioneered teaching into these new programs.
An important part of our mission and our values is to nurture collaboration and partnership in the broader national and global interest– that's more important than ever in the recovery from the pandemic. Our major alliances including SPHERE, the NUW Alliance, the PLuS Alliance and most recently, the International University Climate Alliance which we lead, now involve 60 universities across 25 countries. Our precincts – the Western Sydney Aerotropolis and the new campus in Canberra will be crucial in the recovery from the pandemic and involve 30 partnerships across universities, vocational education, industry and government.
And the Health and Innovation Precinct in Randwick just reached a major milestone, with the $780 million Prince of Wales Hospital reaching its highest point and the proposal for the UNSW Health Translation Hub going on public exhibition. We plan to start building the Health Translation Hub in 2022 and it will provide opportunities for our academics across all faculties to bring their expertise to the scientific, technological, economic, environmental and social challenges of health. An incredibly exciting prospect.
We also have the important opportunity to establish a new flexible working policy. That will reflect the overwhelming support amongst our community for more flexible arrangements. And I encourage staff and students to take advantage of the new openness to virtual teaching and to remote working.
These new ways of working and teaching also provide opportunities to rethink and shape the way we use the campus. Plans are progressing to advance our reputation as a centre of innovation and entrepreneurship, with more incubator spaces, co-located businesses and staff and student spinouts.
And in teaching, I know that many staff are working hard to ensure their classes are as interactive as possible as they work to adapt to more and more blended and hybrid learning.
All of these strands of our activity come together in our strong trajectory in the global university rankings. We all recognise that the rankings are imperfect in many, many ways – but they are nevertheless the best measure we have of our overall performance compared to other universities across the world. And the good news is that we are closing in on the bold ambition in our 2025 Strategy of being among the top 50 universities in the world by 2025. We have a ranking of 52nd on the aggregate of the QS, Times Higher and ARWU rankings and our strong ongoing trajectory means it should be achievable to be among the top 50 by 2025.
So in summary, I know that it has been an extraordinarily challenging year for all of you, both personally and professionally, and my heart goes out to those in our community in Australia and overseas who have suffered illness or loss. And I realise that the challenges of the pandemic are not yet over. But we can take comfort in the way our UNSW community has responded and have confidence that UNSW remains on a strong trajectory, well placed to support the recovery in NSW and Australia.
Every day I am inspired by hearing of the efforts of our community to rise to the really big challenges facing mankind. There are so many examples. Whether it be seeking reconciliation in terrible conflicts, advocating for human rights, contributing to steps to address climate change, protecting our environment, advancing an array of new technologies, developing new healthcare advances, sharing understanding of human behaviour, shedding light on our politics and social interactions, tackling modern slavery, identifying opportunities for economic diversification, inspiring our students through stellar education, pushing for efforts to address COVID-19 vaccine inequity – or a myriad of other ways. That is what a great global university is about, it is a joy to see, and it is UNSW at its very best.
I hope that this video will prompt questions from you on the topics I have mentioned and many other aspects of UNSW. You can send them through via the link in my message in Inside UNSW until May 31st. I look forward to seeing your questions and to the online staff forum on June 4th, more details of which will be provided in due course. I will attend that event along with members of the University leadership team to respond to your questions.
Until then, take care and my thanks to you for listening to or watching this video. 
Comments