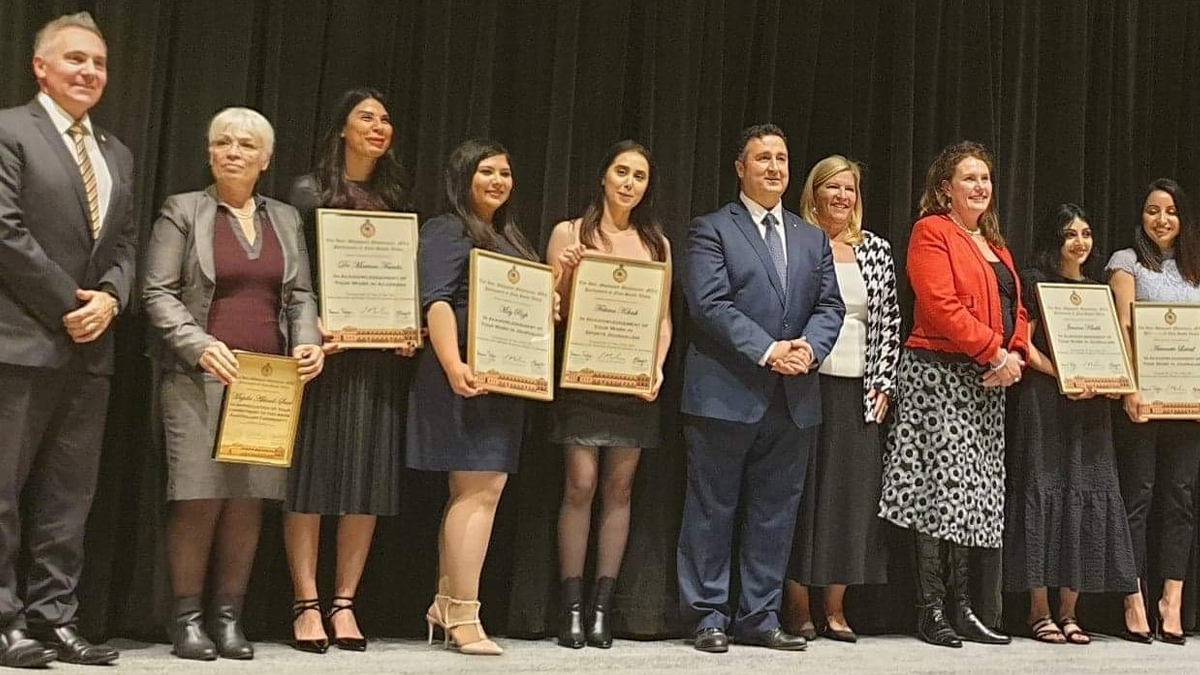 Dr Mariam Farida was honoured for her work as a leading Arab voice in Australian media.
Dr Farida was celebrated alongside an esteemed group of women including Dr Randa Adbel-Fattah (author and academic), Sara M. Saleh (award winning poet and writer), Antionette Lattouf (Channel 10 journalist and co-founder of Media Diversity Australia) and Fatima Kdouh (NRL reporter for The Daily Telegraph), at the 'Honouring Arab Women in Mainstream Media and Literature' event on 11 May.
"It was affirming to be included in a group of such accomplished women, many of whom I have admired for years. Our work spans different fields, but we are united by the desire to increase visibility of people of Arab descent, especially women, in Australian mainstream media," said Dr Farida.
The award, presented by the Honourable Shaoquett Moselmane MLC, specifically acknowledged Dr Farida's contributions in academia. Following the publication of numerous influential articles, her highly acclaimed book Religion and Hezbollah: Political Ideology and Legitimacy was published by Routledge last year. Dr Farida's research interests include Middle East politics, non-state groups, global security, terrorism, counterterrorism operations, and national security – fields of study that are traditionally dominated by men.   
The importance of this event was reinforced by the fact that it was held on a day when there was a considerable escalation in the Israeli-Palestinian conflict. Such grave international news was initially met with indifference by major Australian media outlets. For those organisations that did report on the unfolding incidents, comment was mostly sought from senior male 'experts' and largely framed by a Western perspective.
In an effort to change this paradigm, Dr Farida is involved in the WoMENA Australia network. "Our aim is to increase the visibility of women and non-binary scholars of the Middle East and North Africa. We have provided producers with lists of academics who are available to contribute expert commentary on issues from this region," she said.
For her part, Dr Farida has taken on the role of UNSW Middle East Expert and publicly represents the University when comment is sought.
Dr Farida also contributes to the UNSW community as an Academic Learning Facilitator within the Pro Vice-Chancellor Education & Student Experience Portfolio. Additionally, this year she has been seconded by Corrective Services NSW to contribute to their 'Countering Violent Extremism' project, focusing on the education and re-integration of inmates using a Proactive Integrated Support Model. Dr Farida approaches all of her roles with the same intent to empower others by sparking critical thinking.
Since being recognised as one of the leading Arab voices in our community, Dr Farida hopes that her efforts can provide inspiration for emerging scholars in the field. Referring to the group honoured at the event, she said, "We owe it to other Arab women to continue the push for our voices to be included in mainstream discourse. If we are involved in the narratives and have the platform to share of our experiences, we can begin to dismantle the underlying stigmas associated with the region."
Comments