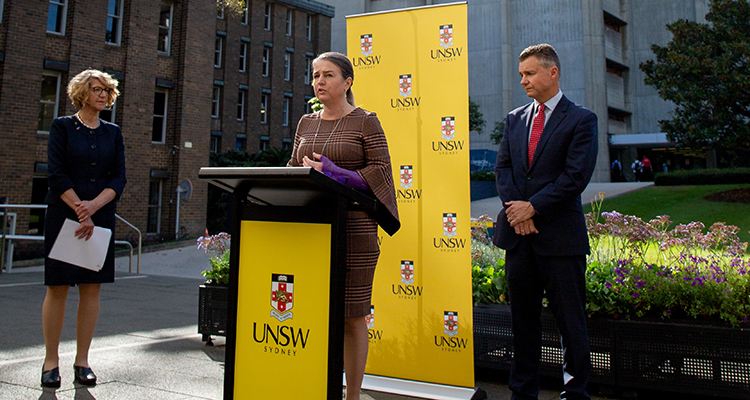 The funding is part of a $174 million package Labor has promised to boost equity in higher education for Indigenous and low income students. 
A flagship UNSW Sydney education model that has elevated academic outcomes and improved access to tertiary education for local Indigenous and low income students will receive $2 million over four years under a Labor government. 
Senator Louise Pratt, Shadow Assistant Minister for Universities and Equality, and Matt Thistlethwaite, MP for Kingsford Smith, announced plans on 24 April to expand the UNSW Matraville Education Partnership. The funding is part of federal Labor's pledge to invest $174 million in mentoring and support programs for students from areas with low graduation rates.
The UNSW Matraville Education Partnership, which was established at Matraville Sports High School in 2015, is a first-of-its-kind school-based university education program. The program benefits from the combined strengths of the UNSW School of Education academics and students and other faculties and disciplines. Academics and students from UNSW are working with Matraville students, teachers and the wider public to deliver a suite of educational and supportive activities that are breathing new life into the school and its community. 
After years of declining enrolment, Matraville Sports High School has seen steady growth since 2015 when student numbers dipped to below 250. Today, more than 320 students attend the high school. The school has also achieved growth in all aspects of Year 9 literacy, exceptional growth in numeracy and literacy for Indigenous students, and an increased percentage of students achieving Band 4 or higher across a broad range of HSC subjects. About 50% of year 12 students are now going to TAFE or university.   
Professor Eileen Baldry, Deputy Vice-Chancellor, Equity Diversity and Inclusion at UNSW, said the model is a mutually beneficial partnership among the high school, community and UNSW.
"One of the things that has come out of this partnership is more opportunity for the students, for the staff, for the community, for parents as well as more opportunity for our School of Education," said Professor Baldry.
The $2 million funding would enable UNSW to expand the partnership model to two more schools in NSW – one regional and one in Greater Western Sydney. The University would provide support for school leaders and teachers to work independently with their communities. Support would include equipping schools with video conferencing for delivery of UNSW School of Education professional learning, community workshops, ongoing professional development, and enriching the experience of pre-service teachers undertaking placements in the communities. Professional isolation is cited by teachers as an important reason for not wanting to teach in regional schools. 
Ms Pratt said the engagement model demonstrated at Matraville Sports High School is an example of UNSW applying innovation to enhance equity measures on campus and in the wider community.   
"This is the thing that reaches into the heart of a community, that meets the needs and identifies the needs of local young people and other people who have been historically marginalised from the higher education experience," said Ms Pratt." You can see this in what you are putting forward in this model today where you are taking a very successful program at Matraville, not only in terms of the lift in attainment rate, but also in the choices that students went on to make, the improvements in teaching and learning within the school and the cultural changes around how young people identify the possibilities of their future."
Mr Thistlethwaite said it was exciting to see the school returning to its place of pride in the community. 
"The program is working. We are starting to see better results at the school, children are responding, the parents are happier with the results that are coming and of course the students from the Education faculty here, that are burgeoning teachers in the future, are benefitting from that valuable one-to-one interaction and classroom activities that they are getting through this program," said Mr Thistlethwaite. 
"Labor is committed to backing programs like this that provide those additional educational opportunities and opportunities for young indigenous Australians to get a higher education and improve their living standards and outcomes in life."
Comments