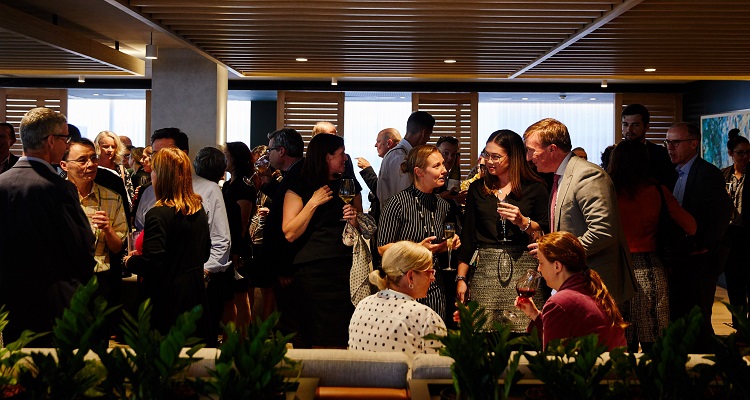 A new and contemporary experience for staff offering the best in hospitality services. 
UNSW staff now have a space on campus to meet with colleagues, over a coffee or a high-quality meal - a space to network and socialise with colleagues, guests and visitors.  
Talking about the vision behind The Lounge, Shahina Mohamed, Chief Operating Officer, (VCO), said: "Our vision for the lounge was to create a space for our staff that instils a sense of pride and belonging – a place to gather, mingle and to collaborate. The Business & Campus Services (BACS) and Estate Management teams have worked incredibly hard to bring this vision to life. We are very proud of them and look forward to welcoming staff to The Lounge." 
The beautiful views of Botany Bay provide a stunning backdrop to The Lounge. The floor space is intuitively designed and divided to cater to different experiences. There is a bar area and an informal lounge space for staff who want to have a coffee without the need to make a prior booking. The Lounge also features semi-private dining rooms, a boardroom and outdoor seating with cabanas and tables that can be booked.  
Stephen Wong, Director of Business & Campus Services said, "At The Lounge we wanted to create an atmosphere that is vibrant and engaging, where the service is professional and where staff can receive great hospitality. The Lounge will help create positive culture that includes a whole range of people from different parts of the university – academics, professionals, and their guests and family." 
To keep the staff experience seamless, payment at The Lounge will be cashless – staff can pay using personal credit cards or through chart code charging only. A reservation is a must if you plan to dine in the restaurant area or the outdoor terrace, but for non-dining purposes, including coffee meetings, a booking is not necessary. 
Open from 7 am until 10 pm on weekdays, The Lounge will offer breakfast, lunch and dinner options in addition to morning and afternoon tea. The menu will be table d'hôte (table of the host) instead of a la carte with set one-three course meal options for a fixed price. Menus will change weekly to keep the food offering versatile and vibrant.  A full range of dietary options will be catered to, using only fresh, seasonal, free-range animal products and sustainable produce where possible. Sydney based Hospitality Group, Fresh Collective, will deliver the food experience at The Lounge.  
The Lounge will be open for business to all staff members from 20 May. For more information about The Lounge, menu offerings or to make a reservation, visit The Lounge.   
Comments