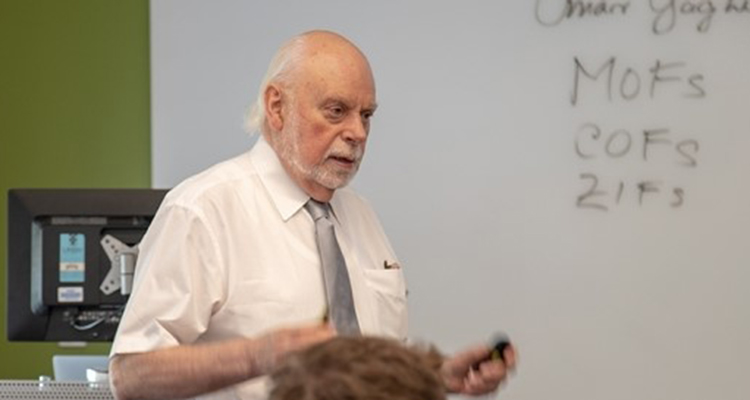 Science that changes the world is a product of investing time in being a good mentor to young researchers, and encouraging them to think outside the box, says Nobel Laureate Sir Fraser Stoddart.
Sir Fraser Stoddart – Scottish chemist, 2016 Nobel Laureate and UNSW Sydney SHARP hire – does not want to be remembered just for his research.
"In the fullness of time, I don't want to be remembered for my work," said Sir Fraser. "I would like to think that I will be remembered for my mentorship of young people, whom I launched into careers."
Sir Fraser says one the proudest accomplishments of his career has been helping more than 500 early career researchers from approximately 50 different countries to cultivate their independence and unique strengths. The people he mentored have gone into roles as diverse as startup company founder and the founding editor of academic journal Nature Chemistry, to list a few.
"It has been a lot of fun working with them and it leaves me choked with pride when I witness what many of them have achieved in their own independent careers to date," said Sir Fraser. "This is what gives me the most satisfaction."
In the last year alone, Sir Fraser has travelled to several continents going to speaking, lecturing and mentoring engagements at laboratories around the world.  A career spanning over 50 years in academia and research has taken Sir Fraser to unexpected places. Alongside Nobel Laureate, Professor, Chemist and mentor, he also recently added actor to the list: a few months ago, he was in Paris for the filming of an advertisement, which curiously included hugging trees.
However, first and foremost, what drives Sir Fraser's work philosophy is advocating for a people-first approach.  "I have been involved in a lot of project-driven research – but my whole career has shown that that model is not good value for money for the funding agencies or the governments that promote it," said Sir Fraser.
In Sir Fraser's view, if researchers are seeking to make transformative breakthroughs in their work, it is crucial to encourage creative thinking by supporting them as people, rather than projects.  "The best value for money comes from giving it to people that are likely to have great ideas," said Sir Fraser. 
He says this freedom to express research creativity is a key driving force behind serendipitous discoveries. "There are a hundred and one examples of transformative discoveries that have been totally out of the box."
One example Sir Fraser cites is Dr Alexander Fleming's discovery of Penicillin in 1928 in addition to Dr Howard Florey and Dr Ernst Chain who extracted and purified Penicillin as the first antibiotic.  
A common message he impresses on every student in his laboratory is to never do 'Stoddart chemistry'. "These people have played a big contribution to the creativity that has come out of my laboratory – I don't tell students what to do. They don't work for me - they work with me," said Sir Fraser. 
More importantly, he doesn't want students to unconsciously follow the well-trodden path of academia and research that has been laid out before them. He says that by doing so, early career researchers will only elevate the status of those that came before them.  "Then you defeat the whole purpose of it. You will lose the motivation of the people in charge of the laboratory, and certainly lose the motivation of the young people."
He says research supervisors should approach supporting early career researchers as a long-term commitment. For students at the start of their research career, it is not unlike an apprenticeship, which Sir Fraser says can take at minimum 10 years.  "I was slow to start in the beginning," said Sir Fraser.
"It wasn't 10 years and 10,000 hours, it was more like 20 years and 20,000 hours. I really didn't get going until the end of the 1980s, I was already 50 years old when things really took off", said Sir Fraser who was awarded the Nobel Prize in Chemistry in 2016 along with Jean-Pierre Sauvage and Bernard Feringa "for the design and synthesis of molecular machines".
"For every success in my life, I have experienced my full share of failures. Some, as a direct consequence  of making mistakes – that I have progressively learned how to manage," said Sir Fraser. 
Sir Fraser credits his mentors whose patience and insight drew out his greatest strengths as a researcher.  "I had three great chemists who supported me through thick and thin when I was grappling with the launching of my own independent career as a researcher and a teacher – Ernest Eliel, Kurt Mislow and Donald Cram," said Sir Fraser.
Professor Donald Cram would go on to be the 1987 recipient of the Nobel Prize in Chemistry.
As Sir Fraser quotes English playwright Noel Coward: "The secret of success is the capacity to survive failure."
Sir Fraser Stoddart joined UNSW in 2017 as part of the University's Strategic Hires and Retention Pathways (SHARP) scheme, an initiative of the UNSW 2025 Strategy to recruit world-class researchers to the University.
Comments