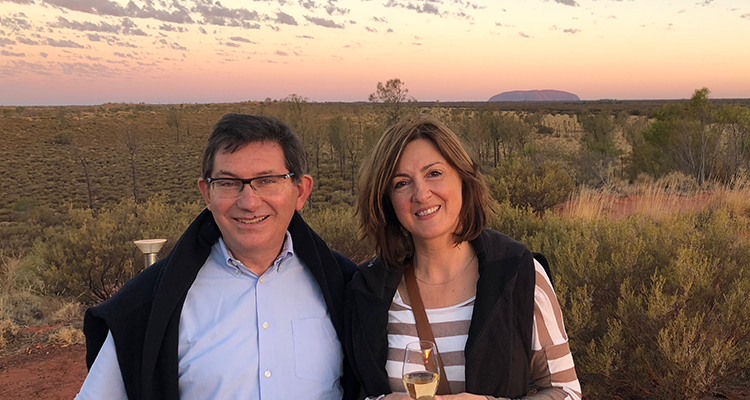 For those of you who took time off over the Easter-Anzac break, as I did, I hope it was a relaxing time and you are feeling refreshed. I headed off for my first holiday in the breathtaking Northern Territory. My wife, Chris, and I visited Uluru and King's Canyon, stayed at King's Creek, took The Ghan up to Darwin, stopping off to visit Katherine Gorge on the way. We became quite adept at doing the great Aussie salute after a few days with the ubiquitous flies. It was a truly memorable and exciting few days.
Tragically, many people around the world did not have a peaceful or safe holiday period. In the space of a few days the world saw terrible flooding in South Africa, shocking landslides in Myanmar and Colombia, a deadly earthquake in the Philippines and the horrific terrorist attacks in Sri Lanka, which saw hundreds of people lose their lives. Once again, the global community condemned acts of hatred and violence and expressed compassion for those affected by these awful events. I emphasise to any students and staff who may be affected by any of these events, that you and your families have the support and solidarity of the entire UNSW community. I also take this opportunity  to remind staff that should you ever need it, free and confidential support is available to you and your immediate family members through our Employee Assistance Program (EAP) which you can access here. Support for students is available through UNSW's Counselling and Psychological Services.
My thanks to everyone involved in delivering the inaugural teaching term of our new UNSW 3+ calendar. The effort and expertise contributed by everyone at UNSW means this has gone smoothly so far. We will continue to monitor and adjust as we learn more about optimum configurations for teaching and assessments. Your efforts are enormously appreciated and I will await feedback on how things went and how they can be improved.
Our new staff social place 'The Lounge' will be opening this month. I attended a launch event yesterday of this dedicated staff lounge and can let you know that it is a superb development and a wonderful addition to our campus. It will be open to all staff, academic and professional, of all grades, on swiping your UNSW ID card. As a starter, a thousand members of staff have been invited to visit The Lounge to get a feel for the new space over the next two weeks – each can bring a friend, partner or guest – and following that, The Lounge will open for all staff from Monday 20 May.
The 2019 Times Higher Education University Impact Rankings, which assess contributions of universities worldwide to addressing the Sustainable Development Goals, have shown Australian universities to be world leaders in tackling inequality. Chair of the Go8 Professor Dawn Freshwater described this as a reflection of Australia's egalitarian culture and the high level of access to tertiary education for low-middle income students, and international students from low- middle income countries. In this first round of these rankings UNSW was ranked in the top 200. We performed strongly on gender equality, responsible consumption and production, reduced inequality and partnerships, but there is ample room to improve. 
I enjoyed my visit to the School of Electrical Engineering and Telecommunications (EE&T), and the School of Photovoltaics and Renewable Energy Engineering (SPREE) yesterday. Presentations from Heads of School Professor Eliathamby Ambikairajah and Professor Alistair Sproul were impressive and showcased two of the best engineering schools of their kind in Australia. Highlights included plans to trial new face-to-face, blended and online learning combinations in the three-term model in EE&T, and the outstanding $19.1 million research income generated by SPREE in 2018. Both schools clearly excel at industrially-relevant research, and on the education side have been enthusiastic participants in UNSW's digital uplift efforts. Thoughtful comments and questions from staff had all of us thinking about topics such as how we optimise our working structures to take the best elements of school-level organisational units and the more flexible cross-disciplinary institute model, as well as the importance of promoting UNSW's support for urgent action on climate change.
Last week local MP, Matt Thistlethwaite, and Shadow Assistant Minister for Universities and Equality, Senator Louise Pratt, were on campus to announce Labor's $2 million proposal to expand UNSW's highly successful education partnership with Matraville Sports High School. The Matraville partnership, which has run since 2015, connects UNSW academics and students studying education with the staff and students at the school to mutually enhance teaching and learning. It is a wonderful example of UNSW's local engagement and contributes significantly to our 2025 Strategy's objective to improve equity and access to quality education for all. The additional funds would enable the program to expand to two more schools – one in regional NSW and one in western Sydney.
It was great to see the news that UNSW Art & Design alumna, Frances Barrett, has received the prestigious Katthy Cavaliere Fellowship, one of the richest art prizes in Australia for women artists. Frances is an artist and curator who specialises in performance, time and listening-related work.  Congratulations, Frances.
A reminder that the 2019 series of Meet the Professors lectures is now underway. These are unparalleled opportunities to learn about the career trajectories of some of our best researchers and teachers. On Monday 6 May we have Professor Vinayak Dixit from the School of Civil and Environmental Engineering, and Professor Lisa Keay from the School of Optometry and Vision Sciences. On Tuesday 7 May will be Professor Mike Letnic and Professor Robert Brander from the School of Biological, Earth and Environmental Sciences. Please do come along and bring your colleagues and students too. You can see the full schedule of upcoming lectures here.
Finally, I recommend reading this recent interview with SHARP hire and Nobel Laureate, Sir Fraser Stoddart. Sir Fraser reflects on his brilliant research career in chemistry, as well as the importance of creativity, serendipity and mentoring. It makes inspiring reading for academic and professional staff alike.
Best wishes
Ian
Comments