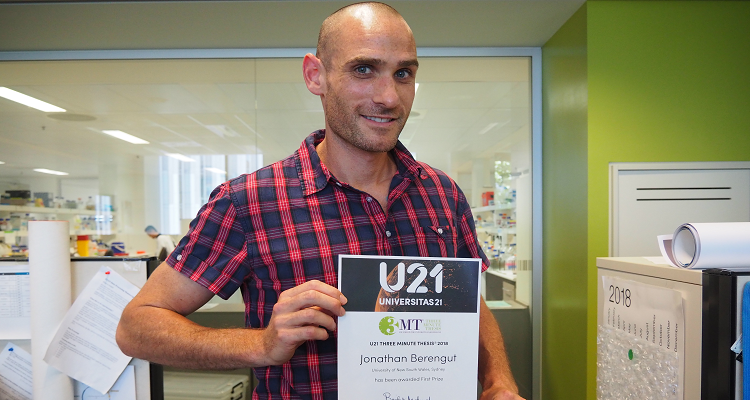 UNSW's 3 Minute Thesis Global Competition winner, Jonathan Berengut, reflects on how the challenge of explaining his research in 180 seconds changed the way he communicates. 
Each year, the UNSW 3 Minute Thesis (3MT) competition challenges PhD candidates from across the University to communicate the significance of their projects to a non-specialist audience in just three minutes. 
Last year's global winner Jonathan Berengut, UNSW Medicine, explains the benefits of the competition.  "I learned a lot about tailoring my communication to a general audience. It really makes you think about your research in a different way and if you're anything like me, that makes you love what you're doing even more," he said. 
Jonathan's PhD explores how programming nanoscale robots to group into larger formations might help health scientists achieve complex biomolecular tasks. He developed a passion for bio-nanotechnology after participating in an international biomolecular design competition for undergraduates called Biomod.  
"A student came into one of my third-year lectures recruiting for a Biomod team, and I signed up. That introduced me to the world of synthetic biology and bio-nanotechnology, and to the lab where I'd go on to do my honours and now my PhD. I had a career in design before I studied science, so I find myself being drawn to ideas that straddle the two disciplines," said Jonathan.   
Jonathan first encountered the challenge of summarising his research ideas during a PhD internship in the US. "In one of [the lab's] weekly group meetings we did a two-minute 'elevator pitch' exercise. That was rewarding but really challenging. I believe that's what gave me the idea to enter the 3MT competition." 
Professor Jonathan Morris, Dean of Graduate Research at UNSW Sydney, agrees that these events are excellent opportunities for our early career researchers. "3MT is an event not to be missed as it highlights some of UNSW's most exciting doctoral research and provides a showcase of research communication at its very best," Jonathan said. "It has been long recognised that the ability to communicate with the community and be able to highlight the importance of the work being done, is a critical skill set for researchers. It is important to make use of development opportunities to build this skill, like the UNSW 3MT development series, carried out by the Division of Research's Researcher Development Unit." 
Jonathan found the UNSW Researcher Development Unit's 3MT Development Series essential in preparing for the 3MT competition. 
"With my experience attempting a two-minute elevator pitch, I knew enough to realise how little I knew about crafting a short talk. I figured I needed as much help as I could get. The workshops gave me some good strategies to begin writing my talk, to whittle it down to something suitable and to deliver it effectively."  
"The most surprising thing about the development series was probably learning what not to do. There were a whole bunch of pitfalls which, in hindsight, were obvious. That said, if I didn't have these spelt out to me, I definitely would have done many of these things." 
Professor Morris is looking forward to this year's event and every year the contestants raise the bar.  "I think it is vitally important that our higher degree researchers engage in this fantastic event and take the opportunity to develop further their skills in research communication", he said.   
The 2019 3MT competition is taking place on Tuesday 17 September at Leighton Hall. Read more about this year's competition.  
The 3MT Development workshop series begins in May, find out more.  
Comments