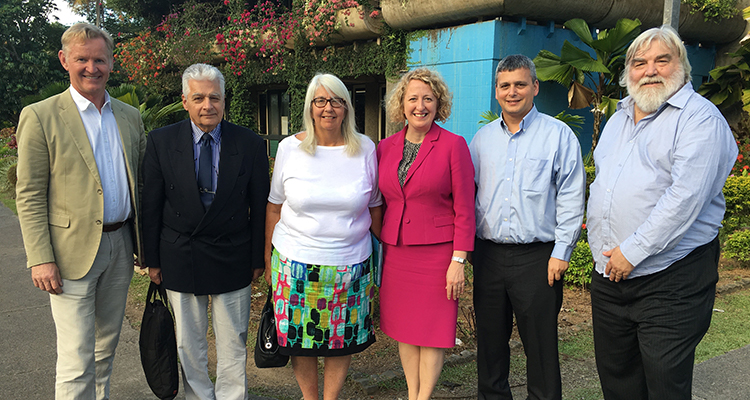 After a call-out to staff at the end of 2017, the Institute for Global Development is delighted to announce it has made appointments to the roles of Academic Lead for Myanmar and Uganda, as well as Academic Lead and Deputy Lead for South Pacific.
Professor Heather Worth (pictured, third from left) has been appointed Academic Lead for South Pacific and Dr Daniel Robinson, a Research Fellow for the International Centre for Trade and Development, also joins as Deputy Lead, South Pacific. Professor Worth is Head of the International HIV Research Group in the School of Public Health and Community Medicine. A sociologist by trade, Heather has carried out over 20 research and capacity-building projects in the Pacific over the past 15 years. She is a passionate advocate for development in the South Pacific region and has been a key figure in facilitating shared proposals and activities for colleagues who work in the area. Dr Robinson is Pacific Regional Project Manager of the ABS Capacity Development Initiative and specialises in the regulation of nature and knowledge. His main area of work is the protection of indigenous rights around biodiversity.
Dr Melissa Crouch and Dr Morten Pedersen have also been appointed as Co-Academic Leads for Myanmar. Dr Crouch has been working as a constitutional law expert and advisor in Myanmar for nearly ten years. She is currently the Team Leader and Myanmar Law Expert for the Asian Development Bank project Strengthening Law, Regulation, and the Legal Profession for a Better Investment Climate in Myanmar. Dr Pedersen has been engaged with Myanmar for more than 20 years as both a policy analyst and academic. Between 2001 and 2006, Morten was based in Myanmar as a project leader for the International Crisis Group where he delivered a series of ground-based policy reports that significantly and positively impacted humanitarian aid to Myanmar.
Heather, Daniel, Melissa and Morten join Professor Prem Ramburuth, who was appointed as Academic Lead for Uganda in 2016. Prem, previously President of the UNSW Academic Board and a Professor in International Business, oversees four projects at Gulu University and leads the Transformative Academic Development program. In 2017 she delivered the UNSW 'Beginning to Teach' and 'Foundations of University Learning and Teaching' to academics at Gulu University.
The IGD has also recently appointed Hannah Sheridan as Manager for the Institute. Hannah has been supporting the activities of the IGD since the beginning of 2017 and, prior to that, worked with UNSW's Philanthropy team as Development Manager for Equity and Access.
Michael Rose, a Member of the Order of Australia for services to Indigenous communities and the legal profession, also joined the Institute in 2017 as Executive Chairman to support the development of the IGD strategy and governance.
Comments