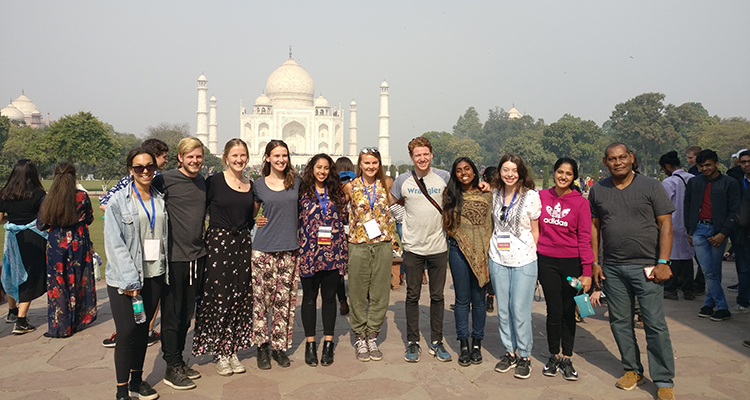 Imagine one of the world's fastest growing digital economies and a thriving tech start-up movement; juxtaposed with colourful alleyways, age-old traditions and the wonder of the Taj Mahal. Ten UNSW Arts & Social Sciences students have discovered today's India during a three week residential program exploring the country's politics, society and foreign policy.
Funded by the New Colombo Plan, the students undertook a program of study with Indian experts at O.P. Jindal Global University (JGU) and other top Indian institutions. The India Immersion Programme is designed to give students an in-depth understanding of India's domestic politics, foreign policy and major socio-economic challenges.
So why are these types of experiences so important for our students?
Laurie Pearcey, Pro-Vice-Chancellor (International) at UNSW, explains that we have a responsibility to cultivate links between our students and emerging rising economies, such as India.  
"In a highly globalised economy increasingly characterised by innovation, entrepreneurship and the changing nature of work, borderless student mobility is key to preparing students for future success.
"UNSW has one of the largest and most well established international mobility programs and is ranked number one in the country – securing $2.8 million in New Colombo Plan and Endeavour funding to support over 880 student experiences for programs scheduled for 2018," said Laurie.
Professor Marc Williams, Associate Dean (International) in UNSW Arts & Social Sciences, travelled to India to spend time with the students.
"There is a lot of evidence that international study experiences are of value to both students and universities. I have been able to observe first-hand that the New Colombo Plan provides students with an opportunity to add value to their study through exposure to the educational system and wider culture of countries in our region."
Maddison Gilholme, a second year Bachelor of International Studies student, spoke about her involvement in the program.
"The trip has given me invaluable experiences and insights that will shape my understanding and learning experience as I continue my studies. Not only has this experience allowed me to engage directly with India, breaking down any misconceptions that I held before coming here, but it has also allowed me to gain a greater interest, fascination and awareness about this region as it grows and expands."
During their trip the students had several opportunities to network with distinguished guests including an unexpected audience with Dr Shashi Tharoor, Indian politician, author and former diplomat. Liam Jarvis, a second year Bachelor of Arts student, said there was a lot of excitement upon hearing that they would be listening to him speak at his residence in New Dehli.
"Dr Tharoor gave a great lecture on the rise of the highly nationalist and isolationist Hindu government that is currently in power in India, touching on the anti-globalisation sentiments and religious prejudice that are currently plaguing the voting population and government of India," said Liam.
Jessica Totenhofer is in her third year of a combined Social Work/Arts degree and credits the incredible lecturers and industry professionals to whom the students were exposed as one of the highlights.  
"The interactions I had with the academics and students from JGU would have to be the highlight. The learning experience that this created makes it an all immersive eye-opening experience," said Jessica. 
The India Immersion Programme was developed in partnership with the Centre for India Australia Studies (CIAS) at JGU, the first and only Centre with a focus on the India-Australia bilateral relationship that is embedded in an Indian higher education institution.
Shaun Star, Assistant Professor and Assistant Dean (International Collaborations) at Jindal Global Law School and Executive Director for CIAS said, "The CIAS has founded flagship programs such as the India Immersion Programme to empower Australians and Indians to learn more about the other country."
Of course the three-week program wasn't all about the classroom - the students participated in several field trips, including visits to institutions such as the Indian Parliament and Supreme Court. According to Sarah McInnes, Bachelor of Advanced Science/Bachelor of Arts, "Alongside all the lectures, the biggest highlight has 100% been the food!"
Comments