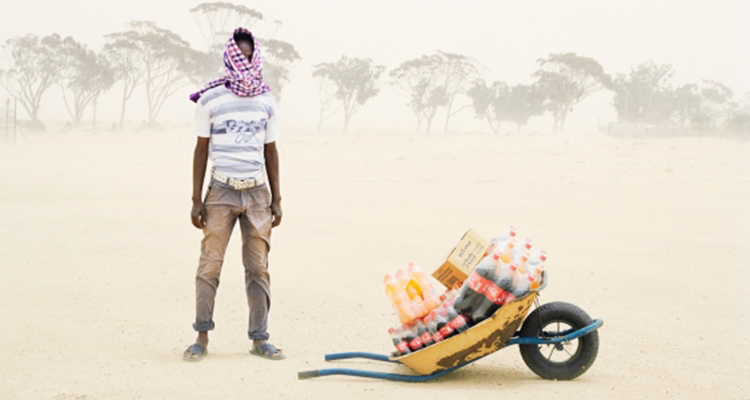 Two exhibitions that illustrate the global challenges of inequality and displacement are currently showing at UNSW Galleries.
Stories of people forced from their homes both locally and globally are being told through photomedia at two exhibitions which opened in January at UNSW Galleries as part of the 2018 Sydney Festival.
From refugees in Tunisian transit camps to the homeless in downtown Brussels, In Your Dreams captures the individual stories of some of the millions of people forced to leave their homes due to war, natural disaster and poverty.
Fourteen artists from Australia, Bangladesh, China, France, Greece, Jordan, Mexico, Nigeria, Papua New Guinea, South Africa and the US are exhibiting works that highlight the gulf between rich and poor and the impact of inequality on communities around the world.
"In Australia we can be cocooned from the major problems that face of the world," said Felicity Fenner, curator of the exhibition and director of UNSW Galleries. "Because we process immigrants offshore and we're an island it can sometimes be difficult to have refugee stories made visible. This exhibition brings to life what we hear about the crisis but often isn't at the forefront of our reality."
Fenner said In Your Dreams underscored issues of climate change, inequality, and refugees and migration, three of the major topics being investigated by UNSW researchers as part of the University's Grand Challenges.
UNSW Grand Challenges Program was established to facilitate these critical discussions on the most pressing issues facing humanity.
Fenner highlighted the six works by French photographer Samuel Gratacap as examples of capturing the individual daily lives of refugees, often underrepresented in the media.
"Gratacap became immersed in his subjects by living and working in the Tunisian Choucha refugee camp – often in severe sandstorm conditions. His work has little details of western life that allows us to recognise aspects of our own existence within an alien existence," Fenner said.
Closer to home, local artist Raphaela Rosella documents social stories, such as the lives of young mothers in Moree and the many people in Australian communities facing recurring hardship.
The second exhibition, Tell: Contemporary Indigenous Photography, curated by UNSW Art & Design graduate Jessica Clark, explores local dislocation and displacement faced by indigenous people.
Clark, who graduated in 2009, said all 17 artists featured use photography to express ideas about history and cultural sovereignty.
"I wanted to create an exhibition that challenges peoples ideas of what photo could be and what Indigenous art is. Aboriginal artists have recognised the medium as an exceptional tool for storytelling by re-telling and asserting the narrative and addressing inequity in how the community is portrayed," said Clark.
"Tell is a platform for artists to share their stories, confront the legacies of invasion, displacement and dispossession and consider their place in a globalised Australia and the digital world."
More than 60 works will be featured, including photography by artists including senior research fellow at UNSW Art & Design Brenda L Croft, Bindi Cole Chocka, Destiny Deacon and Warwick Thornton.
Tell: Contemporary Indigenous Photography
6 January to 24 February
UNSW Galleries
In Your Dreams
6 January to 7 April
UNSW Galleries
Comments