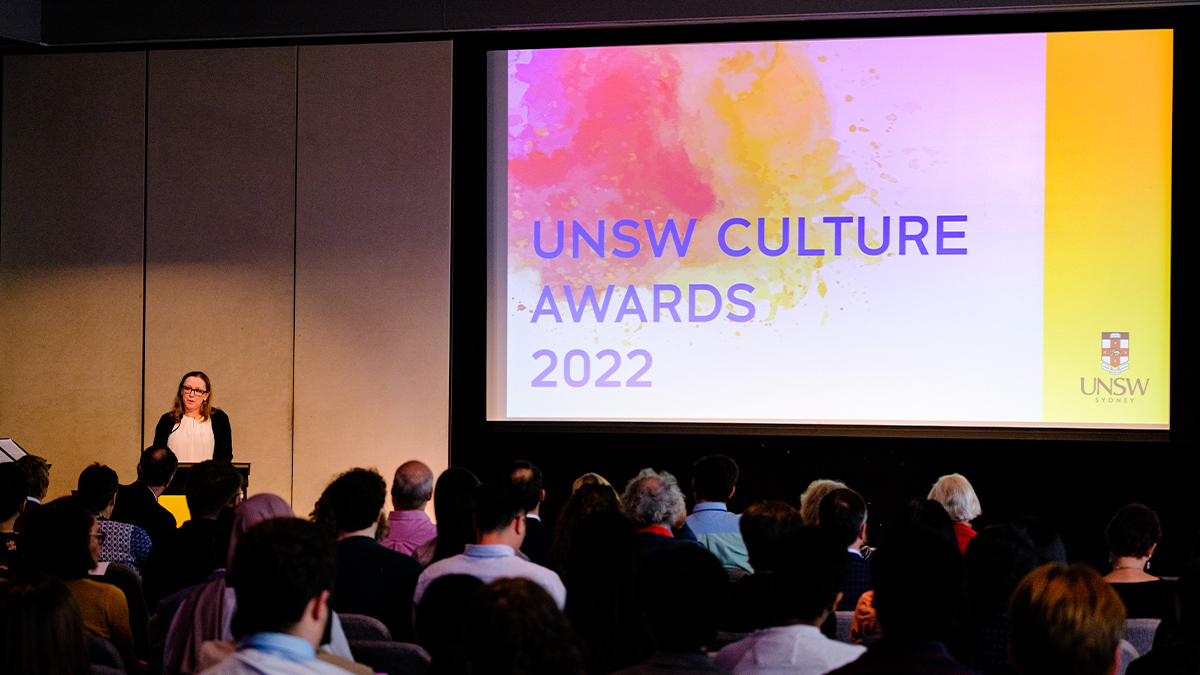 Student contributions to art, religion, music and community were recognised.
The inaugural UNSW Culture Awards was held on Friday 4 November, to celebrate student contribution to the cultural, artistic and community life of the University. Organised by Sonia Maddock, Head of Culture, students and clubs were acknowledged for their leadership and innovation in art, music, religious programs and engagement. There were performances from UNSW String Ensemble, UNSW Piano Society and the Burgundian Consort. 
Oliver Pike, Chair of Arc Board, gave an Acknowledgement of Country, and Professor Merlin Crossley, Professor Eileen Baldry, Neil Morris and Kathy Bail presented the awards, accompanied by leaders of the Culture Portfolio, Elena Taylor and Eleasha Mah.
Conductors Paul Vickers and Dr Steven Hillinger presented the Willgoss Instrumental Prizes, which with the Willgoss Choral Prizes, are possible thanks to the incredible ongoing support of Richard and Sue Willgoss.
"The Culture Awards celebrate music, art and community, which are all part of a varied and enriched campus life, and are vital parts of the out-of-the-classroom experience," said Neil Morris, UNSW Director of Wellbeing. 
"These many facets of culture on campus are a reminder that students from across the institution contribute to the cultural life of this University. These opportunities remain memorable to students and create firm ties to UNSW as our graduates move on, and it is this sense of community, creativity and diversity that we celebrated in our inaugural Culture Awards and will continue to do in the future."
The full list of winners:
Club contribution to international student experience - Boardgames & RPG Society
Student contribution to international student experience - Hossein Salehi
Chaplaincy Community Contribution Award - Lorenzo Ortega Saavedra
Art Collection Writing Prize - Aileen Huilin Wang
Willgoss Instrumental Prize UNSW Orchestra - Akira McPhee
Willgoss Instrumental Prize Highly Commended UNSW Orchestra - Natalie Liu
Willgoss Instrumental Prize UNSW Wind Symphony - Andrew Carter
Willgoss Instrumental Prize Highly Commended UNSW Wind Symphony - Caitlin Rinos
Willgoss Choral Prize Collegium Musicum Choir - Tom Zhao
Willgoss Choral Prize Highly Commended Collegium Musicum Choir - Andrea Lloyd
Willgoss Choral Prize Burgundian Consort - Logan Birchall
Willgoss Choral Prize Highly Commended Burgundian Consort - Erin Pacholke
Student community impact award - Rosina Baumann
Student cultural experience award - Mohique Gajdhar
Club cultural impact award - Myanmar Students' Society UNSW
International student-in-residence impact award - Man Sin Magdalene Che
For more information, visit the website here.
Comments